We get it. It's not easy to shop for the self-proclaimed craft connoisseur who chases all the latest drinking trends. You sit there clueless asking yourself, "Bacon fat-infused cocktails? Does that even taste good?" The answer is probably no. But hey, we're not here to judge your adventurous drinker. Here's a few of our suggestions to help you keep their drinking adventurous.
CAMP CRAFT COCKTAIL KIT (a)
The adventurous drinker is always searching for new craft cocktails. This year, give them the gift of saving money by helping them make a tasty drink at home. The Lookout, located on the edge of Browne's Addition, offers a variety of Camp Craft Cocktail kits. Each kit comes with a jar containing simple ingredients. Check out the Aromatic Citrus, for example. This one includes oranges, rosemary, thyme and bitters-infused organic sugar. The directions are easy: Add 12 ounces of your choice alcohol, then refrigerate for three days. That's it. It makes eight servings, and can even be infused twice for a total of 16 servings. $18 • The Lookout • 1516 W. Riverside Ave.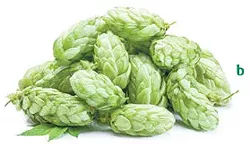 TRIP TO YAKIMA (b)
For the beer snob on your list, consider skipping the shopping trip and instead plan a trip to Yakima Valley. I know, I know. This might sound like a lame suggestion for the uninitiated, but Yakima produces more hops than any other region in the world. Along with that, the valley is home to 15 breweries and cideries. That means these people are only using the freshest of ingredients during harvest season. Plan a weekend getaway full of beer tasting and farm touring — the latter might want to wait until after the snow is long gone. If you need some brewery recommendations, our favorites are Bale Breaker Brewing Company, Single Hill Brewing Company and Varietal Beer Co. visityakima.com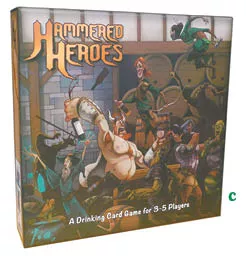 HAMMERED HEROES (c)
Give your drinker a break from all the adventure with a solid game night addition. Hammered Heroes is an alcohol-themed battle card game made right here in Spokane. It's quick to learn and includes characters like Hot Buttered Nun and Brass Monk Qi. It gets even better when you realize each quest card also has a drink recipe at the bottom. Go grab a copy from Dragon's Fury Games, crack a cold one with your adventurous drinker and have some fun. You can also find it at Boo Radley's and the Comic Book Shop in NorthTown Mall. $20 • Dragon's Fury Games • 41 E. Queen Ave.
VACU VIN WINE SAVER (d)
Being an adventurous drinker can also mean being a wasteful drinker. Sometimes they just want to sit back, relax and open a bottle of that Chilean wine that's been collecting dust in their cellar. However, your adventurous drinker might not be able to finish a $70 bottle in just one night. Don't let them let that fancy wine go to waste. Head over to the Kitchen Engine in the Flour Mill and pick up the Vacu Vin Wine Saver. This thing comes with two bottle stoppers and a vacuum pump that removes air from the bottle to keep their wine tasting fresh. It's also great for the adventurous drinker who has a massive collection of fancy beer bottles they're afraid to open. $12 • The Kitchen Engine • 621 W. Mallon Ave.♦