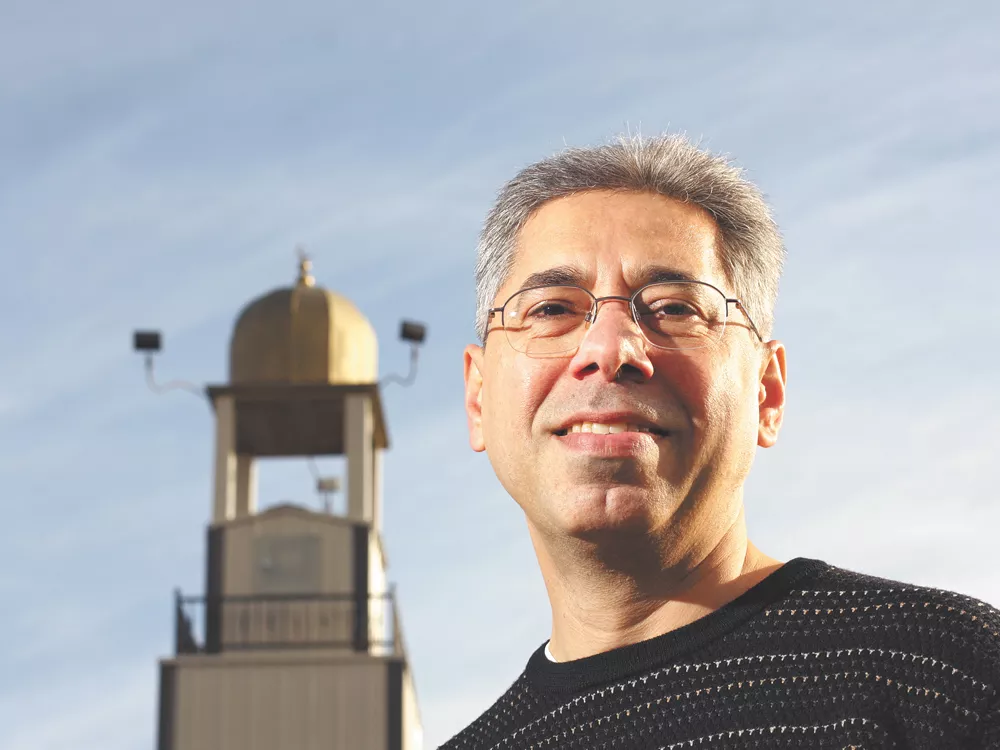 It's just after 9:30 am on a Friday, and the Spokane Islamic Center, in Spokane Valley, begins to empty out. Men speak Arabic near the playground outside, while a group of children excitedly talk about their latest adventures at Laser Quest. Inside, the prayer service wasn't led by a full-time imam, a traditional leader for Muslim communities. Instead, Mamdouh El-Aarag, the former president of the center, filled in.
The Spokane Islamic Center, constructed in 2009, has never had an imam. It's been searching for one for the past 16 months, but so far, the mosque hasn't been successful. Finding a qualified bilingual leader for a religious minority group is never easy, but it's even harder in a community like Spokane.
For now, says El-Aarag, the Spokane Islamic Center relies on a rotating group of four volunteers. But those volunteers have other jobs and families.
"We have a very nice mosque, but a lot of times there's nobody there," El-Aarag says. Some local Muslims say they would go to the mosque to pray, but don't know if anyone is there, he says. If Spokane gets a full-time imam, El-Aarag says, they "will have to come up with a different excuse."
The imam would run daily services, lead daily prayers and give a sermon on Fridays. He'd counsel community members on the Quran and, when groups contact the mosque with questions about Islam, he'd be the one to come speak. It's not just about knowledge, El-Aarag says, it's about personality.
In March, the Spokane Islamic Center published an ad seeking an imam in Al -Jumuah Magazine. Some have applied, a few have been interviewed, but so far the center's Imam Committee hasn't been satisfied with any of them.
"One of the challenges is that what we're looking for, it's a hot commodity," says El-Aarag. "An experienced imam that has a religious background and is aware of the United States culture. That's been hard to find."
In Spokane, the salary wouldn't be especially high — about the rate of an experienced teacher.
And the qualifications are difficult. According to the website set up by the Spokane Islamic Center: "Candidates must have a college degree in Islamic Studies or Law, be fluent in English and classical Arabic, have minimum of two years of experience as an imam or assistant imam, and be eligible to work legally in the United States."
Under additional, preferred qualifications, the position lists "memorize the entire Quran." That means memorizing a total of nearly 80,000 words, all in classical Arabic.
But each of those requirements pose challenges. Few universities in the United States offer extensive Islamic studies programs. "In this country, that type of education is very rare," says Imam Ashrafuz Zaman Khan, president of the North American Imam Federation.
Most imams, he says, get their education in countries like Saudi Arabia and Egypt. But imams from those countries usually lack a firm fluency of the English language, he adds. Khan himself is fluent — but he speaks quickly with a thick accent, making it difficult to catch every word over the phone.
In a syndicated article in the Washington Post, Hossam AlJabri, former executive director of the Muslim American Society, estimated that 80 percent of America's mosques are led by immigrant imams. The Islamic Center of New England lost its imam in 2006 when he was arrested for immigration fraud.
In the last decade, Khan says, immigration has become more difficult. It used to be that they'd invite imams to come visit from the Middle East and teach for a few months. Now, he says, it's often months before American embassies in the Middle East approve visas — if they do at all.
Spokane's small size and international obscurity makes attracting candidates even tougher, El-Aarag says. One option the center is considering is to hire a young and relatively inexperienced imam and then let him grow with the community.
"When it's the right time, it will happen," El-Aarag says. "Maybe God knows that we're not quite ready for an imam. God only knows."