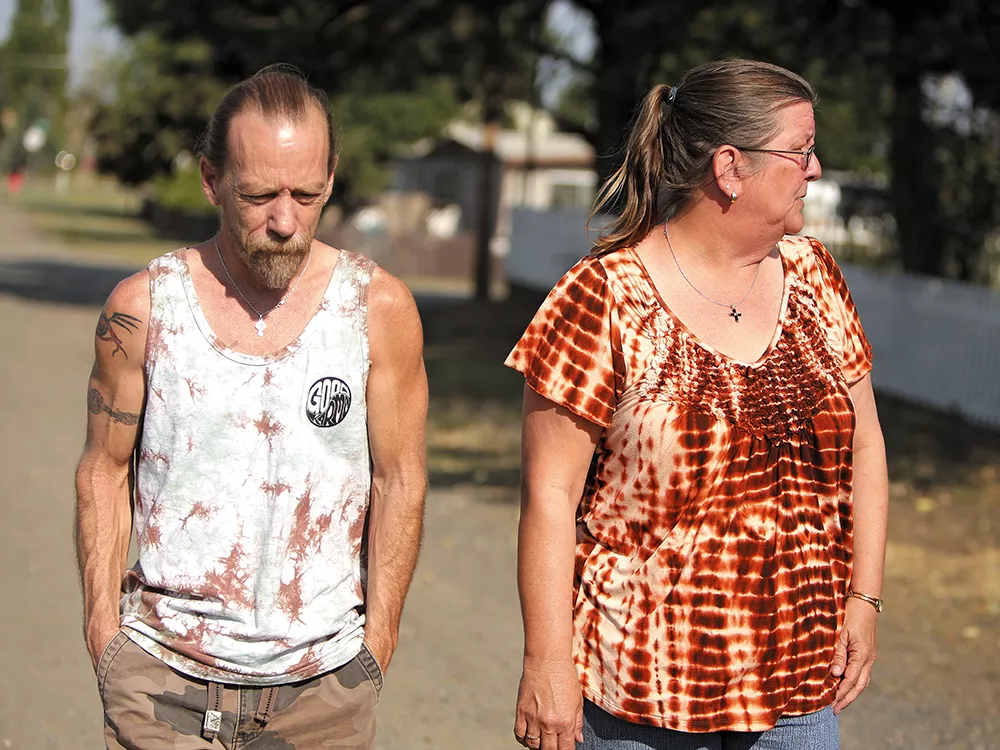 Last week, Susan and Richard Jones' septic tank backed up yet again. Susan had to hover over the overflowing baby-blue toilet in their 1976 mobile home and fish out "turds" one by one. Living in an aging mobile home in a park full of aging mobile homes, they're used to it.
"It's not a bad place to live," says Richard, sporting a ponytail and tie-dyed tank top. "It's nice and quiet here on the weekends."
But there are downsides. The Lawson mobile home park has been beset by screeches of Fairchild planes overhead, rumblings from the nearby rock crushing plant, and fecal whiffs from the newly built sewage treatment facility. Some homes have leaky roofs, rotting floors and no hot water. Last year, when the party-prone "juggalos" next door left, their abandoned trailer became infested with mice, and the septic backed up into the bathtub.
And about three years ago, the Joneses learned the park was sitting in the middle of a Fairchild Air Force Base crash zone. Seven mobile home parks and the Solar World apartment complex lay in the area the military recognizes as having a higher risk for airplane crashes. Since the military frowns upon residential development in "Accident Potential Zones," those properties could arguably make Fairchild more vulnerable to base closure in the future. For years, the Spokane County Commissioners have wanted the mobile home parks shut down. But the Joneses, like so many of their neighbors, can't afford to move.
For the past few years, three nonprofits — Catholic Charities, Habitat for Humanity, and Community Frameworks — have presented the neighbors with a solution: With help from the state Housing Trust Fund, the coalition would build 180 new housing units. Those in the crash zone could move to better homes, out of Fairchild's way. Everybody would win.
It didn't work out that way. The state budget didn't provide any money for the housing project, but awarded Spokane County $2.7 million to purchase the Solar World apartments. Last week, the county commissioners voted to ask voters for approximately $18 million in new taxes to purchase the parks in the crash zone with the intent of shutting them down. Not a dime will go to new housing.
It's left mobile home residents and the nonprofits wondering: If the county closes the mobile home parks, what happens to the people who live there?
On July 19, officials from Spokane County, Airway Heights, and the three nonprofits gathered to discuss the county's plan to purchase the mobile homes. Their conversation turned heated.
"We want to get people out of the crash zone. But we want to do it in a careful way that honors people's dignity," Rob McCann, executive director of Catholic Charities, told county commissioners. "There's a lot of ways where this could go south, and people could get moved out without their dignity."
The nonprofit directors weren't ready to fully support the county's bond measure, which appeared to frustrate the commissioners. "If you say no, how does that help anybody?" Commissioner Al French said. "Tell me how anybody is improved by saying no."
Without the purchase of the parks, the commissioners argued, any residents who moved would just be replaced by new tenants. McCann agreed, but said that the coalition of nonprofits had spent years talking to, surveying, and establishing trust with park residents. If the nonprofits could build them someplace better, like the places they want to build, about 80 percent would be willing to move.
But without new housing, there are few options. Many of the mobile homes are so old they've ceased to be mobile. Modern parks refuse to take them. "It's tough to move anybody out of there when you don't have anything to offer them to move into," McCann said.
A substantial proportion of the funds raised by the county's proposed tax increase will go to relocation costs to help families move. But the nonprofits worry that if mobile home owners can't find new low-rent housing, they could quickly burn through those funds.
"What about families that don't want to move?" Airway Heights Mayor Patrick Rushing asked.
"That's not an option," French replied.
Rushing supports the county's proposition, but only if it never implements an eviction program. In fact, several attendees at the meeting discussed avoiding the word "eviction" entirely, worried about how residents would react to any misinformation.
"The rumor mill is going to explode. People are going to jump to the wrong conclusions. These are people whose lives are already in chaos," McCann said. "They've come to us and they say, 'This is our worst fear, Rob. We're going to get thrown out of our place… ' How do you quell that perception and panic that's going to happen?"
McCann declined to speak with The Inlander after the meeting, instead pointing to a press release stressing that residents should not be forced out without access to low-income housing.
The commissioners promised they'll be compassionate, and that any evictions will be a last resort. At minimum, law requires giving residents a year's notice before shutting down the park.
"If you think I'm going to create a plan where I'm putting people on the street, you obviously don't know me well," says Commissioner Shelly O'Quinn, who spent three years working for Habitat for Humanity.
But O'Quinn says the county doesn't have the option to wait "six years down the road" for the charities to develop housing. By then, there could be another round of base closures, a concern that drives the commissioners.
"I'm just going to be brutally honest about this: Every opportunity we have to get rid of a trailer, we're going to take advantage of it," French said.
French argues that getting funding for the low-income housing will be made easier if the county is able to purchase the trailer parks. Yet the coalition of charities will have to wait until winter to request tax-credit funding for their housing project, and for the next legislative session to request state funding again.
It took about five years, and four tries, McCann estimated, for Catholic Charities to fund and build the recently opened Father Bach Haven apartment complex. Meanwhile, French is confident that, barring any unforeseen circumstances, he'll be able to close down the mobile home parks in two years.
In an interview, French says he expects that some in the private sector will step up to provide new housing. He knows of at least one developer interested in building mobile homes and multifamily units in Airway Heights.
But the credit and rental histories of many park residents could pose a challenge when they look for new housing. Susan estimates that only one out of every 10 residents in this park have a job. Medical bills and payments on a Ford Explorer sent her into bankruptcy a few years ago. Her husband pays everything with cash — he doesn't even have a credit rating. For their part, they don't plan on looking for a new home. They want to buy an RV, move to Sequim, Wash., and sell tie-dye T-shirts.
Ash from the cigarette in the hand of Paul Frazier, the Jones' next-door neighbor, falls to the ground. A ramshackle shed of aged plywood, built long before Frazier came here, sits in the yard. A rusty TV antenna tops his 1966 Pathfinder motor home and plastic sheets cover his windows, a way to insulate during winter. "These old tin sheds don't hold much heat," Frazier says.
Frazier, on disability with a bad back, is open to moving. But with the uncertainty surrounding this park, he's a bit frustrated, and worried about what's next. He wants something he can own.
"I own this," Frazier says about his Pathfinder. "This is the only house I got. Don't just take my home from me. Do me right."