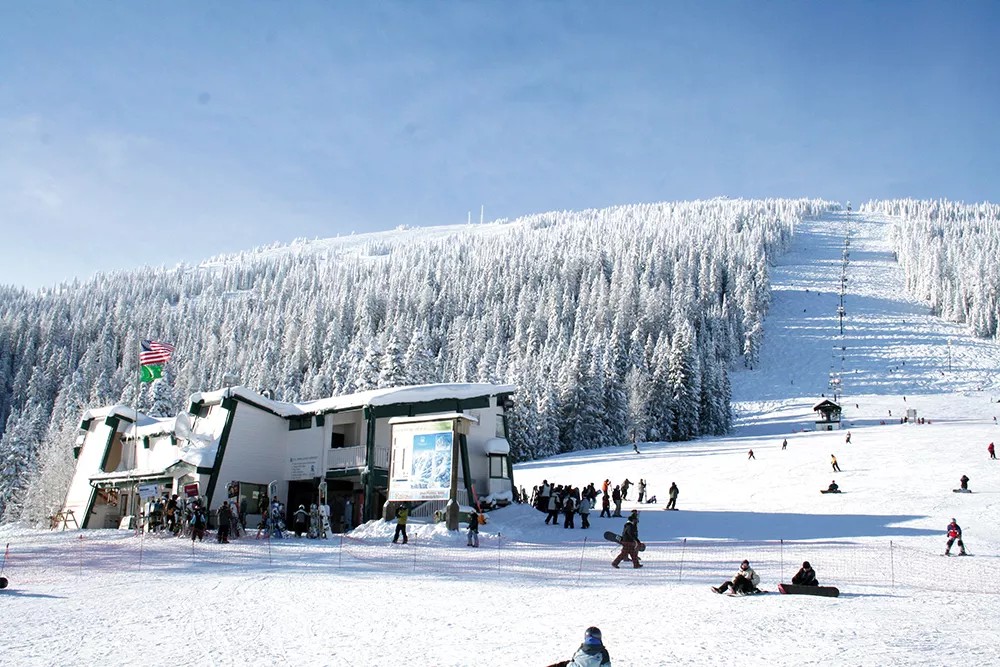 Slippery Slopes
Just days after the ski slopes opened for the season, conservation groups have pledged new legal efforts to stop a recently approved expansion of the Mt. Spokane ski area. The SAVE MT. SPOKANE COALITION announced Monday it had hired an attorney to argue the expansion approval violated land-use procedures.
The state Parks and Recreation Commission in November approved designating 800 acres of unclassified property on the mountain's northwest side as available for development of a new chairlift and seven new trails. Conservation groups have argued the disputed land supports old growth forest and wildlife habitat.
"Mt. Spokane State Park belongs to all the citizens of the state of Washington," says former Spokane County Commissioner John Roskelley in a coalition news release, "not just to one small user group of skiers from the Spokane area for less than four months a year."
Mt. Spokane resort managers have voiced commitment to carrying out the expansion in an environmentally responsible fashion in hopes of opening up access to the area for winter recreation. General manager Brad McQuarrie said the project has been in the works for a decade.
The Save Mt. Spokane Coalition includes the Sierra Club, the Lands Council, the Spokane Mountaineers, Conservation Northwest, the Spokane Audubon Society and the local Washington Native Plant Society. (JACOB JONES)
Johns' Cars
They've tried locking them up. They've tried making their names public. Now they might lose their cars.
Suspected patrons and promoters of PROSTITUTION could find themselves walking or taking the bus under an ordinance that is set to be considered by City Council on Monday.
If passed, the ordinance would declare part of East Central Spokane along Sprague Avenue to be an "area of high prostitution activity." Under the ordinance, if law enforcement suspects someone of using their car to promote or patronize prostitutes in this area, then the arresting officer has the option of impounding the car of the suspected pimp or john.
The text of the ordinance states that it's intended to penalize the demand for prostitution and targets motor vehicles because they are typically used in these crimes. Crime statistics show that the area attracts more prostitution-related crimes than other parts of Spokane, and the ordinance was developed in response to complaints from local residents and businesses that the area had become a magnet for the buying and selling of sex. (JAKE THOMAS)
Deadline Extended
The Washington Health Benefit Exchange has extended the deadline for customers who attempted to purchase HEALTH INSURANCE through the state's online insurance marketplace last week, but were unable to finish their applications due to a technical error.
Dec. 23 was the last day to purchase a qualified health plan through the Washington Healthplanfinder website for coverage starting on Jan. 1. According to Michael Marchand, the exchange's director of communications, almost 6,000 customers were affected by a recent cancellation error and "may have received an incorrect tax credit calculation through Washington Healthplanfinder."
Through Feb. 23, 2015, customers who started an application for health insurance before 5 pm on the 23rd will have a 60-day special enrollment period to sign up for retroactive coverage beginning on Jan. 1.
"We will be doing a case-by-case review of each petition received in order to determine if a customer qualifies for a special enrollment period," Marchand says by email.
About 101,000 Washington residents have purchased or renewed their health insurance so far in the open enrollment period, including about 25,000 new customers. This time last year, about 65,000 people had purchased private health insurance through the exchange.
Those affected by the technical errors can visit petition.wahealthplanfinder.org or call customer support at 1-855-923-4633 to request for coverage that begins on the New Year. Those who qualify for an extension will be notified by email or mail. (DEANNA PAN)