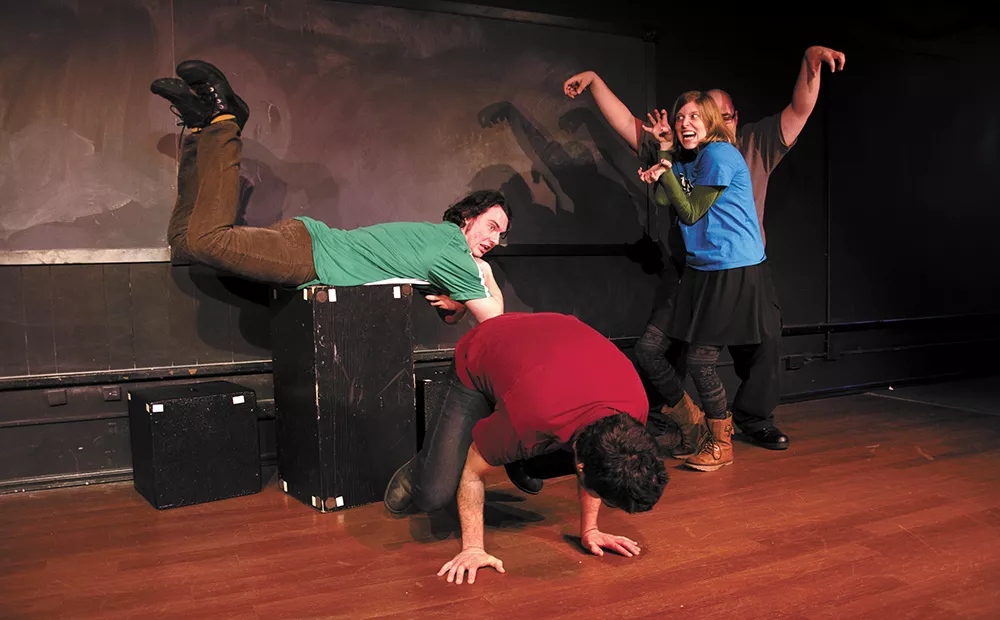 "Hey girl, I saw you lookin' all fly in your pink tights at the grocery store," or "To all the crappy people who can't drive, I have a serious beef with you... "
Peruse the I Saw You or Cheers/Jeers sections in the back of the Inlander and you'll see letters from haters and lovers alike, all just wanting to be heard. The Blue Door Theatre is giving these short, emotionally charged notes a voice with this month's I Saw You improv show.
"We've done this show off and on since I've been here," says artistic director Adam Tucker, who's been with the company since 2009. "I personally really like reading the section just for the entertainment. Then seeing that acted out on stage, delving into what may have happened — sometimes you want to know what triggered someone to write in the first place."
The show's premise is simple. The audience first picks various I Saw You snippets from a hat and tapes them to the back wall. Players then read selections aloud at random while the text is acted out behind them. Scenes build in complexity and hilarity until the next I Saw You is read.
As usual, Friday shows implement a long-form teamwork style of improv that forces the players to act clean. Tucker admits that putting on a family-friendly show can be more challenging.
"You can't rely on the blue jokes. You have to be smarter to try to get a laugh," he says.
For those wanting a bit more scandal, a new 10 pm After Dark show, featuring more adult themes, has been added to the last Friday of every month. But Tucker says there's enough oddity in the source material to keep the clean show interesting.
"Who would be seeing a pirate on Third Avenue?" he asks. "I think everyone is interested in what's behind these listings. It gives us a lot to explore."
I Saw You • Fridays at 8 pm through Feb. 28 • $7-$9 • Blue Door Theatre • 815 W. Garland • bluedoortheatre.com • 747-7045