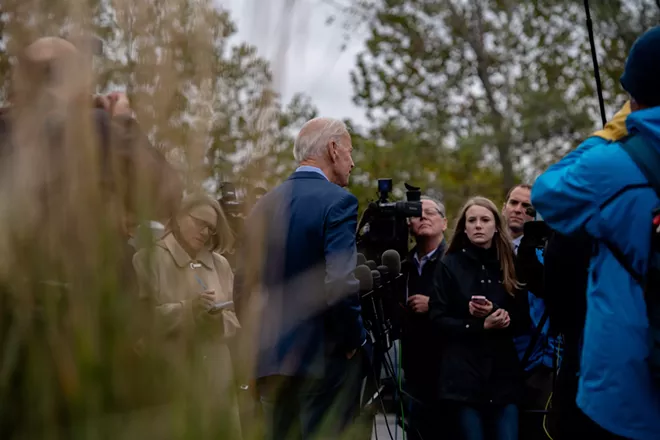 By Shane Goldmacher and Thomas Kaplan
The New York Times Company
W
ESTERVILLE, Ohio —
Former Vice President Joe Biden's campaign began October with less than $9 million in the bank as the 2020 Democratic primary race entered a new and more aggressive phase, barely more than a third as much cash as that of his leading rival, Sen. Elizabeth Warren, and nearly $25 million behind the race's money leader, Sen. Bernie Sanders.
In the past three months, Biden spent more money than he raised, $17.7 million compared with $15.7 million, a sign of his operation's fiscal peril so many months before the first votes will be cast in February.
On the Republican side, President Donald Trump continued to pad his coffers for the general election, announcing that his campaign, the Republican National Committee and their shared accounts had a staggering $158 million cash on hand.
The new disclosures came only moments after Biden stepped off a debate stage where the dynamics made plain that even his rivals no longer saw him as the front-runner. They are the latest sign that Biden, who relies mainly on large donors, is struggling to compete with the small-donor-funded campaigns of Warren, Sanders and Mayor Pete Buttigieg of South Bend, Indiana, who entered October with 2 1/2 times as much cash as Biden.
"It'll be a telling moment for Biden," said Jennifer Palmieri, who served as communications director for Hillary Clinton's 2016 presidential campaign. "His supporters will see he does not have enough money, and either that will prompt a bunch of money to come in in the fourth quarter, or he's going to be in very rough shape."
Democratic candidates were required to report their fundraising for the third quarter, which went from July through September, to the Federal Election Commission by Tuesday. Sanders, of Vermont, led the Democratic field with $33.7 million cash on hand to begin October, while Warren, of Massachusetts, had $25.7 million, and Buttigieg had $23.4 million.
On Wednesday, Biden noted that he had been in the race for less time than his rivals — he entered in April — and that he had not begun by "dropping $10 million from a Senate campaign, wherever that money was raised from."
He did not name Warren, though his allies have criticized her for boasting of her refusal to hold fundraisers after beginning the race with $10 million from her Senate coffers, which had been raised while she held such events.