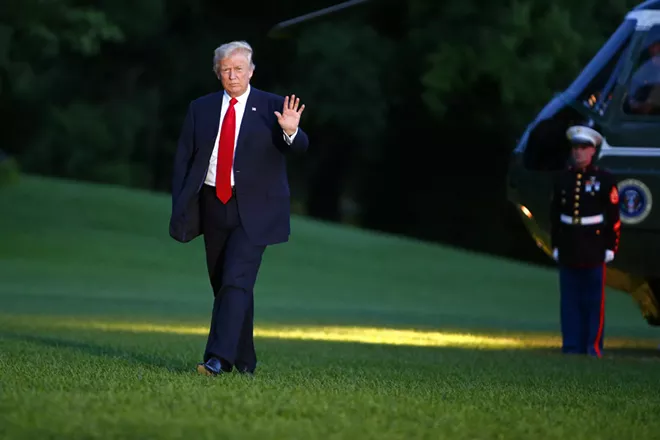 By PETER BAKER, MICHAEL S.
SCHMIDT
and MAGGIE HABERMAN
© 2017 New York Times News Service
WASHINGTON — President Donald Trump said on Wednesday that he never would have appointed Attorney General Jeff Sessions had he known Sessions would recuse himself from overseeing the Russia investigation that has dogged his presidency, calling the decision "very unfair to the president."
In a remarkable public break with an early political supporter, Trump complained that Sessions' decision ultimately led to the appointment of a special counsel that should not have happened. "Sessions should have never recused himself and if he was going to recuse himself he should have told me before he took the job and I would have picked somebody else," Trump said.
In a wide-ranging interview, Trump said Robert S. Mueller III, the special counsel now leading the investigation into Russian meddling in last year's election, was running an office rife with conflicts of interest and warned that investigators would cross a red line if they delve into Trump family finances unrelated to Russia.
Trump said that as far as he knew, he was not under investigation himself, despite reports that Mueller is looking at whether the president obstructed justice by firing James Comey, the FBI director, in May.
"For what?" Trump said. "I didn't do anything wrong."
The president added a new allegation against Comey. He recalled that before his inauguration, Comey and other intelligence officials briefed him at Trump Tower on Russian meddling. Comey afterward pulled Trump aside and told him about a dossier that had been assembled by a former British spy filled with salacious, uncorroborated allegations against the incoming president.
In the interview, Trump said he believes Comey told him about the dossier to implicitly make clear he had something to hold over the president. "In my opinion, he shared it so that I would think he had it out there," Trump said. As leverage? "Yeah, I think so,'' Trump said. "In retrospect."
Comey declined to comment on
Wednesday,
but testified before Congress that he disclosed the details of the dossier to Trump because he thought that the media would soon be publishing details from it and that Trump had a right to know what information was out there about him.
Trump refuted Comey's claim that in a one-on-one meeting in the Oval Office on Feb. 14, the president asked him to end the investigation into his former national security adviser, Michael T. Flynn.
"I don't remember even talking to him about any of this stuff," Trump said.
Describing his dinnertime conversation with Putin at the Group of 20 summit meeting in Hamburg, Germany, Trump said he greeted the Russian president, who was seated next to his wife, Melania.
"It was not a long conversation, but it was, you know, could be 15 minutes," Trump said. "Just talked about things. Actually, it was very interesting, we talked about adoption."