H
ousing and Urban Development Secretary Ben Carson
may have had little to do with the creation of the Spokane Resource Center, a collection of social service agencies serving under one roof as a one-stop shop for underserved citizens.
But the Spokane Resource Center is exactly what Carson had in mind when he launched the EnVision Center Initiative last year.
"I think Spokane is helping to forge a pathway for a lot of other places around the country," Carson said.
Carson was in Spokane touring the Spokane Resource Center on Tuesday morning, accompanied by U.S. Rep. Cathy McMorris Rodgers and Mayor David Condon. The center opened this spring. The city of Spokane had the center in the works for a while beforehand, and when Carson launched his signature EnVision Center Initiative, HUD slapped on that label to the Spokane Resource center. (The
Inlander
wrote all about this center in March, so if you're interested,
go ahead and read that here
.)
The Spokane Resource Center is one of the first few EnVision Centers to open in the U.S. It's located above WorkSource at 130 S. Arthur St., and it now works with more than 20 partners to, as HUD says, "help people become self-sufficient." That includes housing services, health care, justice/re-entry, mental health and employment. There are also classes held there to teach about finances and legal services.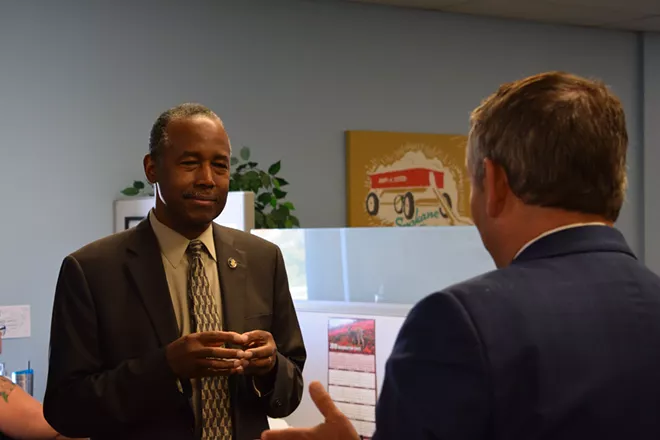 Since opening in April, according to HUD, the Spokane Resource Center has served over 300 people.
The tour on Tuesday took Carson through the center, including the clothing closet, lunchroom, and downstairs to WorkSource. Intermittently, Carson exchanged kind words with McMorris Rodgers and Condon about the work being done and the collaboration it took to create this place. They expanded on those thoughts in a press conference.
Carson said the "real key here is to develop our resources," and by resources, he meant the millions of people in the country.
"We need to develop every single one of them if we're going to be able to compete in the future," Carson said. "With China and India, places that have four times as many people, this is the kind of thing that makes that possible."
McMorris Rodgers went on to say she's "thrilled" Carson came to Spokane.
"This EnVision Center is the national model now, for the country," she said. "I'm just so proud of this community, the leaders, the partners from the whole list of organizations that have come together, working together to get some of the most vulnerable in our community or those that are in a difficult situation get back up on their feet, find housing and find employment."
City officials and Mayor Condon traveled to Washington D.C. last week to give a presentation about the resource center and learn about others across the country.
"I hope you see the foundation in my city that I'm very proud of, as we talk about becoming a safer, smarter, healthier community — it's through individual people," Condon told Carson.
Carson said the resource center can help prevent homelessness through classes on finances and housing that are offered there.
"And then, there are other issues that drive people into homelessness — sometimes there are mental issues that are going on, sometimes people may be handicapped, sometimes they have severe personal issues that drove them to financial ruin," Carson said.
He said the resource center can make a big difference by pointing people in those situations in the right direction.
"It will serve as a best practices model for many others," Carson said.