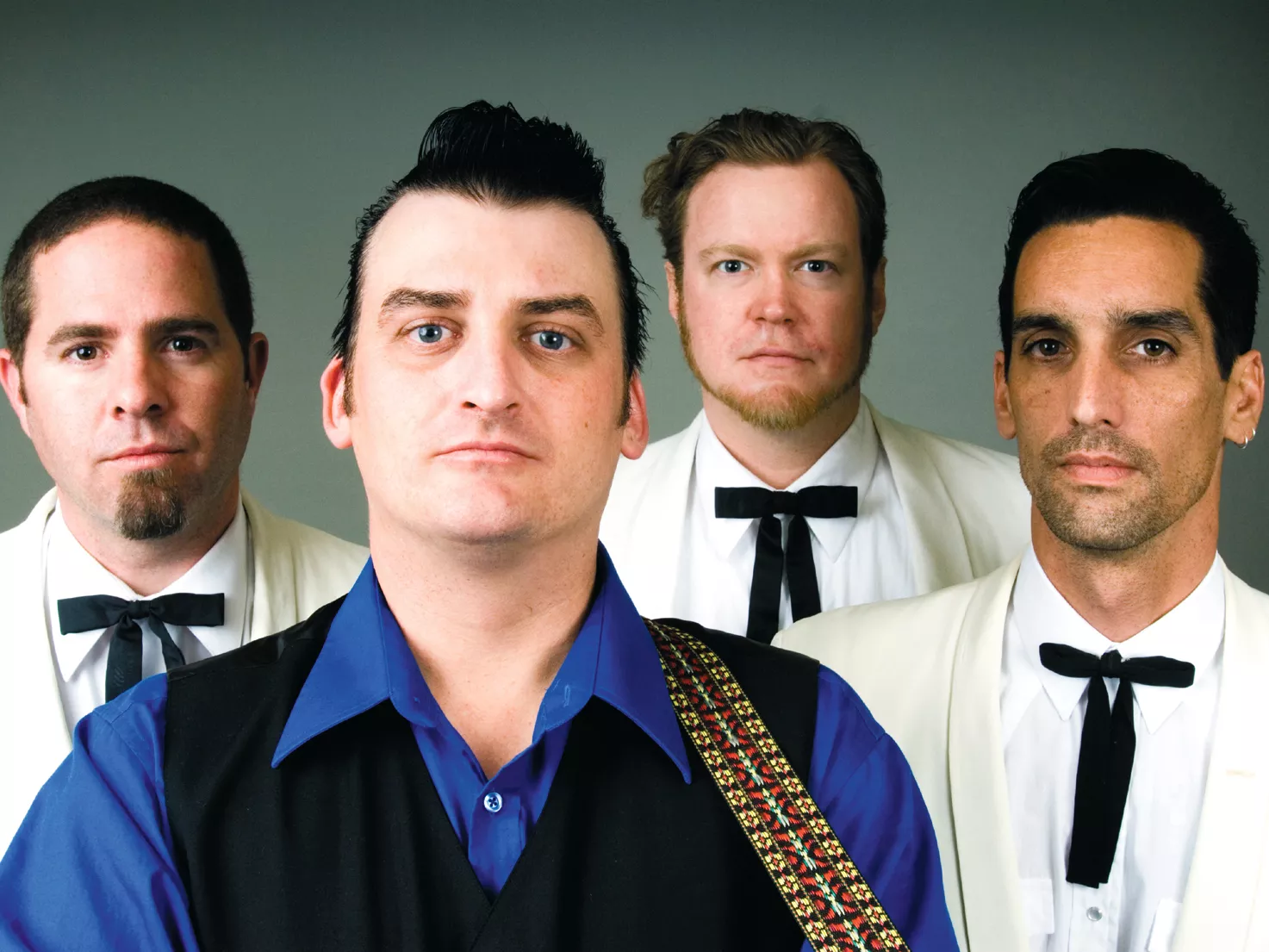 The gig was the same every day. Stop at a gas station. Pick up a Willie Nelson, Waylon Jennings or Johnny Cash cassette tape. Then drive.
Douglas Benson, lead singer of the Johnny Cash tribute band Cash'd Out, once traversed the United States setting up fiber optic networks. He sang in the car to keep himself awake.
"I would drive for hours and hours just singing along to Johnny Cash," he says, from somewhere near Aspen, Colo., in a rented tour van. "Everyone told me I should be singing instead. I finally got up the guts to put together a band."
Benson pieced together some San Diego musicians in 2005, thanks to a want ad in a local newspaper. Although he didn't seek impersonators, his ad read: "Guitar player must look like Luther Perkins."
Today, the band features Benson on vocals, Kevin Manuel on guitar, Ryan Thomas on bass and George Bernardo on drums. Off stage, the foursome are contractors, publishers, dive-bar soloists and studio owners. On stage, they perform more than 150 songs — up to four hours — from Johnny Cash's repertoire, including music from the Sun Records and early Columbia era, and music from Cash's live recordings at Folsom Prison and San Quentin.
Benson has the growl, black cowboy tuxedo, pursed lips and manic eyes of Cash on stage. The likeness, he says, is accidental. To maintain the growl, his voice is babied with Ricola cough drops and "all kinds of other shit." And black just happens to be his favorite color. His onstage mannerisms — that's all unconscious, he says.
"I never really wanted to be an impersonator," Benson says. "I still don't consider myself an impersonator. I've never come out and said, 'Hello, I'm Johnny Cash.' Even during the song "Man In Black" I've never said, 'I'm the man in black.' Johnny is the man in black."
Rather, Benson considers himself a storyteller. Every night on stage, underneath the lights of a strip club in San Diego, a distillery in Colorado or even a concert hall in Spokane, he tells a tale of murder, fire and a boy named Sue.
He says he never tires of life on the road, performing music he didn't write or being on stage in front of crowds that wished he was someone else. Yet his favorite song, "Wreck of the Old 97," much like the life of Cash himself, is destructive.
"It's a fairly up-tempo song but it's talking about a train driver that loses his brakes and dies," he says. "It's kind of sad. It's supposed to be about him rolling down the hill."
Reflecting on his own career — while refusing to give his real age — Benson says he has more hills to climb, more songs to learn and more stories to retell in the iconic baritone voice that's beloved by everyone from punks to fans of the Grand Ole Opry.
"I'll keep singing until I can't do it anymore," Benson says. "I hope that day never comes."
Cash'd Out • Fri, Jan. 18 at 8:30 pm • Knitting Factory • $11 • All-ages • sp.knittingfactory.com • 244-3279