When $150,000 worth of boulders were scattered beneath a freeway overpass back in 2017, the city of Spokane's video began with a celebratory tone and footage of rocks sliding out of a dump truck.
"The tons of fractured basalt started hitting the ground after the Spokane City Council decided it was time to dislodge homeless people camping underneath Interstate 90," the video announced.
While the idea had come from city staff, Council President Ben Stuckart initially voted for and championed the move, arguing in the Spokesman-Review that the boulders were intended to push homeless campers toward services where they could get the help they needed.
He was hit with a wave of community outrage — including calls for his resignation. Stuckart retreated, admitted he'd been mistaken and apologized. Homeless individuals, he says, deserved an "outstretched hand from their elected officials, instead of a hammer and a bunch of rocks."
But that, in turn, led to backlash from the other direction.
In a letter to the Spokesman-Review, local firefighter Shawn Poole savaged Stuckart for backpedaling. "Mr. Stuckart, don't the small-business owners who are affected by the stench of urine, feces and garbage forced upon them by the transient population deserve an outstretched hand?" Poole wrote.
The fight represented an opening skirmish in what has become an ongoing battle over the past two years. The debate over how to respond to homelessness — and the separate but intertwined issues of addiction, mental illness and crime — has become increasingly polarized. One side gets portrayed as naive and reckless radicals willing to stand by while businesses are destroyed, while the other side is cast as uncaring, greedy monsters who want the poor to go hungry.
Stuckart, for his part, has been portrayed as both.
As he runs for mayor, Stuckart can tout his experience tackling these issues, while critics and opponents from both sides of the political spectrum can point to his record to cast him as either too liberal or too conservative.
So far, homelessness has become the predominant issue of the 2019 mayoral race. Poole, the 54-year-old firefighter who wrote the letter to the Spokesman-Review about the rocks, is now running for mayor. He hits Stuckart from the right.
"I don't think any of the legislation that Ben has either championed or been a part of has actually worked," Poole says.
Poole, who says that as a firefighter he's been on the frontlines of the homeless issue for 27 years, argues that the city should start demanding "accountability" — including mandatory drug testing — in exchange for support.
"There's no impetus to pick yourself up by your bootstraps if you're getting all your basic necessities met," Poole argues.
Meanwhile, mayoral candidate Chris Schroll, a 27-year-old marketing coordinator, hits Stuckart from the left.
"Ben is running to be a 'Mayor for All,' but openly supports a law that makes it more difficult for the houseless to exist in our city," Schroll writes to the Inlander. He suggests Stuckart has a strategy to "continue throwing Band-Aids at a much bigger problem."
Mayoral candidate Jonathan Bingle, meanwhile, hits Stuckart from both sides. A former pastor who currently operates a trivia company, Bingle echoes the "tough love" rhetoric of Poole. But he also slams Stuckart for voting to put the rocks under the I-90 overpass, mocking it as a "wildly irresponsible" idea that was destined to fail.
As for his final opponent, former KXLY anchor Nadine Woodward? She remains vague. At times, she sounds like Poole. On Twitter, she warns the city could draw more homeless people if we keep adding services.
"If you build it they will come," Woodward tweets. "We have to ask ourselves if we're OK with that."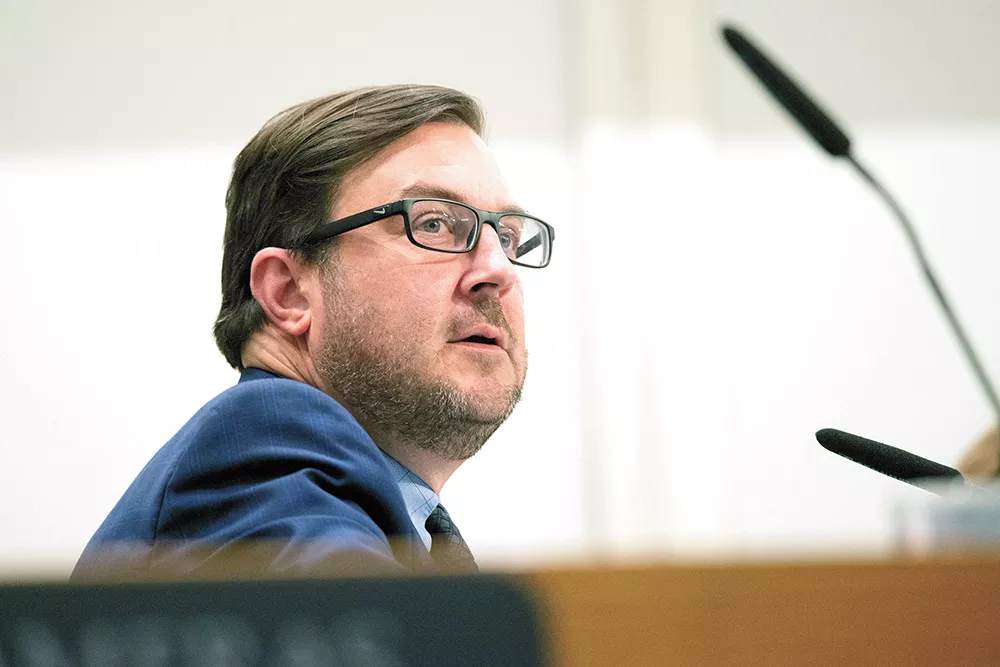 But so far she hasn't unveiled any of the "Spokane Solutions" that her campaign signs have promised. Woodward was the sole candidate to decline an interview with the Inlander about homelessness, instead promising to unveil her proposals next week.
Stuckart, for his part, detailed his "real solutions for Spokane" in a blog post last week. He calls for a "reimagined" shelter system that draws inspiration from the city's recently opened EnVision center to provide one-stop assistance to help people escape homelessness. He wants to expand the number of mental health workers partnered with police officers. Along with his push for denser development, he proposes creating a local housing trust fund to assist developers who want to build affordable housing.
He says the people he meets doorbelling aren't on either extreme of the issue.
"They want us to be compassionate," Stuckart says, "but nobody at the doors has said, 'Ben, get rid of sit-and-lie.'"
To understand Stuckart's nuanced — or even contradictory — record on homelessness, start with his vote in December of 2013. Stuckart voted against expanding the hours of sit-and-lie, a policy that makes it a misdemeanor to sit or lie down on sidewalks downtown. But first he delivered a six-and-a-half minute speech condemning the policy as being untested, legally risky and a "dismal failure" in cities like San Francisco.
But once the balance of power shifted in Stuckart's favor on the City Council, he declined to overturn the sit-lie law. He'd come to believe the sit-lie law was effective.
"I'm actually one of those guys who doesn't mind changing his mind," Stuckart says.
Instead, Stuckart supported the city's efforts to help fund a major expansion of the shelter system, promising 24/7 space for every homeless person. But week after week, homeless individuals and activists continued to object to the sit-lie policy at public forums.
When the 24/7 shelter model collapsed under the financial, logistical and political strain this winter, activist Alfredo LLamedo led a hunger strike to protest the city sit-lie policy. It morphed into a multiweek tent city outside City Hall and brought the already simmering conflict between homeless advocates and the business community to a boil.
Amid this backdrop — and over the fervent objection of the Downtown Spokane Partnership — Stuckart voted to temporarily suspend the sit-lie ordinance until adequate shelter beds could be found.
But he refused to go further and make the suspension permanent. LLamedo labeled the council president "Czar Ben Stuckart" and complained that he's "danced with the 1 percent for too long."
On one hand, Stuckart is one of the most emphatic members of council on the importance of increasing the supply of affordable housing, arguing that it's necessary to push for higher densities in order to relieve the housing crunch. He celebrates the city's plans for new low-barrier homeless shelters, while decrying policies at more stringent shelters that require drug tests.
Yet, Stuckart clearly doesn't go as far as Kate Burke, the councilwoman who chained herself up outside City Hall with LLamedo in December to protest the city's sit-lie laws. Indeed, he was lukewarm on Burke's proposed ordinance reaffirming that City Hall remained open to everyone, including the homeless, throughout the day. He argued it was unnecessary "posturing" that created unnecessary conflict.
He ultimately voted for the ordinance and delivered one of his signature speeches while doing it, using the moment to decry "Seattle is Dying," a KOMO documentary that discussed homelessness and drug addiction in apocalyptic terms.
For his effort, Stuckart got hit for inconsistency from the left: "If he's mocking the KOMO news thing, why is he criminalizing homelessness?" Burke says.
And he got hit for extremism from the right: "Anybody in the middle does not support letting the homeless take over City Hall," says Michael Cathcart, leader of the fiscally conservative Better Spokane political action committee. "That's not a middle position. That's an extreme position."
The irony, Stuckart argues, is that proposals from right-wing candidates would result in "the exact same thing they fear from far-left activists."
A recent 9th Circuit Court of Appeals decision ruled that, if a city doesn't have low-barrier shelter beds available, it legally can't enforce its sit-lie or anti-camping ordinances. Fail to build enough shelters, he says, you get homeless camps, whether you like it or not.
Still, that doesn't mean that Stuckart has all the answers. When the Inlander asks Stuckart whether, setting aside the way it was rolled out, he believes it was the right call to put boulders under the overpass on I-90, Stuckart wrestles with the question. He says he still believes that it was good for the city that the homeless encampment under I-90 was moved, but that "there had to have been a better way than the rocks," Stuckart says.
He just doesn't know what.
"It's a tough question," Stuckart says. "That one still gets me." ♦