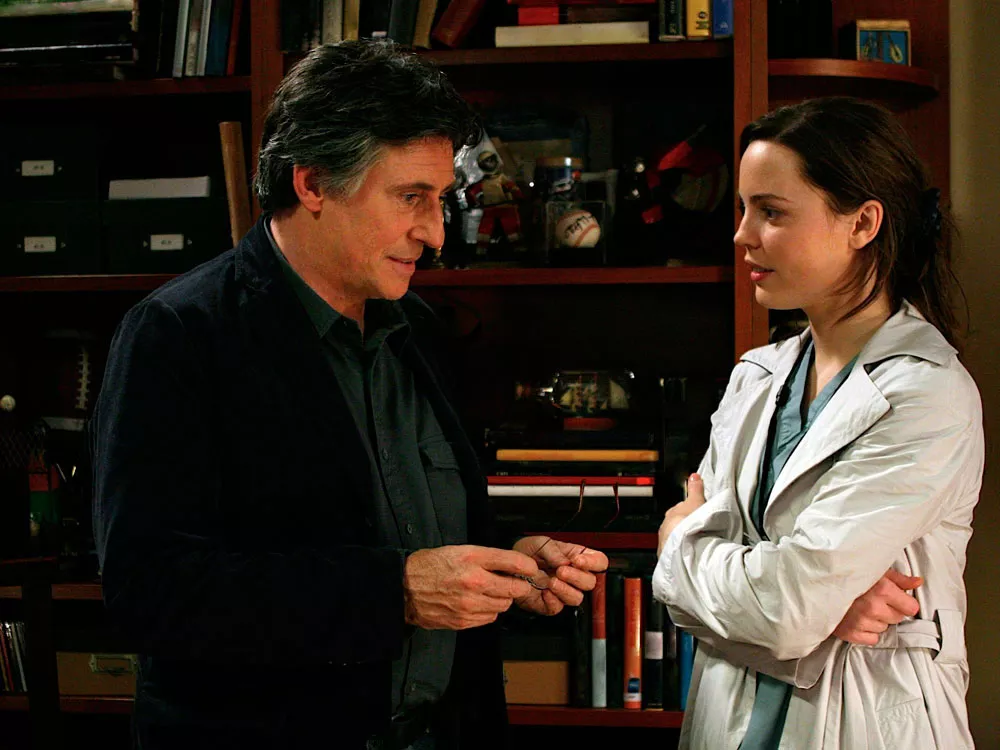 A good monologue is an incredible thing to witness. Being able to captivate the audience without the gimmickry of scene changes or rapid-fire dialogue or action sequences is an impressive exercise in narrative limitation.
In Treatment, an HBO drama consisting entirely of one session of therapy per episode, is almost entirely composed of these types of compelling monologues. This is For Your Emmy Consideration: The Series.
After all, so much of dramatic monologue is therapy: It's about people letting ideas they've buried for years finally surface, it's an arc ending in epiphany, it's a cataloguing and recitation of unfulfilled desires and mounting frustration. It's a pure distillation of the sort of character exploration that fiction is all about.
Paul Weston (Gabriel Byrne, The Usual Suspects) is not a therapist from the Woody Allen mold — or most TV clichés, for that matter. He's not neurotic or distant, and he's not too stuck in free-association or inkblots or elaborate psychosexual theories. He's gentle and he's kind, asking probing questions with a soft Irish accent.
And at first, he seems to have that voice of wise authority, the one that always knows the answer. But wisely, In Treatment undercuts this almost immediately. Under existential crisis about therapy itself, Weston seeks counsel from his former colleague. Every fifth episode features Weston exploring his own insecurities, his crumbling family and his frustration with his patients.
The arcs of his patients don't necessarily end in happiness. He doesn't "fix" them. The mind, after all, is something that can be slowly reshaped or even tamed, but not necessarily "fixed."
In Treatment has moments of laziness. Nearly every character in Season 1 has deep-seated issues with his or her father. But generally, In Treatment is one of television's most unusual shows. It's a serious drama that's only half an hour long. It has 40-episode seasons (four episodes a week) and most of those episodes only have one scene.
Crucially, In Treatment debunks the notion that bluntly showing (through, say, flashbacks) is always more interesting than characters sub- tly telling. Telling it right — with contradictions and cognitive dissonance and shifting layers of opacity and transparency — makes words speak louder than action.
In Treatment (HBO, Mondays and Tuesdays, 9 pm)
---
TIVO-WORTHY
School Pride
Where last year's Jamie Oliver's Food Revolution tried to change minds (and guts), this Extreme Makeover: School Edition-style show focuses exclusively on the aesthetic improvements. That may not do much to truly help our nation's low-income schools. But there is the benefit of the old saying: It's easier to concentrate on arithmetic when the floor doesn't smell like urine. (NBC, Fridays, 8 pm)
Tower Prep
Once upon a time, MTV and VH1 played music videos, the History Channel was about history, AMC showed mainly classic movies, the SciFi channel didn't have pro wrestling and Cartoon Network was about cartoons. This latest liveaction hour-long Cartoon Network series is a serialized mystery show about kids with strange powers trapped at an inescapable school. (Cartoon Network, Tuesdays, 8 pm)
Campus PD
In what is essentially Cops: The College Years, dorm hoodies replace stained wife-beaters as the scofflaw garment of choice. Cameras follow around swaggering campus police officers as they bring down the hammer of campus law on underage drunkards, crazy partiers and very naked college students. What's next? Real Paul Blart Mall Cops of Orange County? (G4, Wednesdays, 8 pm)