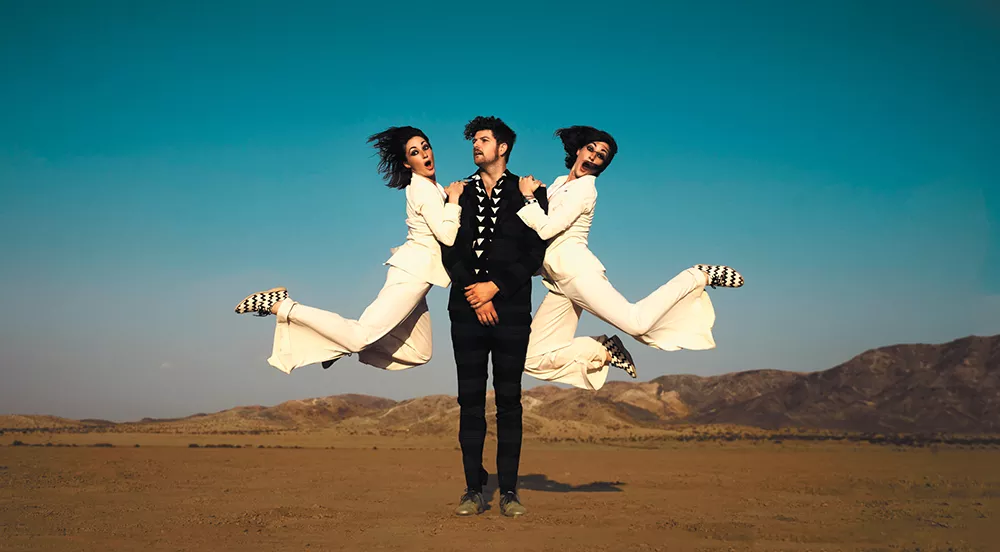 The Los Angeles-based rock duo known as Kolars has cultivated an image.
Frontman Rob Kolar digs sparkly guitars and pompadours, while drummer Lauren Brown rocks glitzy costumes on stage. The most visually striking aspect of their live show, however, is the way Brown plays drums. Get this: She turns a bass drum on its side, stands on it and tap dances. It recalls somebody playing Dance Dance Revolution in an arcade.
Asked to explain the origins of Brown's unusual style, Kolar recalls playing acoustic guitar in her apartment, which had hardwood flooring: "Lauren's been tap dancing since she was a kid, and she started tapping rhythm while we were writing a song. We were like, 'This sounds kind of awesome.'"
That led to a series of experiments with different drum kit set-ups, and they settled on a using a kick drum with a custom-made, industrial-strength maple head so Brown doesn't fall through it. But audiences don't know it's safe — it just looks crazy.
"Everybody always looks a little scared when she's jumping on the platform," Kolar says, "like she's going to kill herself."
Speaking to the Inlander from the road ahead of Kolars' upcoming Bartlett show, Kolar explains how he and Brown joined forces after playing together in the now-defunct folk group He's My Brother She's My Sister.
"That band went on indefinite hiatus," he says. "We didn't break up, but we stopped touring, and it was really heartbreaking. We put a lot of time and energy into it. We had this void of wanting to perform, and I was starting to work on what I thought was a solo album, but Lauren is such an incredible performer, I thought, 'Could we turn it into a band of two?'"
Brown began contributing feedback on lyrics and song structures, while Kolar honed his skills as a producer and mixer, and they split the logistical duties evenly. They debuted as Kolars about two years ago and have released one self-titled album.
In the live setting, the first half of their set is raw and stripped down — just Brown and Kolar banging (and jumping) on their instruments. But about midway through, "additional production elements" are infused into the mix: bass accompaniment, subtle piano parts or reverb-soaked background vocals that Kolar pre-recorded in a studio. He says it's a trick to beef up the sound that also adds an element of mystery to their stage show.
"Some people don't understand what's going on and it's kind of fun; kind of a Wizard of Oz vibe," he says. "They're like, 'Wait, is there someone behind the curtain?' But a lot of audiences don't even notice, which is kind of interesting. I play around a lot with delays and space effects, just to give atmosphere to a live show, and we'll do some looping live, but it's kind of a hybrid of being a rock 'n' roll band and a producer."
Kolar used to be more of a rock purist, but he's come to embrace available technologies. He doesn't want the electronic element to become a focus of Kolars' stage show, however. It's all about balance.
"Some acts completely embrace it, and it becomes like a sort of embellished karaoke, or something," he says. "Some artists, like pop stars and rappers, can make that work. I'm not going to knock anybody. For us, it's all about adding enough elements to boost it, but not so many it distracts from what we're doing. ... We're trying to keep the live portion as the focal point."
Using backing tracks is also a business decision for Kolars. In the highly competitive music industry, they simply cannot afford to pay more musicians to tour with them. In fact, they've found that pretty much everything is more streamlined as a duo — even the creative stuff. They're able to make quick artistic decisions and put out albums at a faster pace than most bigger bands, Kolar says: "There aren't as many cooks in the kitchen trying to pull the focus one way or another."
That was a challenge in He's My Brother She's My Sister. Each member of that band came from very different musical places, Kolar says, and contrasting visions of the project inevitably emerged.
"Lauren and I work in such a cohesive way as just the two of us," he says. "We can accomplish so much and we're very much in tune with the same vision. There's a yin and yang sort of situation with this project." ♦
Kolars with Escondido and Sammy Brue • Sat, March 24, at 8 pm • $12 • All ages • The Bartlett • 228 W. Sprague • thebartlettspokane.com • 747-2174