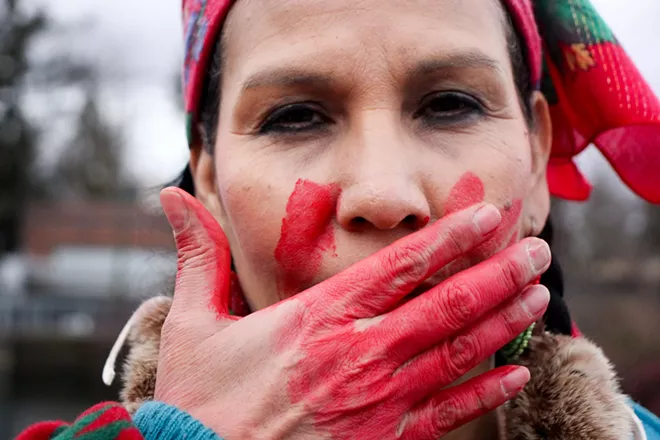 T
here's no shortage of issues.
Missing persons, climate change, water rights, environmental justice, mental health, cultural and language preservation.
If you talked to anyone at the Indigenous Peoples March in Spokane on Friday afternoon, it's highly likely that at least one of these issues was foremost in their minds.
"The main thing is to build awareness on indigenous issues and while doing that, doing it in unity," says Barbara Gongyin, who began organizing the Spokane event several weeks ago.
The march united Native American tribes together from across the Inland Northwest and country, but also some from outside the continental U.S., including Maya peoples and Pacific Islanders.

One of the most prominent topics at the event — and in national news — is the protection of Native land and water, Gongyin says.

"Another big topic going through the news is the missing and murdered indigenous women," she says.
Marchers carried signs labeled with #MMIW, a hashtag for that cause. Some women at the event wore red handprints across their mouths, meant to symbolize the silence in the face of violence against women.
The
Inlander
covered the topic
in a story last year
:
"American Indian women are more than twice as likely to face sexual-assault crimes as any other ethnic group, with one in three reporting being raped at some point, according to the Department of Justice. They and American Indian men are also far more likely than other groups to have experienced physical assault, and those who are subject to violence are more likely to go missing or be murdered."
The march through downtown Spokane was one of many that took place around the world Jan. 18. Coincidentally, the date was also the same day that the Spokane Tribe was first recognized by the United States in 1881.