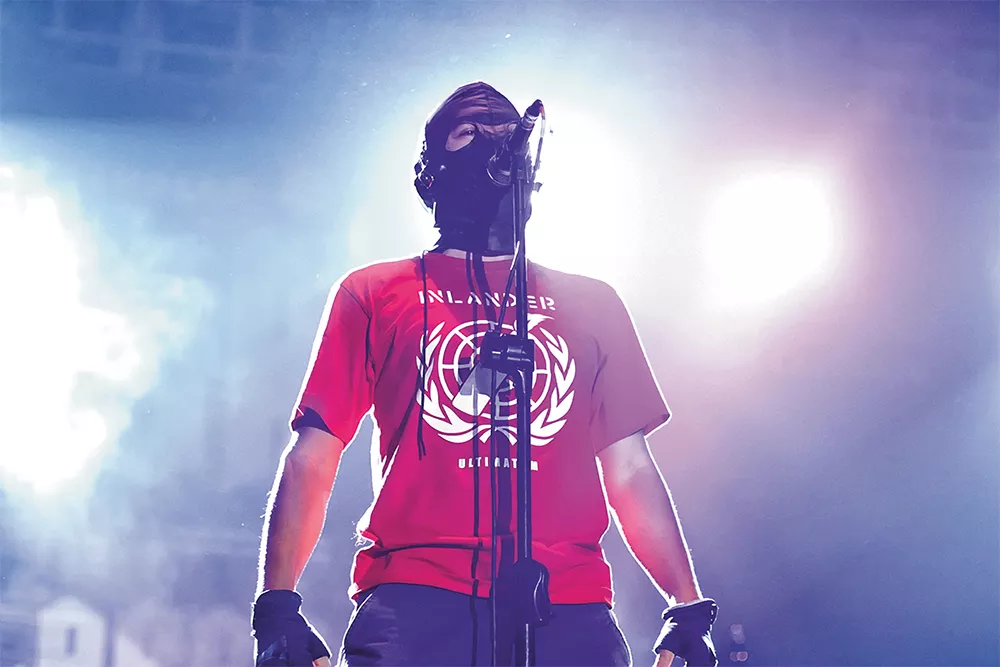 A black mask covering his head to symbolize anonymity, the frontman steps toward the crowd with a red megaphone in one hand and the other forming a fist. Behind him, drums and bass pound, then pause. He roars lyrics written in a mix of English and Indonesian.
Merdeka! Independence!
The punk rock band is called Inlander, and its name is also a political statement.
It's a quirk of modern life that searching the Internet sometimes leads to a question you would have never thought to ask. If you search for "inlander" on Twitter, as we at the Inlander have naturally done, you find a number of stories unrelated to the Inland Northwest: spambot snippets from literature; a Midwestern press association; a British man restoring a 1903 canal boat named Eileen. And, most of all, many tweets written by Indonesians.
There, the word has a fraught history: During more than three centuries of colonial rule, it was what the Dutch called the natives of Indonesia under a system of discrimination similar to apartheid in South Africa. "Inlander" still carries derogatory racial connotations — lazy, stupid, slow, inferior. "Inlander" is an insult.
Indonesia is an unlikely nation, an archipelago of more than 17,000 islands scattered across the equator. Colonial rule ended after a brutal occupation by the Japanese during World War II, but many Indonesians see the growing presence of multinational corporations, foreign investments and targeted marketing messages and wonder if the nation has progressed from one form of subjugation to another.
A phrase that comes up frequently is "mental inlander" — the idea that the people of Indonesia carry the scars of oppression as a defeating lack of self-worth. The colonizers are gone, but the people remain colonized. Uncertain. Unambitious. Inferior. But the phrase also comes as an invitation to change the story.
The members of the punk rock band Inlander are natives, and they chose the name as a reminder that they're not defined by those derogatory stereotypes of the past. It's a motivation, they wrote to me, "to voice the slogans of awareness for those who are oppressed by the legacy of the colonial system, which in fact is still entrenched in this archipelago to this day in the form of mental slavery."
In lyrics, tweets and conversations, the message is changing. Step up. Fight the system. Fight history. Create change. Acknowledge the definitions of the past, and then define yourself. ♦