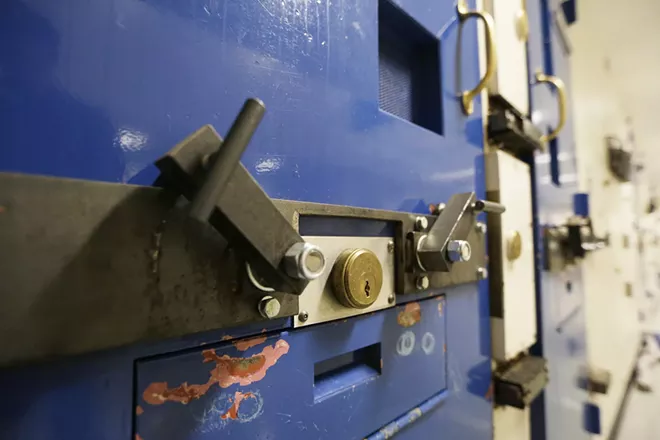 F
or the seventh time in about a year
, an inmate has died inside the Spokane County Jail, according to a news release from the Spokane County Sheriff's Office.
Around 1:30 am, a male inmate pushed the emergency alarm following a fight with another inmate in a dormitory-style cell that held a total of 10 people. The man who pushed the emergency alert button told corrections officers that he woke up and was having trouble breathing.
The man lost consciousness while jail and medical staff attempted to treat him, the Sheriff's Office release says. He was pronounced dead at 2:13 am.
The man had been held inside the facility for almost two years, according to a separate news release from Spokane County. He was awaiting trial on felony charges. The man's name, age and specific charges have not been released.
Sheriff's detectives are investigating the death. Although they are still early in the process, the sheriff's news release says there was a "physical fight involving the decedent and another inmate a few minutes prior to the [emergency] alarm's activation.
"The fight ended quickly and both inmates involved went back to their assigned beds after they cleaned themselves up, along with some blood on the floor," the news release says.
The name of the second inmate, who was allegedly involved in the altercation, is also not being released. Deputy Mark Gregory could not say whether any of the other eight inmates in the dorm-style cell were also involved.
Since 2000, when the federal government began collecting data on jail deaths,
at least 14,786 people have died in jails
in the United States, and 1,053 died in 2014, the last year for which federal data is available. The Bureau of Justice Statistics
has not published any reports on jail deaths since 2016
.
In the past 20 years, 17 inmates have died inside the Spokane County Jail, according to news releases and old news reports. That includes the seven people who have died in the facility since June 2017. At least three of those seven people died by suicide.
Brandon Ryans, 41, Christopher Rogers, 24, and
Patrick Flynn, 36
, hanged themselves with bed sheets in their cells between June 2017 and May 2018.
David Good, 52, was a transient man with an alcohol addiction, who died in a cell in the jail's booking area this past March. Jail records show that corrections officers were supposed to check on him every 15 minutes, though 32 minutes had elapsed between the last check and when guards noticed he wasn't breathing.
In June, Shane Carson, 31, was found unresponsive in a cell. Sheriff's Office detectives are still investigating Carson's death. Although initial information from the Sheriff's Office suggested the death could be the result of an assault from his cellmate, "preliminary information" suggests he may have experienced a medical emergency, the
Spokesman-Review
reports.
Cambrea Bishop, 26, was found unresponsive in her cell less than a month ago
. Her death also remains under investigation by the Sheriff's Office. Inmates who spoke with the
Inlander
recently, including her cellmate, say Bishop was talking just 40 minutes before she was found unresponsive. Those three inmates also say Bishop had been going through withdrawals during her time inside the jail.
In a prepared statement today, John McGrath, director of Detention Services, says "this is a tragedy that Spokane County Detention Services takes very seriously. Any death that occurs while in custody in tragic, and we do everything in our power to prevent inmates from causing harm to themselves or others."
McGrath also points to the reforms and efforts to address these deaths.
After Flynn's death by suicide in May, jail officials announced that they would be removing bed sheets and replacing them with thicker blankets that are harder to rip, as other facilities have done.
Jail officials also hired a nationally recognized consultant on in-custody suicide, Lindsay Hayes, to evaluate its suicide prevention protocols.
Finally, the jail's medical provider will add the drug Buprenorphine to its treatment plan in September, which helps treat opiate withdrawal.
Spokane County Sheriff Ozzie Knezovich says the latest death is another indication of the need for a new jail.
"We've stalled this thing out since 1995," Knezovich says. "We got a grant, but what did we really do with it? It upsets me that we have people dying because of inaction."
Knezovich is referring to the $1.75 million grant from the MacArthur Foundation to reduce Spokane's jail population. So far, a year's worth of reforms have not produced the expected results. Since at least October 2015, the county's jail population has held relatively steady between 900 and 1,000 inmates. That's counting the
Spokane County Jail and Geiger Correction Center, which together are outfitted to safely hold less than 900 people
.
Knezovich suggests a new jail facility should expand to at least 1,250 to 1,500 beds and must include a "community resource center" to deal with mental health and substance abuse issues in a more therapeutic setting.
"The booking area becomes a triage center," Knezovich says. "Some people need to be sent to a center for drug and alcohol and mental health treatment, rather than the hard walls of a cell."