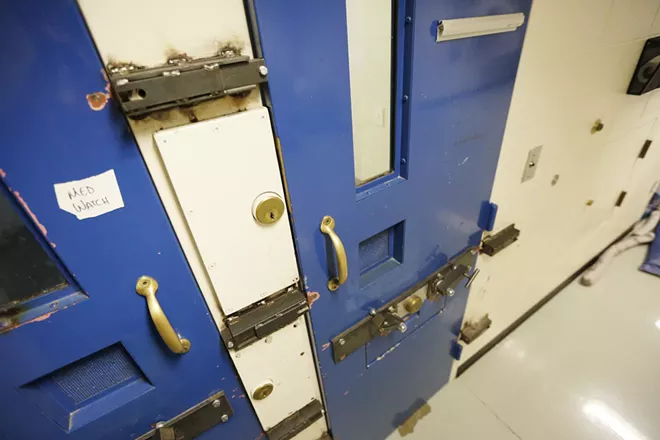 A
n inmate at the Spokane County Jail died
earlier this morning, according to a news release, marking the latest in a series of fatalities within the jail over the last two years.
At 2:20 am this morning, a corrections officer with Spokane County Detention Services — the agency that manages both the downtown jail and Geiger Corrections Center — purportedly responded to a "verbal call for assistance" from a cellmate of an inmate who was in an "unresponsive manner." Jail staff administered life-saving efforts until Spokane City Fire and emergency medical personnel arrived, who administered Narcan — a nasal spray designed to prevent fatal opioid overdoses.
Despite the lifesaving efforts, the inmate was pronounced dead at the scene at 3:05 am, per the release. The incident will be investigated by the Spokane County Sheriff's Office, and the Medical Examiner's Office will eventually release the name of the deceased along with the cause of their death.
Jared Webley, a spokesperson for Spokane County, declined to comment on the incident: "There is no further comment on this," he writes in an email.
This death is the ninth inmate fatality within the overcrowded Spokane County Jail
since June 2017
. At least three of those inmates killed themselves using bedsheets in their cells. (In response, officials brought in a
nationally recognized expert to assess their suicide prevention policies
and have reportedly invested in some reforms, such as providing "suicide-resistant" blankets.) Investigations into the deaths of the other inmates are slowly being released by county officials.
Additionally, the jail recently logged several close calls with potential inmate deaths. In early May,
three inmates in the jail were hospitalized in one night
after taking an unidentified powdery substance that was smuggled into the facility. They were found unresponsive and given Narcan and CPR before regaining consciousness and being transported to Sacred Heart Medical Center.
20 inmates died in Spokane County custody between 2005 and 2016
. (An average of 17 inmates died during that same time period in jails across the state, the report calculated.) Many of these deaths were the result of inadequate care and supervision of inmates going through drug and alcohol withdrawals (or in-custody overdoses), as well as those suffering from mental illness and serious medical issues, such as sepsis, according to the report.
Additionally, a different recent analysis conducted by KUOW and other regional public radio stations found that inmate deaths in county jails across the Pacific Northwest have been increasing in recent years, with over
300 people dying in Oregon and Washington since 2008
.