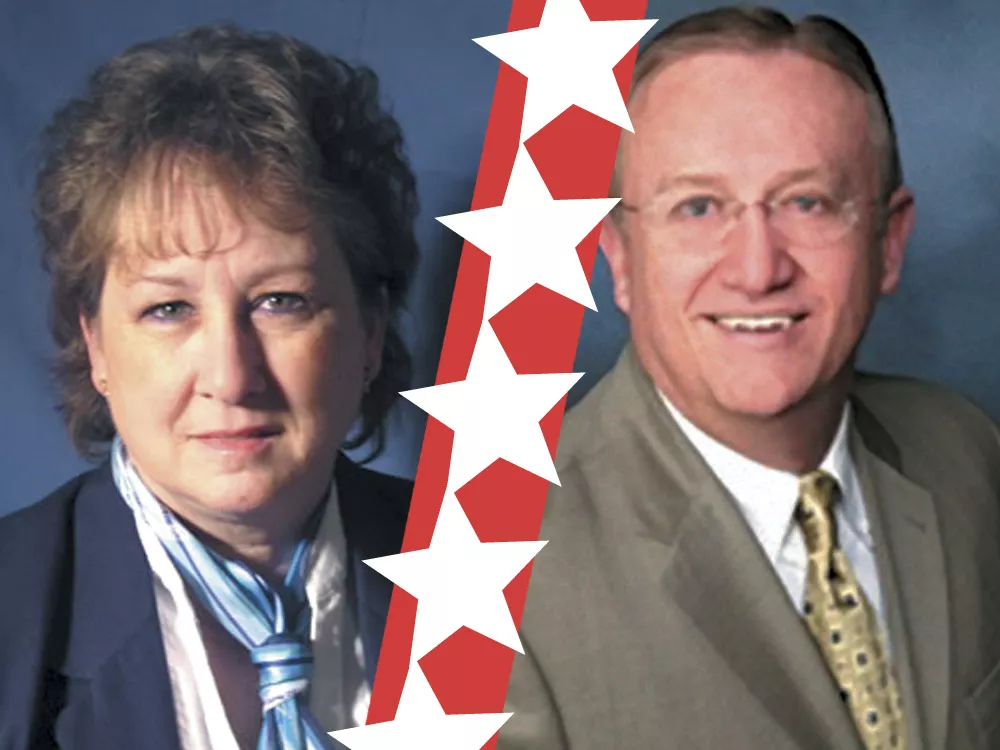 Ralph Baker, Spokane County assessor for the last five years, is facing an insurgency. One of his own appraisers, Vicki Horton, is gunning to overthrow him.
An assessor tracks all county properties, processes changes, calculates a property's taxes and then informs the public. A troubled assessor's office, then, could result in missed properties, similar properties being taxed dramatically different amounts and logjams of paperwork.
To hear Baker tell it, he plucked the office from disaster in 2005. He reduced a two-year backlog of land-segregation paperwork to less than 90 days. He made the assessor's information easily viewable on the county website. He developed a system to monitor the work of each employee — statistics visible to the entire office — as an incentive to work harder. He began to use aerial photography to track property, he says, saving the office $250,000 a year.
Today, the state calls Spokane County's assessment record one of the most consistently accurate in the state. An office that once operated with 58 employees now runs even better, Baker says, with only 45.

"I would hate to see me eliminated after having done that," Baker says.
But Horton's view of life under Baker is different.

"The whole system has broken down under the current administration," Horton writes on her website.
At least four assessor's office employees left, they say, because of Baker's brusque leadership style. One says the increased pressure resulted in sloppy, rushed appraisals. A whistleblower reported nearly $20 million in properties missing from the tax rolls, a claim that resulted in a series of stories on KREM 2. Baker maintains most of the missed properties came before his tenure, and notes an internal investigation found no fraud.
Horton believes Baker's aerial photography is a waste of money. It costs as much as 1.5 appraiser jobs. The state already requires the assessor's office to visit every property, in person, every six years. Visiting the properties in person, she says, allows one to see inside the home and the home's condition — something a plane with a camera can't do.
Under Baker, Horton says, property assessments aren't always equalized. In some neighborhoods, assessments for one house may go up while the house next door goes down. Baker agrees that assessment details vary from appraiser to appraiser, but says the final result is usually consistent with the market. Horton, however, says she'd be able to better standardize the way appraisals are done.
In the end, both tout experience: Baker has five years of assessor's experience, but has never served as an appraiser. Vicki Horton has been an appraiser for 15 years, but has only briefly been a deputy assessor for Clearwater County, whose population is small compared with Spokane's.
"The assessor's office needs a leader that knows how to do an appraisal," Horton says. "[Currently, appraisers] are not respected at all. And they should be." Horton says she could take up the appraisal slack when required.
"I don't think she has the educational background," says Baker, who has a master's in business administration from the University of Northern Colorado. This is a complicated job, Baker argues — with $48 billion in assets — far out of Horton's high-school-education depth.
"She would be overwhelmed," he says.
But Horton — who says she spent a total of two years at Sacramento Community College and Feather River College — strongly disagrees with Baker's assessment.
"It doesn't matter what kind of letters you have behind your name. That doesn't qualify you to run an office," Horton says. "What qualifies you to run an office is your experience and your knowledge you bring."