The latest issue of the Inlander is hitting newsstands now. Find it at your local grocery store and hundreds of other locations; use this map to find a pickup point near you. You can also read through the entire print edition here.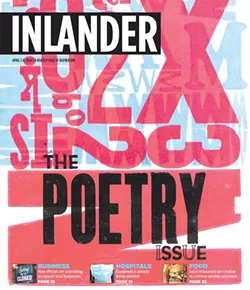 HIGHLIGHTS
This week's Inlander features a healthy dose of hope and inspiration. Some of it was intentional — we just had to tell you about all the local people stepping up in this crisis. Some of it came to us by happenstance. Planning for the spring-inspired poetry, for example, began in January, when few of us fully understood how the coronavirus would transform every aspect of American life. Still, it's a welcomed escape from life in lockdown.
• Also, you'll find stories about how officials are scrambling to help local businesses, how hospitals have already begun to ration protective equipment and why Washington's cannabis shops are considered essential during the current stay-at-home order.


SUPPORT LOCAL
We continue to update this ultimate take-out and delivery guide to help you support local restaurants that are continuing to operate.

SAVE THE DATES
Looking ahead, we have our Cannabis Issue hitting newsstands on April 16, our Summer Camps Issue on April 30 and Drink Local Issue on May 7. For advertising options, contact our sales department. Not an advertiser? Do whatever you can to support local businesses right now — they're the backbone of our community, and the Inlander.


LAST WORD
Finally, while the current health crisis has impacted how we gather the news — our reporters are following social-distancing guidelines and largely working remotely — it has not changed our commitment to providing readers with essential information during this critical time. But there's still room for fun, too, like this list of 25 extremely unhelpful tips for working from home! ♦