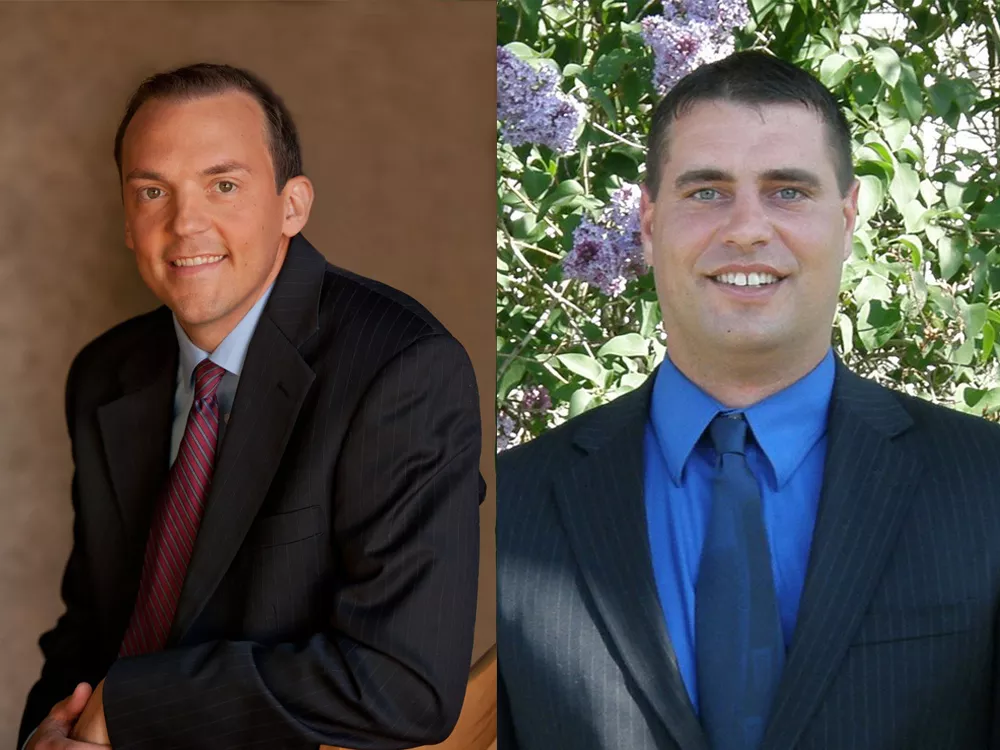 During his closing remarks at a grinding debate earlier this month, 3rd District representative candidate Tim Benn summed up the difference between him and his opponent, Marcus Riccelli.
"In my campaign I spent 84 cents per vote that I received, because I just went out and I worked, I worked very hard," Benn says. "My competition spent $8.41 [per vote]."
Benn, in fact, is waging a campaign against a wall of money. To date, Ricelli has raised $120,000 to Benn's $14,000. Indeed, the contest to fill the seat being vacated by Democrat Rep. Andy Billig is a choice between consummate Democratic insider Riccelli and Benn, a Republican and political outsider in a generally Democratic district.
Stretching from the South Hill and downtown to Francis Avenue, the 3rd District is historically one of the few legislative districts east of the Cascade Mountains that is controlled by Democrats. In 2010, Billig beat his opponent for the seat by 20 points.
Benn, 34, is a former auto shop owner who has spent time volunteering and helping at his wife's home daycare. It was through that experience that Benn became involved in pushing back against new state daycare regulations, which he and others allege are killing home daycares.
Benn wants to streamline or toss out those and other regulations and advocates generally to keep taxes low.
"Everybody understands that a tax increase here is going to hurt us at the bottom," Benn says.
Benn cites the 60 percent of 3rd District voters who approved an initiative making it harder to raise taxes by requiring two-thirds of lawmakers' approval. "That's not a partisan issue," he says. "That's an economic issue."
Though he didn't say which way he'd vote on the marriage equality issue, Benn has signaled in the past that he is against gay marriage.
By contrast, Riccelli, who supports the gay marriage vote, is the consummate insider. He's a politico who served as a staff member for both U.S. Sen. Maria Cantwell and state Sen. Lisa Brown. He talks about the art of deal making and about how he can work with others in the Legislature to move the state forward.
And unlike some Democrats, Riccelli doesn't shy from making the case for government.
"Government does have a hand in helping create jobs, at the state level through our transportation budget [and] through our capital budget," he said in his own closing statement at last month's debate.
Riccelli points out that Caterpillar came to the area partly because of the state's financial assistance. And he says that while people talk about government, they never talk about what specific funding would be cut.
"When people talk about those cuts, they talk about those lofty things, they can't put a face on it," he says, citing Crosswalk, a teen crisis shelter, and Sally's House, a shelter for foster children. Both organizations, Riccelli says, almost lost their state funding in last year's budget.
Voters seeking common ground between these candidates could find one shared issue: Benn and Riccelli both hedged on whether they'd vote for I-502, the initiative that would legalize marijuana. As of Monday, they said they hadn't yet made up their minds.