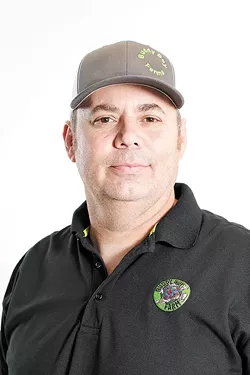 When Buddy Boy Farms had just started, DJ Parker was doing it all. He was a grower and a co-owner. Now with a head grower on staff, Parker focuses more on his managerial duties for the farm.
Buddy Boy Farms is a Tier III farm — meaning in Washington they can have the largest canopies, up to 30,000 square feet, according to the Washington State Liquor and Cannabis Board.
Embarking on their fifth year, Buddy Boy Farms now runs 12 different greenhouses and is one of the largest marijuana growers in Washington.
Hours on the road
Since 2014, Parker has operated the Lincoln County cannabis farm through his flip phone, setting out to different retail stores to build and strengthen relationships as cannabis farms cannot legally sell directly to customers.
Even for a self-proclaimed road warrior like Parker, the miles and miles of work can be tiring — both on the road and on the farm.
"I've definitely led the push and just haven't quit," Parker says. "It's draining and daunting a majority of the time, but now that there's a high demand, there's a little break on our side. It's getting a lot more tolerable. More pleasant."
Here, empty shelves signal a job well done. This far into the industry, Parker says, consumers set the pace.
How they've found success
As the marijuana industry continues to grow and change, with new products and farms emerging, competition is fierce.
Parker credits their farm's ability to keep their doors open to their awareness of the ever-changing market and keeping his eyes open to all that's around him.
When Parker visits stores, he takes note of the different products being sold, and what is selling well on their end, too.
And internally, Buddy Boy Farms is strong. Parker is most proud of the team they have banded together.
"We never quit, no matter what," Parker says. "We have some warriors."