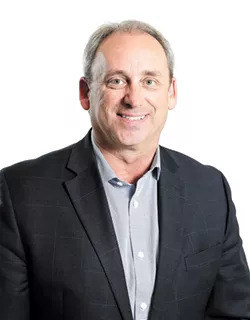 Since February 2016, Todd Mielke has served as the CEO of Greater Spokane Incorporated, an organization that works to develop business in the region and connect people with resources and each other to strengthen the Inland Northwest. He offered some insight into trends affecting Spokane and the greater region, and why this area is looking good to employers and workers.
1. Moving to the Labor Force
It used to be that employees would relocate to jobs, but more and more often, employers are looking to locate some or all of their operation where there's an available labor force, which makes Spokane especially attractive, Mielke says.
GSI has heard from businesses such as law and engineering firms struggling to recruit people to work for them in more expensive markets, such as Seattle, he says.
"Can people in an entry level position or mid-level position in those firms afford to live in downtown Seattle? Probably not," he says. "What's the difference if I have a paralegal four floors below me in a skyscraper emailing forms to me vs. in Spokane in the same time zone emailing them to me? We are seeing people looking at that."
In the first quarter of 2017, the median home sale in King County was $577,300, compared to a median home sale in Spokane County of $208,000, according to the Runstad Center for Real Estate Studies at University of Washington. Couple that with a shorter commute time, lower cost of living, and the fact that 18- to 34-year-olds are the fastest growing segment of workers here, and the Inland Northwest's labor future looks bright, Mielke says.
2. Importance of Education
When employers ask what Spokane's workforce looks like, Mielke says he knows they really want to know how many workers have post-secondary education, whether in skilled trades or beyond.
As of fall 2017, Spokane will be educating more medical students than Seattle, and Mielke hears a need for more people in the health professions, especially nursing. He says there's also a need for people in trades – such as welding and machining – as well as accounting and information technology.
About 41 percent of the work force here has a post-secondary degree of some kind, but GSI's goal is for that number to be 60 percent by 2025, Mielke says.