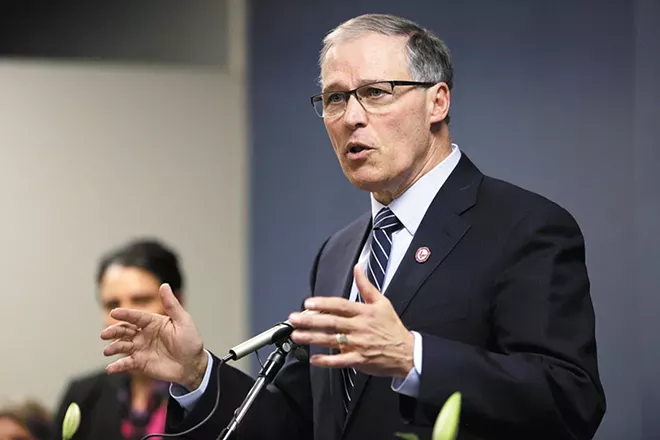 ON INLANDER.COM
NATION:
On Tuesday, a three-year review led by the Republican-led Senate Intelligence Committee unanimously
agreed with intelligence community assessments
that Russia interfered in the 2016 U.S. election, undercutting President Donald Trump.
NATION:
Congress is rushing to finalize a $500 billion coronavirus relief package that would
replenish small business loan funding
.
FOOD:
Here's a handy list of local restaurants offering
family-style take-out meals
during the pandemic.
COVID-19

U.S. death toll

Over 40,000 people across the U.S. have died from COVID-19. The death toll in
Washington state
is inching towards 700. (
New York Times
)
Early spread

Santa Clara County Public Health in California announced on Tuesday that an autopsy revealed that a patient who died on Feb. 6 had COVID-19. Previously, the first known death from COVID-19 in the U.S. was declared on Feb. 29 involving a patient in Washington. The finding suggests that community transmission was occurring much earlier in the year. (
Axios
)
Slow reopening

Washington state Gov. Jay Inslee said in an address last night that his office would likely be allowing construction, elective surgeries, and outdoor recreation to continue soon. But he also said that other restrictions will stay in place to prevent a surge in COVID-19 infections. (
Seattle Times
)
Second wave
Robert Redfield, director of the Centers for Disease Control and Prevention, said in an interview that there's a "possibility" that any second wave of COVID-19 in the U.S. during the winter will be "even more difficult" because it will coincide with the flu season. (
Washington Post
)

IN OTHER NEWS...

School money

Washington and Idaho colleges are expected to receive around $281 million in federal stimulus funds. (
Spokesman-Review
)
Drug war rollback
The American Civil Liberties Union of Washington is trying to get an initiative on the November ballot that would decriminalize all drug possession for personal use — including substances like heroin. (
Crosscut
)
World hunger crisis

Global COVID-19 lockdown measures and the subsequent economic upheaval could force an additional 130 million people worldwide to starve. (
New York Times
)