Every day is a little different for Westward Leather Company founder Ben Fife. His office and studio are tucked inside the barn he helped his father build five years ago in the Paradise Prairie area of Spokane.
"Though it is close to town, it's removed enough to be quieter, to see the stars and hear the coyotes at night," says Fife, whose rugged yet stylish brand includes leather bags and other personal organizers, belts, cuffs, keychains, coasters and more.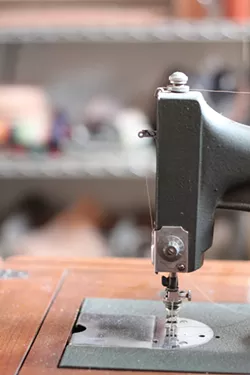 During the winter, Fife begins his day splitting firewood for the stove in a larger shop space outside his 120-square-foot work area, then attends to the day's tasks: photographing products, attending to paperwork, updating his online shop, but also designing items and producing them. "Sometimes," says Fife, "that will be tightening a wallet into the stitching pony, waxing some thread, and getting those needles ready" to sew.
Organization meets inspiration inside Fife's highly personalized creative space.
"My office and workshop is practically bursting at the seams with things I've collected over the years," says Fife. He works amidst stacks of old textiles, Native American crafts, vintage hats and hat-making materials — a new venture he's been considering — military bags, books about his interests, but also tattered volumes like Treasure Island, photos of his family and, of course, stacks of leather pieces, specialty tools and works in progress.
Fife is enamored with the story objects can tell, such as a WWII flight suitcase. "You can see on almost every level the amount of commitment and dedication factories and people were pouring into the goods being produced for the soldiers at that time," he says.
Those echoes from the past are important to Fife, driving the way he collects and arranges the items in his workspace. "So many people throughout history have invented, crafted, and created," says Fife, who was one of eight artists featured during the Northwest Museum of Arts & Culture's annual studio tour in December. "Oftentimes, in their work you can hear their voice, or even more so the collective voice of a culture. I love that. It inspires me to pursue quality in my own work."