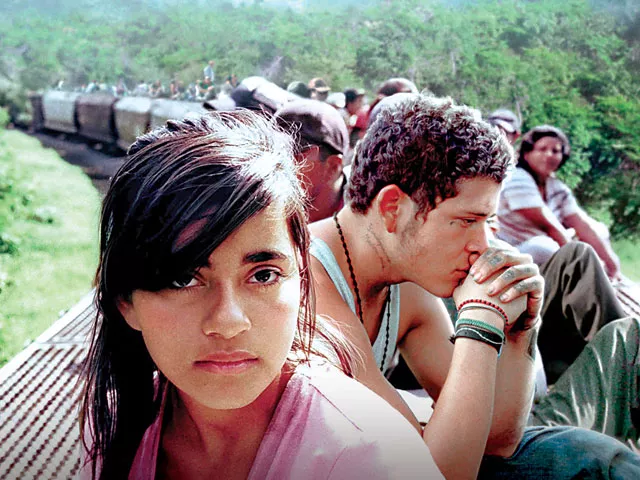 Once upon a time, about five years ago, the government of France did Spokane Falls Community College a favor. It was a grant for a French Film Festival, awarded to French instructor Elodie Phan and film instructor Mary Hyatt. It was an auspicious beginning. But this year, its fifth, the SFCC International Film Festival almost fizzled out.
The French grant was only for one year, so in subsequent years, SFCC picked up the tab and the French department teamed up with other foreign language departments to transform the French Film Festival into an International Film Festival. Then came the economic downturn, sucker-punching arts education as it always seems to do.
"By last year, our institutional funding had pretty much been cut," explains Spanish instructor Bonnie Brunt, now the festival's organizer. "So the festival looked like it might be done with. But enough students and staff come together to bring together the money to keep it going."
Brunt, "a big foreign film buff," heads a committee of students and staff responsible for keeping the festival alive.
A large portion of festival funds come from clubs. Those who donate $500 or more get the privilege of selecting a film for the festival. This year, the French, Spanish, Alliance and International Clubs all chose films.
"Our goal is always just to bring quality films from around the world to our students that they wouldn't otherwise see, and also the community. For example, the film we opened with this year [Japan's Okuribito] won last year's Oscar for Best Foreign Film, and it had never been shown in Spokane," says Brunt.
So far, the festival is proving its value to the community. Okuribito ("Departures," 2008) brought in more non-student viewers than any SFCC International Film Festival screening in the past.
By press time, two of the festival's films will have already been shown, but you'll still be able to catch the last three.
Sin Nombre (2009)
This gritty crime thriller from Mexico follows Casper, a former Central American street gang member on the run from his former gang, and Sayra, a Honduran refugee, as they attempt to ride northbound trains to the United States. Squatting in train cars and hiding from authorities, they endure an arduous journey for a chance at a new life. The film won Best Cinematography and Best Director at the 2009 Sundance Film Festival. (Tuesday, May 4)
Le Grande Voyage (2004)
Réda, a typical French high school student, doesn't care about his father's Islamic heritage or native language, Arabic. Understandably, he's not too excited about being chosen to drive his elderly father on his pilgrimage to Mecca. Predictably, despite major personality conflicts, the two bond as the trip progresses in this BAFTA-nominated film (Best Film Not in English Language). (Tuesday, May 11)
Water (2005)
The final installment in director Deepa Mehta's Fire/Earth/Water trilogy tells the story of Hindu widows forced to live in a spare ashram. Eight-year-old Chuyia is a child-wife-turned-widow who's perhaps doomed to spend her entire life in the "widow's house." Kalyani is a beautiful widow pimped out by the ashram's leader to pay the bills. She falls in love with one of Gandhi's followers, but her past may come to haunt her future. (Tuesday, May 18)
All films begin at 7 pm at the Garland Theatre, 924 W. Garland Ave. Tickets: $3.50. Visit garlandtheater.com or call 327-1050.