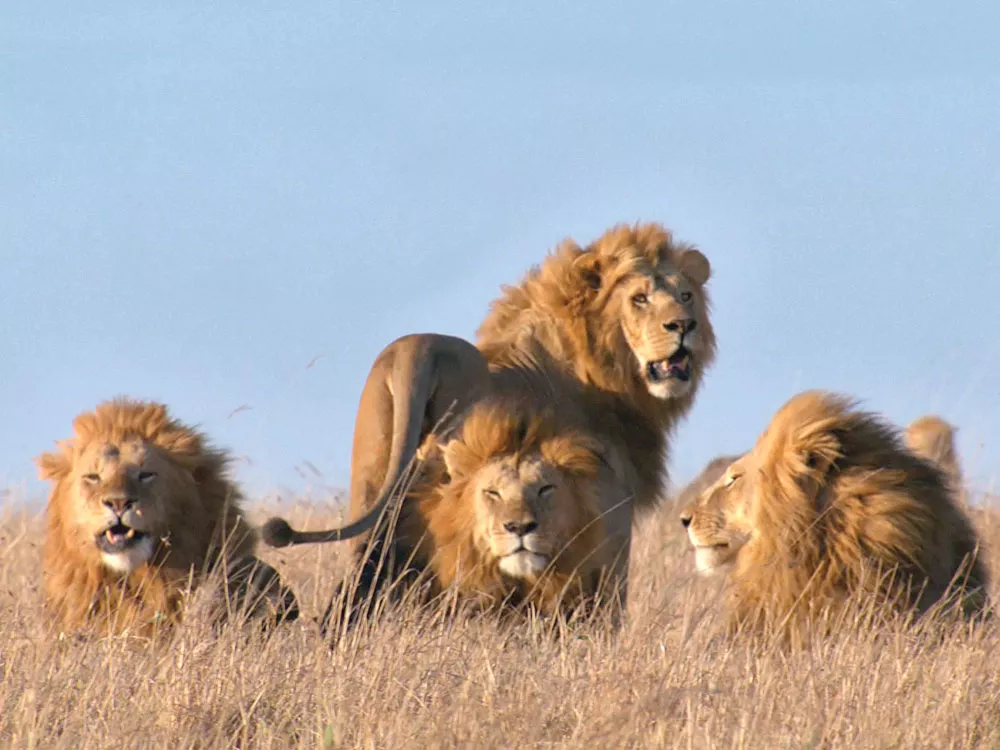 After the well-made but slightly too-familiarfeeling releases Earth and Oceans, you might wonder how many different ways can an educational documentary can be presented to a young audience. But Disneynature finds its groove with this newest release in the series.
Narrated by Samuel L. Jackson, African Cats marries stunning cinematography with compelling storytelling in the Kenya-based tales of two very different feline families: lions and cheetahs.
It's in some ways similar to other Disney features, but instead of sappy songs introducing the main characters here, it's Jackson's voice. A whole battery of cameras catches all of the action, and the editing team did a superb job of trimming it all down into a beginning, middle and end that reveals everything from mother-child relationships to character arcs that will easily be understood by even the youngest viewers.
Parents worrying about any traumatic reactions their kids might suffer from watching this study of real life in the often-vicious wild can relax. Yes, there are scenes of cheetahs hunting down gazelles, because, hey, that's what they eat. But even though we see the pulse-pounding chase, as well as the gazelle being dragged to the ground, the scenes are bloodless, carefully captured by cameras at just the right angles to minimize the violence.
And while hunting is one of the focal points of the film — since it's about mother cats teaching their cubs how to survive — there's a whole lot more plotting going on than just that skill development.
This is a true family film, with a river pride of lions and a single mom cheetah with her five cubs at its center. We meet Fang, the snaggle-toothed male lion who protects his pride (but doesn't think twice about taking away food the females have provided). And we learn of a turf war between Fang and another male, Kali, who's thinking of crossing a river to expand his territory by vanquishing Fang.
For the record, the filmmakers go out of their way to make sure we know it's not just a river; it's a "crocodile-infested" river. One of the most amazing sequences shows Fang staring down — make that roaring down — one of those crocs.
But the film is much more about the females. Lioness Layla, her young daughter Mara, and loner cheetah Sita are just trying to keep their own cubs alive. Cameras cut back and forth between these two cat families, sometimes focusing on the cuteness factor of cubs at play, but never holding back emotionally when things turn heartbreakingly sad. A segment that puts both lions and cheetahs together, and that shows malice in the minds of the marauding lions, is expertly accompanied by appropriately menacing music.
The edge-of-your seat tension that comes from scenes of peril is equally matched by a different sort of fascination that's created by a constant barrage of close-up images of animals' faces as well as aerial shots showing seemingly endless herds of wildebeests spread across the plains.
Adult audience members will admire what Jackson does with his narrating chores — building up the drama by making great use of his vocal chops. "Under 30 seconds before total exhaustion," he says excitedly, as we witness a cheetah going after her prey. "It's now or never!" he practically shouts.
The film loses its way only momentarily when it turns Shakespearian with comments about Kali's sons all wanting to be king. But this stands tall as the best film yet from Disneynature.