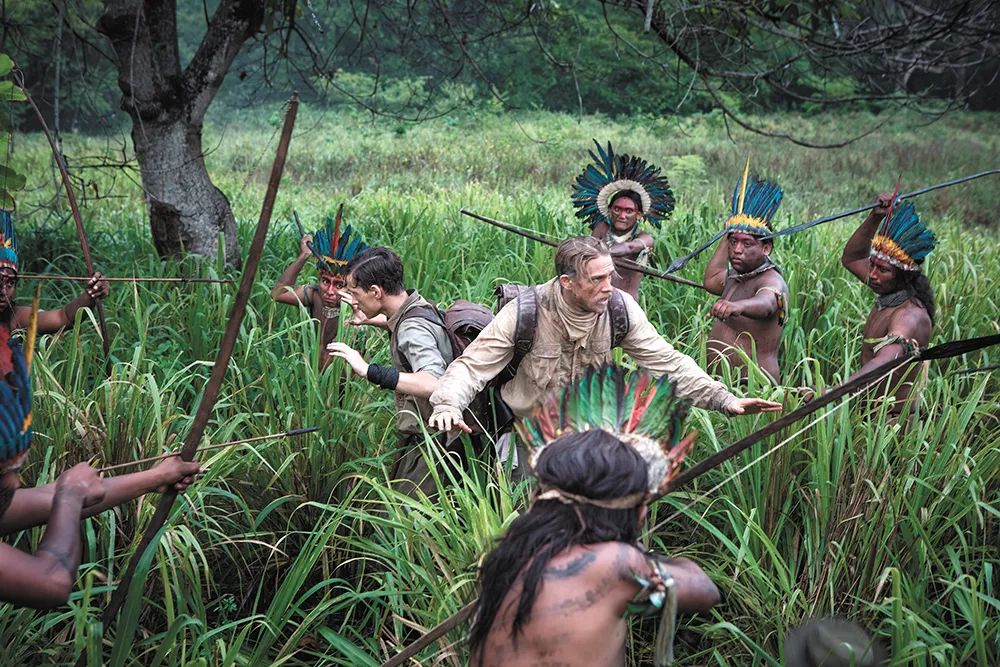 The Lost City of Z is as much about the euphoria of discovery and exploration as it is failure and disappointment, the story of a man whose reputation as an iconoclast and trailblazer was bound to the same South American jungles that would also devour him. At its core, the movie, adapted by writer-director James Gray from David Grann's nonfiction bestseller, is a portrait of reckless obsession, but it's remarkably low-key in its approach, almost to a fault.
The man at its center is British explorer Percy Fawcett, who at the turn of the 20th century hypothesized that an advanced civilization once existed deep within the Amazon rainforest, a theory that was scoffed at by his contemporaries. Fawcett was no doubt an endlessly curious, dangerously passionate figure, yet as played by Charlie Hunnam, an actor who I've always found to radiate an almost aggressive dullness, he comes across as something of a blank.
We're told many times over that Fawcett has been consumed by his own dogged beliefs, that his determination to find the long-lost city, which he nicknamed "Z," is the product of madness. But there's no such insanity in Hunnam's performance; we never get the sense that he has any fire in him at all. I can't help but wonder how the film might have played out had it starred someone like Joaquin Phoenix, who has appeared in four of Gray's films and is capable of channeling both intensity and introspection.
Perhaps that was Gray's intention all along — to make Fawcett secondary to the wilderness that eventually swallows him whole. Many of Fawcett's theories, which he firmly held until his 1925 disappearance, were deemed plausible once technology caught up with them. When we first meet him as a young man, however, he doesn't possess any of the conviction he'd become known for: He's trying desperately to escape the poor reputation of his late father, and he's self-conscious about his conspicuous lack of military decorations.
Fawcett sees an opportunity to make a name for himself when he's summoned by the Royal Geographical Society to travel to Bolivia on a cartographic expedition. Along with a small group of guides and his aide-de-camp Henry Costin (Robert Pattinson), Fawcett also takes it upon himself to quell tensions between Bolivia and neighboring Peru, as the increasing value of rubber is edging the countries closer to war. But then Fawcett catches wind of that fabled city of gold, and after finding ancient pottery shards and hieroglyph-like symbols carved into rocks, he returns to Britain to secure funding for another, longer expedition.
As a filmmaker, Gray (Two Lovers, We Own the Night) has always made interesting choices, but he's turned into something a classicist, for better or worse. In this and his previous period piece, 2013's The Immigrant, he's accurately captured the emotional sweep of cinema of the 1940s and '50s, but he also adopts some of the creakiest tropes of that era.
The Lost City of Z trots out a surprising number of groan-worthy clichés: Fawcett presents his findings to a boisterous room full of skeptics, who take turns standing up and harrumphing him; deep in the jungle, everyone but Fawcett wants to give up and turn around, but he convinces them otherwise; Fawcett's brilliant but long-suffering wife (Sienna Miller) and son (Tom Holland) confront him for abandoning them.
Despite the mustiness of the screenplay, the film is photographed with a delicate visual poetry by ace cinematographer Darius Khondji, who uses light like a Renaissance oil painter. Gray shot much of the film in the jungles of Colombia, and the grandeur and beauty of the locations, as well as the ever-looming threat posed by its inhabitants, are unmistakable in just about every frame. And its final shot, lyrical and strange and haunting, is just about perfect.
In its most alluring moments, The Lost City of Z recalls the work of Werner Herzog, who understands the overwhelming power of nature (and man's futile attempts to harness it) better than any other living filmmaker. Although its protagonist pales in comparison to Herzog's wild men, the movie does adequately convey the mystery of the jungle. As Fawcett and his men get farther up the river, and as the conditions become more and more treacherous, we have to wonder — are some things better off remaining lost? ♦