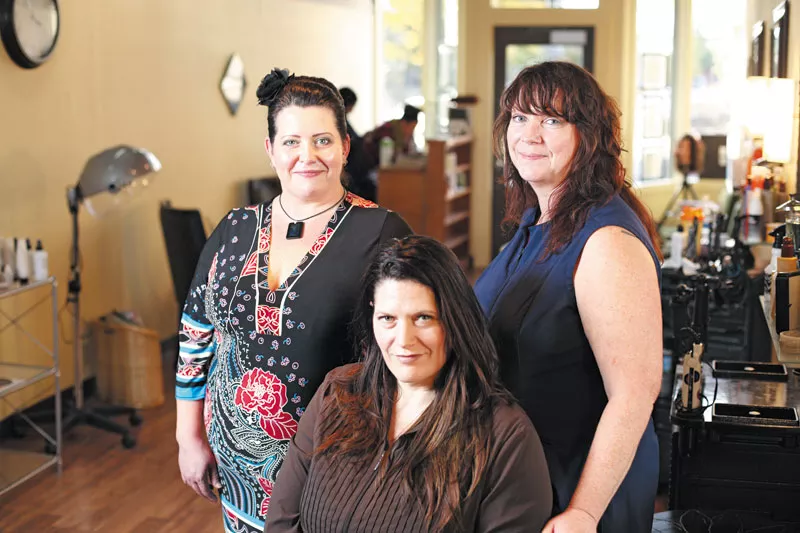 As a woman with lots of coarse, dark hair, I have always been an excellent candidate for expensive grooming. During years of prosperity, I've sported multi-tonal color, stayed relaxed with twice-monthly massages and even had twice-yearly therapeutic pedicures.
In these modest economic times, my hooves and tresses are neglected. But while I may do my own dye and dab my roots with black brown mascara, I'd never stoop to cutting my own hair.
Every girl has standards.
"My mom lived through the Great Depression," says Marsha Schlangen, whose talented daughter has just woven rich, shiny highlights and lowlights into her long blonde layers.
"Even through the toughest economic time in history, women found the money to take care of themselves," she asserts. "You face what you're going through more powerfully if you take care of yourself. It just gives you a better outlook."
It seems lots of Americans share Schlangen's sentiment. While the economy may have lost more than 1.5 million jobs between 2000 and 2011, the number of hair salons climbed by 8 percent, adding a reported 75,000 new jobs in the sector.
In 2009, after a 16 percent increase in business, the International Spa Association declared the Spa Industry "recession-proof." The ISA's president, Lynne McNees, told Reuters, "The economy is hitting everyone across the board, but is also creating a lot of stress. We know that the No. 1 reason people go to spas worldwide is to reduce stress."
Perhaps recognizing the opportunity to refocus its marketing efforts, the spa and salon industry has transformed the culture of beauty services from "wants" to "needs."
"Our business continues to grow, in part because of psychology," explains Yvonne Smith, salon and spa director at La Rive inside Northern Quest Resort & Casino.
"When money is tight, relaxation and enjoyment become more important," she notes. "Customers are becoming more educated about spa services; they understand the importance of taking care of their emotional and physical well being," says Smith.
"It's not just a luxury anymore. Some spa services have become part of normal maintenance."
"When I was working at a different salon, one of my clients lost his job," adds Schlangen's daughter, Christina Baker, a colorist. "He kept coming back for professional styling," she explains. "He said, 'There's nothing worse than feeling like crap and looking like crap.'"
Next to pizza places and car washes, hair salons are the most-used businesses in the country. According to a recent survey by Welcomemat Services, women spend close to $900 each year on cuts, styles and color. And while men may take advantage of fewer types of services, the cost of staying handsome is hefty: The average national cost of a man's cut and style has nearly doubled in the past few years to $46.
"Speaking from my own experience as someone who's been in and out of jobs," says Abbey Crawford, a local singer, actor and now hairstylist, "I will always find a way to get my hair done. I've also found a way to get massages, because the older I get, the more important it is to take care of myself."
"I haven't given my spa-ing up," admits Nancy Sundin, a full-time social worker with three children. "It's my physical and mental self-care we're talking about." While she tries to remain loyal to her massage therapist, "I do use more Groupon-type discounts now," admits Sundin.
It seems like there are six half-price massages, cuts, colors or waxing specials greeting us in our inboxes every day.
"Groupon and Living Social are awesome if you want to get your name out to a mass audience," admits David Madvin, who runs two Elite Salon and Spa locations in Spokane. "But they are also what's ruining the salon and spa business."
"The thing about giving your services away for half their value is that it cheapens the product, and it creates a customer who is price-driven," Smith adds. "No matter how fabulous the service is, they're not going to come back."
Madvin concurs, and calls his first online coupon experience a $3,000 mistake.
"I offered $100 worth of services for $45." Madvin's stylists, esthetician and massage therapist scrambled to serve all 318 new customers. And "fewer than five" of those bargain shoppers became return customers.
Smith says La Rive is somewhat insulated from economic ups and downs by being focused on marketing a holistic experience rather than a service. It doesn't hurt to be located inside a resort.
"There are so few places that can offer a true, full-service spa," says Smith. "This is not just an appointment that you're keeping: 'Let's see, drop off laundry, pick up dry cleaning, get a massage.'" With any service, you get to put on a luxurious robe — and you get the full benefit of the pool, fitness center and Jacuzzi.
It's not on the flyers, but you can basically stretch a 60-minute massage into a four-hour, grown-up play date.
Because it's impossible to compete with prices as low as those offered in coupons, most salons just won't.
"We want to stay competitive and relevant, but we don't reduce our prices to do so," explains Green Salon and Day Spa co-owner Annie Grieve.
Before they created a niche by becoming an allorganic, eco-conscious salon, this group of businesswomen did things more conventionally.
"At our last salon, there was a high noise level; it was all about the spectacle," recalls Cheryl Lystad, another co-owner of Green Salon and Day Spa. "I didn't feel welcome and at home, and I don't think the clients did either. We decided to turn it inward."
"We don't have our personal photographs on the mirrors. It's not ego-driven," explains Grieve. "We have turned off the phone, and we have become more 'high touch.' I think customers want to feel like it's important that they are there. You get my full attention for however long is needed."