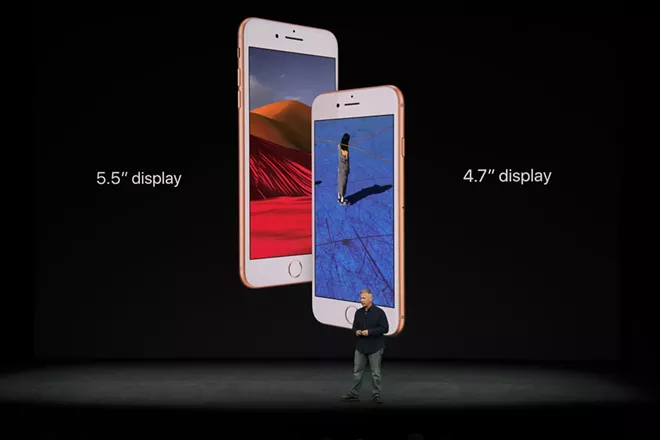 By BRIAN X. CHEN, FARHAD MANJOO and VINDU GOEL
© 2017 New York Times News Service
iPhone X has a newer screen technology known as OLED,
a type of display that can be made thinner, lighter and brighter with better color accuracy and contrast than its predecessor, LCD.
The screen on the X has a so-called edge-to-edge display that takes up the entire face by eliminating the borders around the screen. Apple also eliminated the physical home button that has been a signature on the iPhone for a decade.
iPhone 8 is also here, as well as its bigger sibling, the iPhone 8 Plus. The models include a glass body and a faster chip.
Apple TV, the company's set-top box that has never been a blockbuster hit, got an upgrade. The device will now be able to stream so-called 4K resolution, which refers to screens with two times the vertical resolution and twice the horizontal resolution of older high-definition TVs.
Apple took the wraps off a new Apple Watch. Called Apple Watch Series 3, it has cellular capabilities. There's also a new Watch OS.
The iPhone X is the first redesigned iPhone in three years, and Apple says it is the blueprint for "the future of the smartphone." Many of the design details had leaked to the press before Tuesday's unveiling — including that it would sport a new display that stretched across much more of the phone's front, and that it would do away with the trademark home button. Much of that turned out to be true.
The brand-new feature in the iPhone X that has never existed on any other iPhone is infrared face scanning.
The new iPhone 8 and the 8 Plus include a six-core processor that will handle more complex tasks and 3D games more quickly and efficiently than previous iPhones. The phones generally look the same as their predecessors, the iPhone 7 and 7 Plus, with the exception of glass bodies, as opposed to aluminum.
Apple improved the phones' cameras with new sensors and added new motion sensors to better support applications made for augmented reality, which use data to digitally manipulate the physical world when people look through a smartphone lens.