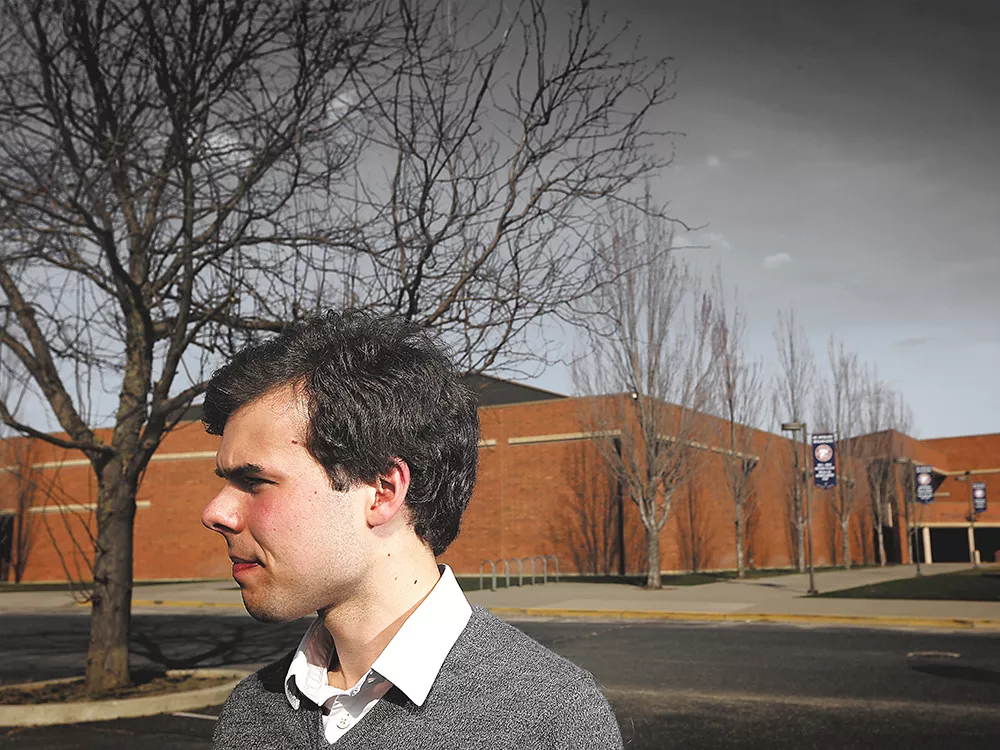 On most mornings, the car ride was silent. As his dad's black Chevy Cavalier wound by evergreen trees, over a creek, past the farms and suburbs of Colbert, Wash., ninth-grader Christopher Borth would just stare out the window.
But when they pulled onto Newport Highway, getting closer, Christopher's breathing became difficult. His hands would shake, his legs would quiver, and when Mt. Spokane High School finally came into view — red-brick against snowy mountains — he'd refuse to look.
The car would stop in the parking lot. They'd sit there, father and son, as the buses left and the students filed in. "I can't go," Christopher would say. "I can't go in."
Bob Borth would search for words. "I understand," he'd say. "I love you. I need you." Some days, he would put his hand on Christopher, close his eyes and pray.
Sometimes he'd call the school to say Christopher was sick and then take him back home, where the teen would climb into bed with his clothes still on and lie there for hours. But other times, they knew he'd skipped too many days already. Christopher would get out of the car, cross through the parking lot and enter those doors, knowing tomorrow he'd have to face it all over again.
Ever since middle school, Christopher had stood out. He loved rock bands like the Clash and the Ramones, and he dressed like his idols — tight black jeans, black spiked jacket, his hair long. His classmates called him gay, faggot, girl. In the halls, bullies shoved him. In the locker room, as he stripped down, they'd spank him or strike between his legs.
The stress gave him headaches and knotted his stomach. Most class periods he'd need to excuse himself to go to the bathroom. He wanted to die. But he couldn't do that to his dad.
Bob Borth knew something had to change. He pulled Christopher out of Mt. Spokane and enrolled him in an online school, where he'd be safer.
"I basically felt I was dropping him off at a zoo with the tigers," Bob Borth says now, looking back.
Every day, kids like Christopher fill the halls of middle schools and high schools across America. In 2012, nearly a third of sixth- and eighth-graders in Spokane County reported being bullied at least once in the past 30 days.
This isn't a new crisis. Bullying is embedded in eons of evolution, found in monkeys, rats, dolphins and yellow-bellied marmots. It's a cruelty found at Wilson Elementary, where a cute boy asks a girl if she'll go out with him, but only as a joke. It's found at Chase Middle School, where a student yanks away a kid's three-ring binder and throws it against a locker. And it's found on a Coeur d'Alene school bus where upperclassmen threaten to kick in the teeth of a younger girl.
But worse, as technology changes, social media has given bullies new power, letting them harass further, faster and without fear of reprisal. Yet that very technology has made bullying more visible. The problems that have always existed are now being recorded on video, text messages and Facebook. Bullies are being blamed for high-profile suicides, teen depression, dropout rates and mental illness.
In area school districts, however, parents, students and administrators are finding new ways — online and off — to fight back.
Help My Daughter, Please
Deon Watson, a tall man with glasses, is here at the Feb. 5 Coeur d'Alene school board meeting to plead for his daughter. He looks down at the podium, carefully reading from pre-written notes — his wife says he rambles — and says he's gone through the most painful experiences he's ever had as a father.
His daughter loved playing volleyball — but not this year at Lake City High School in Coeur d'Alene. She hated how other teammates ganged up on her, critiqued her play and made her race — she's black — a topic of discussion. She hated how they treated her friends.
"Also..." he pauses for a moment, composes himself, "... Sorry, I'm getting emotional. What was more disturbing was the district's and the school's refusal to deal with it. They failed on every level."
Lake City's head volleyball coach resigned at the end of the season, and the district responded in numerous ways, but Watson wanted more. He wanted district-wide change.
Doneisa Eborall comes to the microphone, hoarse with emotion. Three months of severe bullying led doctors to put her seventh-grade daughter on antidepressants. "She missed 25 days one semester because I literally had to drag her out of the car to go in," Eborall says, shaking her head. "I love this community, but I hate this community, you know?"
Then the parents on the other side of the dais begin to share: District Superintendent Hazel Bauman talks about her son in middle school. "He didn't want to go to school. Kids called him 'gay' — he was in bed crying. I held him in my arms, too. I rocked him, and told him how my heart was breaking for him," Bauman says.
Terri Seymour, a school board member, takes a deep breath before speaking.
"I can make a stand right now. It's going to stop, and I will do everything within my power, with this board's help," Seymour says. Her voice is stern, hammering each word. "It will not continue."
The district already had been searching for ways to stop bullying, but that moment in February slammed down the gas pedal. By March, the board had summoned teachers, board members, students, counselors, parents, administrators and police officers to an anti-bullying task force meeting. Several task force members stand up and say how they want Coeur d'Alene to become a model for the nation.
On big sheets of yellow butcher paper, task force members tape assumptions about bullying — "Kids don't want to tell because it won't help," "We aren't strict enough" — onto the wall. The group defines bullying using Idaho's state code: If a cruel action is not repeated, and it's not one-sided, it's not bullying.
Subcommittees discuss experts to bring in, big events to hold and new curriculums to adopt. Another works line-by-line through the district's four separate bully-related policies, tweaking language for clarity. The Kootenai County Task Force on Human Relations has promised to help fund the district's efforts, but only if they can prove they're using a meaningful program.
Efforts in the state Legislature, however, have continually stalled. Former Idaho State Sen. Nicole LeFavour, D-Boise, had tried to raise the issue for years. Her 2012 bill mandated that school districts train staff to stop bullying and establish clear policies to protect children. But the Idaho School Board Association complained about liability, vagueness and the lack of funding, and rose up against it. The bill passed the Senate twice, but never received a vote of the full House. And since LeFavour left the Senate last year, nobody's championed the cause.
Washington state lawmakers have had more success. In 2010, a bill to give teeth to the state's bullying law passed unanimously. Every district then had to pick one staff member to be in charge of complying with state bullying law. If parents feel a district has failed, they can complain to the state Office of the Education Ombudsman. That office has intervened in 88 cases of bullying in Spokane County in the past three years.
Since Washington's anti-bullying law passed, complaints statewide have decreased, according to Adie Simmons, director of the office. But the fight isn't close to being over. They haven't begun to figure out how to respond to the rise of online bullying, she says.
"That is new, uncharted territory," says Simmons.
Cyber Warfare
Julia Brown, a junior at Gonzaga Prep, gets home late the night before Valentine's Day. The moment she walks in, a chorus of Facebook and Instagram notification chimes rings from her iPad.
"By the time I had my shoes off, I was checking my Facebook," Brown says. In her profile, she smiles with a friend in a tiara at the Miss Spokane competition. The hyper-involved 17-year-old works at a dress shop, tutors a fifth-grader, coaches a cheer squad and sits on boards of the Chase Youth Commission, the Spokane County Fair, Riverfront Park and Camp Fire. For Brown, Facebook is as crucial — maybe more so — as a phone or email.
A Facebook chat message pops up: "Hey go to my friends and type in ferris confesions and look what they said about me."
Brown types in the phrase, and finds the "Ferris Confesions" [sic] page.
It's covered with profane, sexually explicit and cruel gossip about Ferris High School students; it uses a secondary website to gather the comments, which are then posted on Facebook.
The users lobbing insults are anonymous. Those being insulted aren't. One post calls two specific freshman girls "the most annoying/thirsty freshman whores I have ever seen. Maybe if they spent more time doing their homework and less time [having oral sex] they wouldn't be called the 'sluts of the school.' "
"The Ferris page was so disgusting, every single post was extremely vulgar, and vile and heinous," Brown says frantically. "It made me want to puke."
To Brown, the page is a time bomb that has to be defused before someone really gets hurt. "The things they are posting are what kids kill themselves over," Brown says. "It could push you over the edge so easily."
Brown's taken down Facebook pages before. The first was a page called "Spokane Whores Exposed," and that one was even worse.
Brown starts up her mother's laptop and begins methodically taking screenshots of the page, post by post. The attacks are vile and personal: He has a small penis, she has gross nipples. He's gay, he's a cross-dresser, and she cheats on her boyfriend. She's a "fat whore."
Brown's up late into the night, working Facebook and email, texting and calling, telling everybody she can reach to report the page. She dumps all the screenshots into a document and sends them to the district superintendent, the athletic director, the principal and counselors at Ferris. She sends a Facebook message to school board member Deana Brower, who says she'll check it out in the morning.
"I didn't go to the bathroom. Didn't get water. Didn't eat," Brown says. "If I don't take a break, the faster it will go down."
Facebook fields millions of abuse complaints every week, and only has so much staff devoted to taking down problem pages. Such decisions are made after the briefest of glances. "We optimize for a half a second," a Facebook staffer told Slate.
But this night, at nearly 2 am, the Ferris page finally goes down. Yet Brown's relief feels hollow. She's worried about the kids who've already been hurt.
And Ferris' wasn't the only confessions page. In the same way an Internet cat meme goes viral, confession pages did too. In little over a week, versions sprung up at Mead, Rogers, University, Central Valley, Shadle Park and Lake City high schools. In five days, North Central's page racked up more than 230 separate anonymous "confessions." The principal at Lewis and Clark High School sent a telephone message to the parents of every student in the school, calling the LC confessions page an embarrassment, a disruption and "really just plain cruel."
The underlying lesson was clear: The Internet can turn into a megaphone for bullying. Tormentors have greater reach and invisibility. Anyone could strike without fear of being hit back.
When a chubby French Canadian kid videotaped himself frantically swinging a golf-ball retriever like a double-sided lightsaber, his classmates uploaded it to the Internet. It became one of the biggest viral sensations of all time, and ultimately landed the "Star Wars Kid" in therapy.
The problem isn't just Facebook. It's texting and smartphone cameras and Twitter and Instagram and Skype and Gchat and Snapchat. In Coeur d'Alene, one student photographed a less popular girl changing in the locker room and sent the picture to all her friends. At Sacajawea Middle School, anonymous students uploaded a collection of student photos to Instagram, slapped on cruel captions and called it the "Sac Burn book." The page came down quickly, but the social damage lingered.
Asked if she'd rather be humiliated on Facebook or at a pep rally, the answer's obvious to Brown. She has more than 2,000 Facebook friends — double the population of her high school. "If somebody humiliates you at a pep rally, half the student body will forget it the next day," she says. But get humiliated on the Internet? It'd stick around until deleted, staring back at her — or future employers — forever.
Jeff Bengtson, principal of Lakes Magnet Middle School, walks in 30 minutes late to his interview with The Inlander. He says he'd spent a half-hour arbitrating a student conflict involving Instagram. "I didn't even know what Instagram was," Bengtson says.
He's been an administrator for 15 years and is seeing far fewer physical fights these days. But the amount of time he spends dealing with bullying has doubled.
"Social media is the hardest thing for us to control," he says. "Kids used to be able to go home and get away from the bullying and harassment. Now they're actually safer at school." Cellphones, by Coeur d'Alene district rule, sit in lockers during the school day. But when the bell rings, and the texts start zinging back and forth, the problems start.
The Internet makes it all the harder to distinguish between "home" and "school." Last month, the American Civil Liberties Union demanded the Everett School District apologize after a middle school vice principal investigating bullying forced a student to log onto her Facebook page.
But those fighting bullying are beginning to adapt with technology of their own. Coeur d'Alene School Board member Brent Regan proposes adding discipline issues and character feedback to the secure student gradebook pages. Parents could then log on to see what their children have been doing right or wrong. Spokane Public Schools has considered using QR codes to link to the bullying harassment complaint form. Students could scan them with their smartphone in the halls, connect to the form and report bullying immediately.
One parent-turned-entrepreneur in Coeur d'Alene has developed a plan of her own. Hannah Masters wants to hand parents powerful tools to watch what their children are doing — and having done to them — online. With the help of a tech-savvy dad, she invented a program called aBeanstalk, which tracks social media and automatically emails or texts parents when cruel, sexual, profane or drug-related words are posted.
"You know, in the beginning, the biggest criticism was parents saying, 'I don't want to spy on my kids.' What they don't realize is that Facebook is not a diary. It's a billboard," Masters says. "You might be the only person that doesn't know what's going on in their visible world."
A test run on my own phone showed aBeanstalk does far more than scan Facebook. A command center display showed hundreds of Facebook posts and Android text messages, cross-referenced with an Internet lingo dictionary. It tagged adult Facebook friends. It flagged the word "ugly" in red on a Facebook post on The Good, the Bad and the Ugly. A text from a Presbyterian pastor starting with "Hey, bud" triggered an automatic email explaining "bud=beer or marijuana."
And most invasively, it used the smartphone's GPS to generate a Google Maps display of the Browne's Addition coffee shop where this story was being written.
Masters says most parents would rather laugh about a false alarm than miss something important.
She offered 1,000 free Premier subscriptions to the Coeur d'Alene School District and wants to host a parent night to teach about online bullying. And at the end of March, she met with a man named Tommy Williams, who leads the anti-bullying efforts in Spokane. She's now agreed to give every parent of every single Lewis and Clark High School student a free subscription.
"If you don't know who your child friended on Facebook yesterday… and you don't know who's talking to them the most using technology, you need to have that information," Masters says. "If you have that information, you'll be able to protect your kids."
Getting a Reaction
In downtown Spokane, Tommy Williams stands in front of a diverse ring of 40 Lewis and Clark students. "You're in the choir room," Williams says. "So we're starting a chorus together."
These kids are the troops drafted in this school's battle against bullying. These aren't just the troubled students or just the overachievers. They run the gamut, and Williams has just handed them the mission of a marketing firm: Create a campaign with posters, videos, flyers and public service announcements and blast it across Spokane's radios and televisions. Harness the viral power of social media. This campaign's message won't be about telling bullies not to bully or telling victims to stand up for themselves. It's aimed at all the kids in the middle who see their peers being bullied.
Williams, a football star-turned-social worker, has long been trying to help low-income kids within Spokane. He knows victims of bullying can easily become bullies themselves. He remembers bullying a classmate so intensely the kid's hair started to fall out in patches.
Asked why he hasn't tracked down his victim to apologize, he says he's torn. "I don't think I could handle what I would see today. I'm scared," Williams says. "What if he's in prison for murder because he got tired of what was happening to him? What if he's homeless and living in a shelter?" This is, in part, a way to redeem himself.
He's brought the "See It, Say It" anti-bullying program to two Spokane middle schools, two high schools and three elementary schools.
Each time, he starts the program with an assembly. Flanked by basketball hoops, Williams, wearing a black baseball cap backward, talks about growing up chubby and tall in inner-city Chicago. "My little sister, I used to tell her to go another route so she didn't see me get beat up," he says over Lewis and Clark's echoing sound system. "I had to go into the school sometimes to go the bathroom to get myself together, 'cause men wasn't supposed to cry."
Here in Spokane, he tells the crowd in the bleachers, we're blessed with an opportunity: "We can be reactors. Everybody say 'reactor!' " He invites up the hip-hop group Level Ground, and they explain that if you're not the bully or victim, you can choose to be either a bystander or a reactor — someone willing to intervene.
Intervening, the group explains, doesn't necessarily mean telling the bully to knock it off. Confronting bullies, one study found, was just as likely to make things worse as make things better. Instead, intervention could mean comforting victims or reporting bullying to a trusted adult.
At each school, Williams forms "reactor clubs." Those kids brainstorm names of teachers they trust enough to talk to. A few of those teachers will advise the club in the future. But mostly this is about letting students take charge. They're the ones designing the anti-bullying campaign and teaching other students how to respond.
"When they feel like they're their solutions, it's their program, they are so excited to get it going," Williams says. At Shaw Middle School, the number of disciplinary referrals for bullying dropped by 33 percent after it started.
Next, he's hoping to bring "See It, Say It" to Coeur d'Alene. "I want to take it nationally," Williams says. "This program is designed to go national."
The Coeur d'Alene district already has quite a few options. The Coeur d'Alene Tribe promised $11,000 to bring in a national anti-bullying expert. And when news of the district's bullying problem spread, a deluge of emails to administrators flooded in from across the country, hawking anti-bullying curricula, speakers, movies and conferences. The district already owns numerous anti-bullying curricula.
That's part of the problem. Everything's diluted. Some programs gather dust, others are used sporadically, half-heartedly.
"There's not a cohesive approach," Superintendent Bauman says.
Whichever program the district chooses, the important thing is that students and teachers buy into it, says Elizabeth Englander, director of the Massachusetts Aggression Reduction Center.
"The attitude of the adults is more important, frankly, than the specific program they end up using," Englander says. "Violence prevention is sort of like exercise. Anything you do is better than nothing."
Punishment & Rehab
In the aftermath of high-profile suicides of bullied teens, schools have been condemned nationally for not taking a stricter approach to punishing bullies, adding to the pressure to dish out harsh punishments. That condemnation, however, may not be entirely fair. Federal confidentiality laws stop schools from revealing student discipline details, making it hard to rebut parental complaints. If a student hasn't been suspended, it can look like nothing was done.
Moreover, the reality of bullying is complicated. While numerous studies have found a higher suicide risk for both victims and their bullies, it's not so simple. In her book Sticks and Stones, author Emily Bazelon says that bullied teens who committed suicide often had other issues going on as well.
Consider Bully, a documentary about a boy bullied mercilessly until he killed himself. The Coeur d'Alene district's anti-bullying task force is considering making the movie part of the curriculum, but Bazelon criticizes the film for never mentioning the victim's Asperger's syndrome, an autism spectrum disorder which has been linked to a higher risk of suicide.
"These news stories that draw these very black-and-white, cause-and-effect lines are not matching the experiences of most people," Bazelon says. She worries the "bullycide" narrative can inflame a mob mentality and make suicide seem romantic and inevitable to bullied teens. "We start focusing on blaming and punishment instead of prevention and providing mental health services," Bazelon says.
With the knowledge that bullies may have been bullied themselves, have horrible home lives or suffer from mental illness, schools attempt to balance punishing a bully with trying to help him. And while parents may call for suspension and expulsion, those punishments may not be an effective deterrent.
"Out of school [suspension] a lot of times ends up being a vacation for the student," says Bengtson, the middle school principal. "What I've found is that for the most part discipline is not going to change the behavior." Instead, he focuses on in-school detention and, crucially, calling parents.
Currently, Coeur d'Alene policy requires that parents be notified the second time their child is caught harassing others. Some parents say they wanted to be notified the first time.
Idaho's juvenile justice system also has a few ways to help troublemakers, including anger management classes and diversion officers. But those can only be used for misdemeanors, like threats, assault, theft and drunk driving. Idaho's code counts bullying as an infraction, a mere $56 fine.
"It's like getting a speeding ticket. All you have to do is to go to court to pay that fine," Coeur d'Alene School Resource Officer Steve Harris says. "It shows up on your driving history."
Battling bullies involves a massive cultural shift, experts say. It means making bullying less cool and "snitching" less uncool. Coeur d'Alene is still searching for how to do that. They're still at least a month away from having any plan to present to the board.
Meanwhile, Williams, the anti-bullying advocate from Spokane, pushes for "restorative justice." The bully meets with the victim and reads a letter of apology. Sometimes they're still suspended. But — and here's the point — they have to find some way to "repair the harm in the community." Maybe they spend a few hours mopping floors, or mowing lawns, or washing windows. It might take more staff time, but Williams thinks it's worth it.
"You can't afford not to do this," Williams says. "Everything you've been doing up to this point has not been working."
'It Gets Better'
In a perverse sort of way, the nation's best-known anti-bullying campaign began 27 years ago at Spokane's Shadle Park High School. That's where Terry Miller was beaten and bloodied. That's where high school thugs defecated on his car, scratched the paint and smashed his windows. That's where he was tormented for being gay.
In 2010, after two gay teens committed suicide, Miller shared all of this in a YouTube video, calling Spokane a "mid-sized town with a small-town mentality." But that wasn't the point. His point was what happened afterward.
High school ended. Miller left Spokane for Seattle, where he met a guy named Dan Savage at a bar. They traded cheesy innuendo, dated for more than a decade and adopted a son. In the video, Miller and Savage share memories about walking through the streets of Paris or skiing double-black diamonds as a family. "Those moments make it so worth sticking out the bullying and pain and despair of high school," Miller says. He told the same kind of message persecuted people have relied on for centuries: Survive the trials and tribulations, and a better world awaits.
The video went viral. Countless other people, both gay and straight — from the President of the United States to twentysomethings in Spokane — recorded their own "It Gets Better" videos.
For students still in school and their parents, "better" can seem a long way off. Despite all the district's ambition, parent Anna Watson still feels like pulling her daughter from Lake City after her problems on the volleyballl team. "We just don't believe that changes will be made. She can't play with those girls," she says in a text message. "I feel like she is being punished for standing up for herself and others."
But things got better for Christopher Borth, the boy who dreaded every drive to Mt. Spokane High School. He sits at a Spokane coffee shop on a sunny Saturday and smiles even as he talks about the worst time in his life. He's wearing a gray sweater pulled over a collared dress shirt — not exactly punk. He only changed his style after he stopped getting bullied for it.
Better doesn't mean perfect. As he's jogging, a car will drive by, and he'll be hit with a flash of insecurity — he wonders what the driver thinks of him.
But the teachers at his online school spent more time checking in on him one-on-one than they did at Mt. Spokane. He felt like they cared about him. A nonprofit called To Write Love on Her Arms helped him deal with his suicidal thoughts.
"I learned I wasn't the only one that went through depression," Borth says. One day, he met the founder of the organization, hugged him and cried.
He started giving back. Volunteering with World Vision, Union Gospel Mission and Colbert Presbyterian Church, he found renewed confidence. "It's like Les Misérables," he says. "To love someone is to see the face of God." Someday, he wants to major in theology at Whitworth.
Getting better didn't just come from escaping Mt. Spokane High School. It came from becoming a different, more secure person, thanks to a father who loved him, teachers who cared about him, and churches and charities that helped him feel less alone.
He recently started at Spokane Falls Community College, returning to public school for the first time since Mt. Spokane.
"To tell you the truth, I have been nervous about it," he says. But a few weeks ago, he attended student orientation and realized he shouldn't worry.
"This," he says, "is nothing like high school."
---
BULLYING AND MIDDLE SCHOOL
Bullying peaks in in middle school. Blame hormones, the undeveloped brain, and the sudden transition away from small community grade schools. "It's a time when children become increasingly aware of social status, increasingly interested in social power and positions," says bullying researcher Elizabeth Englander. "In the middle school, just saying hello to someone as you walk past them still has meaning. You want power, so you won't feel stressed and vulnerable."
The pain of being bullied in middle school can linger years later. "I am 48 years old — I just had a birthday. I still have nightmares of my middle-school experience," East Valley School Board member Mike Harris says. "People later in life called me to apologize. They go through some 12-step-program and had to apologize."
Despite vocal community opposition, Harris and the rest of the East Valley board have been moving to switch to a K-8 model, getting rid of middle school entirely. Already, the change appears to have led to a small reduction in bullying.