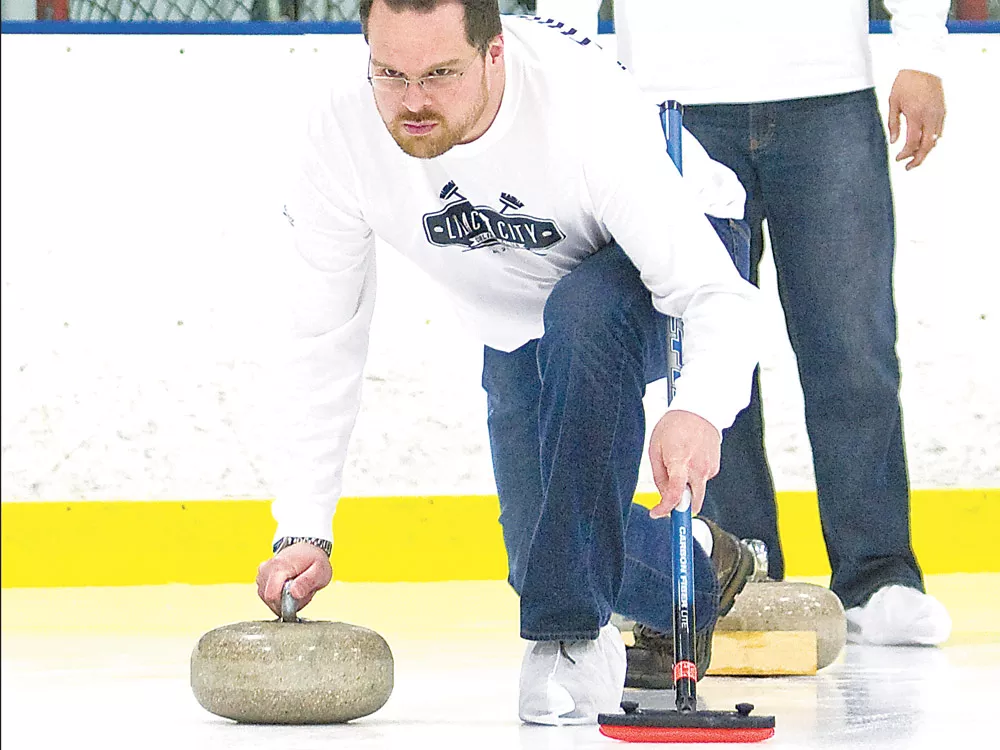 Middle-aged men with brooms and what look like hairnets on their feet clumsily squat and slide rocks across the ice at Eagles Ice Arena on a Sunday last month. It's the first-ever practice for the Lilac City Curling Club. For many of the 16-or-so men and women, it's the first time they've ever even tried the oddball sport.
And it shows. Almost everyone has not-so-gracefully fallen.
"[Curling] was a lot harder than we thought it was," says Rick McCrickard, unofficial mouthpiece for the group and a member of the board of directors. "We were lucky to get the stone 20 feet."
"Don't worry," jokes Benjamin Baird, one of the youngest members of the club, in his late 20s. "We'll be in the Olympics in no time."
Curling originated in 16th-century Scotland but more recently captivated (and befuddled) the 2010 Winter Olympics' television audiences. Now, thanks to a few conversations around the water cooler and help from Spokane Parks and Recreation, the sport has slid into Spokane.
After two hours on the ice, it's time for a drink.
Although today's their first time on the ice, the Lilac City Curling Club usually meets for beers and bullshit at 6 pm on Thursdays at C.I. Shenanigans. Today, though, they're upstairs at Eagles Ice Arena surrounded by cans of Coors Light and Kokanee. They jokingly introduce themselves as "curlaholics."
Curling is kind of like shuffleboard on ice. Two teams of four players take turns sliding a 44-pound granite stone along a 146-foot-long sheet of ice toward a kind of bullseye target on the other end (the house), while two sweepers guide it along by frantically sweeping the ice (sweeping melts the ice, which changes the direction, or curl, of the stone).
Don't worry: The club members don't understand all of it, either. When asked about scoring, they'll thumb through rulebooks and 20-inch-thick binders, trying to come up with an answer before ultimately trailing off into a joke.
"I think we can fake it for a couple of hours," says Mc- Crickard. "Hopefully, one day we will evolve beyond the malted-beverage camaraderie."
The group chuckles and raises their beers for mid-air cheers.
"I'll be the remaining sober guy, just in case," says Aaron Rollins.
From across the room, Baird — seemingly steeped in thought — says, "I mean, we suck at every other sport, but this looks like something we could do."


Jim Thrash, 83, shuffles across the ice with ease.
"I got a call from some of the old curling club guys," Thrash says. "I came down to see if I could help."
Thrash was introduced to curling by his Canadian wife, Dot, in the '50s. He moved to Spokane in 1965 and, at the urging of his neighbor, joined the Spokane Curling Club.
"The club formed in 1962," Thrash says. "Most of them were old Canadian hockey players."
Thrash says Spokanites had been curling 30 years before that on the pond at the Wandermere Golf Course.
"I don't know, but it's possible. My family built the golf course in 1929," says Wandermere owner Bob Ross, chuckling. "[Thrash] does have a few years on me."
The Spokane Curling Club formed and hosted its first invitational bonspiel (match) in 1963 at the Five-Mile Ice Plaza (where the Northwest Christian Thrift Store is located today). By the mid-'60s, Thrash says, the club had 20 teams, including squads from Coeur d'Alene and across the border in Canada.
"We had people on a waiting list to join," Thrash says. "We started playing once a week and then got up to four times a week. At first we were awkward, but we were getting better. We even won a few games."
In 1974, Thrash and his brother finished laying the ice at the Spokane Winter Club in Five Mile — what would become Spokane's first and only curling-only facility — but interest in the sport waned. The club — and the facility — closed in 1979.


Some members of the Lilac City Curling Club have been curling since they were 8 years old. Others found the club on Facebook. Kellie Gilligan decided that, at age 50, "it was time to learn how to curl."
McCrickard says the idea for the club formed around the water cooler at Hollister-Stier Laboratories, an allergy research lab in East Spokane.
"We were talking about the Olympics and someone mentioned being excited about staying up until 2 am for the curling coverage," he said. "It became a somewhat strange obsession with this very strange game."
Although it's possibly the least-known winter sport, curling has become the darling of the winter Olympics. According to an article by The Washington Times, curling was one of the most popular events in the 2010 Vancouver Olympics, with more than 5,000 people attending each event. And curling matches also became an unlikely late-night television favorite.
For members of the Lilac City Curling Club, the film Men with Brooms solidified the obsession. In February 2010, the group formed a Facebook page and called ice rinks looking for equipment.
"We were to the point of asking if anyone had any giant rocks with handles in their basement or barns that they couldn't explain," McCrickard says.
They reached out to clubs in Seattle, Portland, Wenatchee and Missoula, but then Eagles Ice Arena called and said they found 12 stones — still grimy from the 1970s — hidden in a maintenance closet. The Lilac City Curling Club then got in touch with old players like Thrash.
"It seemed like a fun pipe dream, but within six months it died," McCrickard says. "Now we've got momentum and board members. Next is groupies."
The group jokes that their groupies will ultimately be "angry, cold wives sitting in the bleachers." Jokes aside, their pipe dream is about to get real — the club is now affiliated with Spokane Parks and Recreation, and this fall Spokane will host an official curling league.
"We're trying to get creative with winter sports and recreation on the ice," says Adriano Eva, sports coordinator with Spokane Parks and Recreation. "I was thinking about the unused ice time at the Riverfront Park Ice Palace and thought curling might spark people's interest, so I contacted the club."
Eva says Spokane Parks and Recreation will host training clinics, manage the league, and provide ice time for games at the Ice Palace. The season is tentatively set to begin in October and will run nine weeks.
"I'm already surprised by the response curling has gotten," Eva says. "It's a little strange, but I think it's gonna be a hit."
There's a long road ahead before the Lilac City Curling Club is ready to host a bonspiel, but after their first session on the ice, everyone seems elated.
"It's amazing how this has grown from a few dorks talking around the office into a functioning entity," says