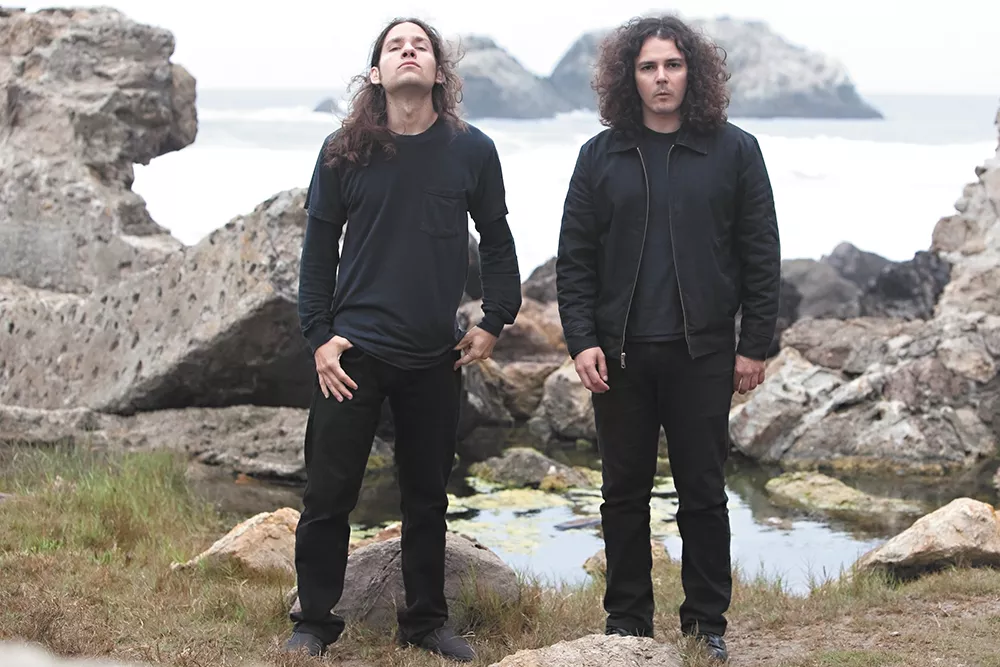 From the very first millisecond of the very first track of every Black Cobra record, the band is breathing fire. Their sound isn't just aggressive but relentless and seething hot; not just angry, but a bull foaming at the mouth and pawing at the dirt. The Bay Area band combines thundering drums and a rolling tsunami of guitars to create an unmerciful sound — one that's destructive in the way that heavy music fans live for.
And they do it with just two people.
These days, the two-piece has become more and more popular in mainstream rock music — with acts like the White Stripes and the Black Keys bringing attention to duos. When done well, they create some of the most interesting, stripped-down rock music and often attract cultish followings. Look at The Pack A.D., Japandroids, Death from Above 1979 — hell, even Daft Punk is just two guys. Having only two members obviously affects how a band will sound; onstage, it preserves an underground, just-out-of-the-garage quality. Even when Jack and Meg White were at their most famous, they were still just two people jamming onstage.
But when rock music gets exponentially heavier and more reliant on technical skills, the field of two-piece bands thins a bit. In rock, duos can be sort of a garagey novelty; in metal, there's little room for that. The few successful heavy duos out there — Jucifer, early Big Business, Lightning Bolt — have little to hide behind (though one could argue there's quite a bit of novelty to Jucifer's wall of amps).
With the amount of noise Black Cobra creates on record and onstage, the band has said in interviews that it often shocks people that they're a duo.
"I think people are thrown off by the fact that it's only two people. A lot of people come up to us after we're done playing and tell us they heard us from outside or from another room, and when they walked in and saw there was only two people playing, they couldn't believe it," guitarist Jason Landrian (formerly of Cavity) told the blog La Ligne à Harde in 2012.
Landrian points out that while the two-piece setup might be a selling point for fans of other bands, Black Cobra tries to downplay that it's just him and drummer Rafa Martinez (of Acid King). "With our records ... we don't want to focus on the fact that we're a two-piece. We want to focus on the fact that we are a band and we're playing music," he said. "Our names are missing on any of our records precisely for that matter, because we didn't want to be prejudged as a two-piece."
Black Cobra has continually refined their sound since their 2004 debut EP. That might have something to do with their unique influences: classic bands like Napalm Death, but also 19th century German composer Richard Wagner, 1950s lounge acts and classic horror movie directors.
After the band famously opened for High on Fire in 2010 in Spokane (a show local headbangers are still talking about), they've played to audiences of thousands at festivals like France's Hellfest and Roadburn in the Netherlands. That's the only time they seem to wish they were a little bigger.
"There have been some times where, it's been like a festival situation, and the drums are on a riser behind me, that's when it feels too big for us," said Landrian in the same interview. "I'm used to [having] Raf right next to me. I mean, he's 50 percent of the band. ... When I have Raf on the stage next to me, it definitely feels comfortable." ♦
Black Cobra with Wizard Rifle and Losing Skin • Wed, June 18, at 8 pm • $8 • All-ages • The Hop! • 706 N. Monroe • thehopevents.com • 328-5467