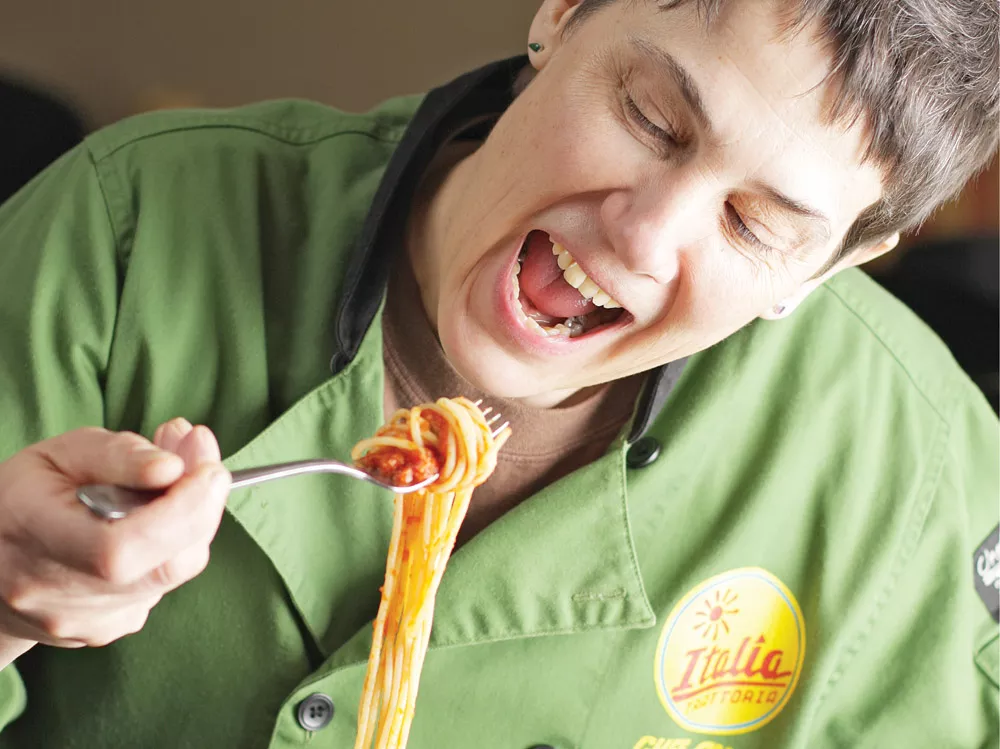 Sunlight streams in through the roll-up garage doors in the warm wood-and-orange interior of Italia Trattoria. Artichoke stems and golden wheat sit in vases hung on the wall, a nod to the rustic ingredients that go into the dishes at this Browne's Addition restaurant.
It's good news that this bright, cheery spot can once again be enjoyed during the daytime. Last week, Italia premiered its new lunch menu after a four-month hiatus from noontime meals.
"People are dining differently," says Bethe Bowman, who owns the restaurant with chef Anna Vogel. "We always intended on doing [lunch] again, but we kind of had to evolve," she says. The new lunch menu is more casual, focusing on lighter fare.
Bowman and Vogel knew they had to bring back the popular Miss Piggy sandwich (Italian pulled pork, ham, caramelized onions and melted mozzarella), and they had to have fries.
"We spent days trying French fries," says Bowman, noting that Italia is the only restaurant in the neighborhood serving fries.
The muffuletta is one of seven sandwiches on the menu ($9- $11) and one of Vogel's favorites. Thick slices of ham-like mortadella, salami and provolone are grilled on sourdough brushed with briny green olive spread. It's crispy, salty and delicious. There's also a fried egg panino for late-breakfast eaters, a tuna melt with caper aioli, a veggie panino with house-made mozzarella and a burger with gorgonzola and pepperonata.
Sandwiches come with soup, salad or fries. "A good soup will bring people into a restaurant," says Vogel. The beef and vegetable soup served last week, with red wine braised short ribs and sweet-peppery parsnips, should have customers beating down the doors. Soup is available by cup or bowl ($5/$8) and there's a Caesar salad on the menu too ($8).
There's a rumor floating around that Italia is closing, which Bowman was quick to dismiss.
"We're not closing. Dinners are going super-strong," she says. It looks like lunch is off to a good start, too.

Italia Trattoria • 144 S. Cannon St. • Open for lunch Tue-Fri from 11:30 am-2:30 pm, brunch Sat-Sun from 9 am-2 pm, dinner Tue-Sat beginning at 5 pm. (459-6000)