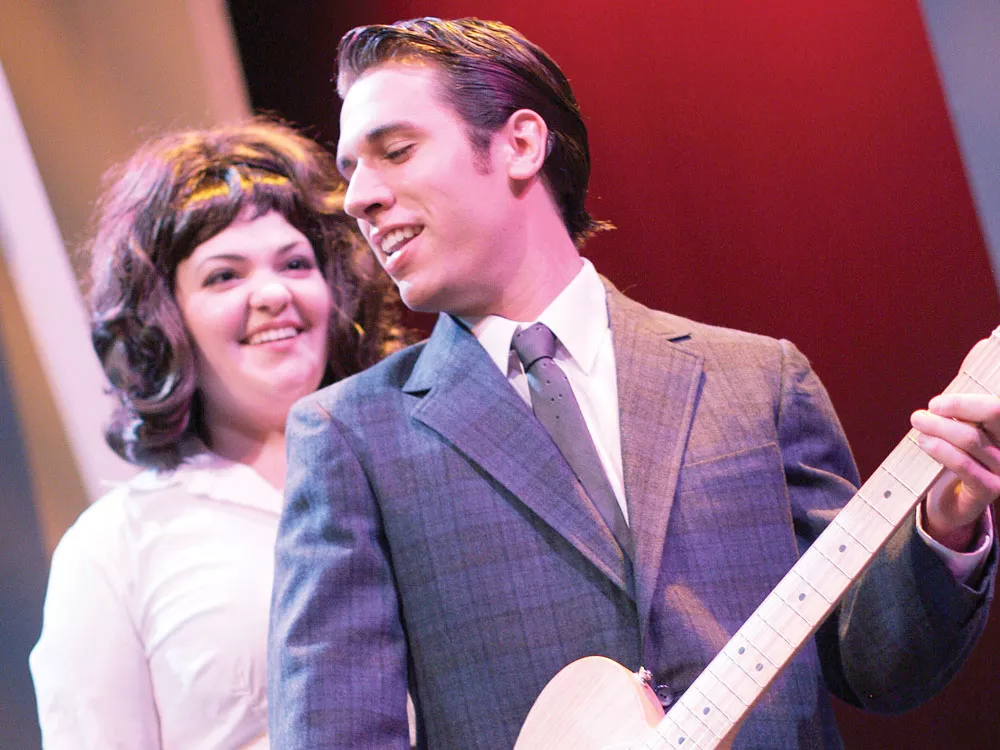 "Welcome to the '60s": It may sound quaint, but Hairspray's anthem isn't just a return to Beach Boys innocence. As shimmied and shouted in director Kirk Mouser's Coeur d'Alene production, it's a party-whoop celebration of freedom from prejudice and the sheer joy of living. The plus-size mother-daughter team, Edna and Tracy Turnblad (Roger Welch and Lindsey Hedberg) may have personified Dowdy and Dorky until now, but a revolution is underway, and the big girls, the black girls — and especially, the big black girls (like Deidra Grace's Motormouth Maybelle) are going to get some respect and get it now.
The Dynamites (think: the Supremes) start harmonizing, some of those crazy kids from the Corny Collins Show start cavorting all over the stage, and soon Edna and Tracy are popping out of Mr. Pinky's Hefty Hideaway in matching outfits: They're here, they're heavy, and they don't give a hoot. "Welcome to the '60s," like the show it encapsulates, is a joyous bitch-slap to the faces of snobs and bigots everywhere.
And that's why people enjoy Hairspray so much: the unloved, unpopular, put-upon kid in all of us … she gets to stand up and sing! And dance! And make out in the backseat with that dreamy Link Larkin! Go, Mama, go-go-go!
With creative choreography, inventive direction, a tuneful score, plenty of energy and an anti-discrimination message, Hairspray (through Aug. 21) is clearly CdA Summer Theatre's best production this season.
Christopher Moll's dance designs energize this show at every turn, from the double-snap, lasso-hands-and-shoulder-swivel, pirouette-onto-tiptoes slide of Gabe Lawson as Seaweed J. Stubbs in "Run and Tell That" to the ensemble's two-hand chop to the thigh, leap and wavy-hands flourish of the finale.
Mouser keeps the energy levels high, from the opener's groovy silhouetted dancers to the interweaving of the three-way scene in "Mama, I'm a Big Girl Now" (snobs, dorks and rejects) topped off by a half-dozen singing heads popping through portholes. In "I Can Hear the Bells" — Tracy's fantasy about marrying a dreamboat — Hedberg masterfully transitions from silliness to sentiment, and she's helped by Mouser's direction: Half the dancers freeze in place, the dweeb-sidekick pokes at the frozen heartthrob (calling attention to the theatrical artifice), and then each chorus member produces an actual bell. It's jokey (two chairs, reversed, become kneelers for the imaginary wedding) but also touching (in the yearning quality of Hedberg's voice).
Mouser also mines comedic nuggets from his two Authority Figures. Reed McColm goes from addled administrator to gruff cop to creepy clothier, while Tamara Schupman finds the one-liners' impact as a repressed mom, butch P.E. teacher, and even more butch prison guard.
Welch does a better flamboyant Edna than frumpy Edna, as if the dumpy lady in support hose had forgotten how to crack wise. Still, at one point — in a fat suit, with bazooms jiggling under a fetching housecoat — Welch starts swaying seductively in front of a hot dog cart, and it's hilarious. As Edna's husband Wilbur, Patrick Treadway — fragile-looking in suspenders — exudes generous ineffectiveness. Their love duet, "(You're) Timeless to Me," was disappointing, played for vaudeville silliness out in front of the curtain and lacking in tenderness. But together, Edna and Wilbur help everyone else in the effort to put down the racists and self-appointed judges.
Hairspray's final number, "You Can't Stop the Beat," is a protest-party song in all its solo, choral, finale and curtain-call manifestations. The pounding rhythm that snobs and bigots can't defeat is the pounding beat of those who declare that nobody, not nobody, is going to get away with looking down on someone else because of skin color, body shape, lack of fashion sense or inability to do the Twist. Hairspray — a tuneful, raucous celebration of how silly dance-offs can lead to serious social change — isn't just nostalgic escapism. It offers even better pleasures.

Hairspray runs Thursdays-Saturdays, Aug. 12-14 and Aug. 19-21, at 7:30 pm, and on Sunday, Aug. 15, at 2 pm at NIC's Boswell Hall, 1000 W. Garden Ave., Coeur d'Alene. Tickets: $39; $35, seniors; $25, children. Visit cdasummertheatre.com or call (208) 769-7780.