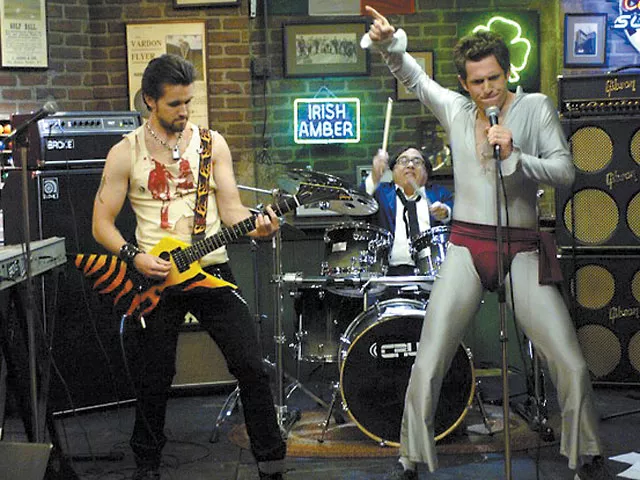 Friends had episode titles like "The One With the Racecar Bed," and "The One With Phoebe's Dad." It's Always Sunny In Philadelphia has episode titles like "The Gang Gets Racist," "The Gang Exploits the Mortgage Crisis" and "The Gang Goes Jihad."
They're different, these two shows. The jaunty-bouncy score, the "Always Sunny" title and the Hardy Boyish use of "The Gang" all clash gleefully with the pure anarchical amorality of the characters.
These are bad people. Not evil-genius/criminal-mastermind bad, but stupid, selfish bad. Pretends-to-have-cancer-to-get-girls bad.
Like a snowflake, each character is awful in his or her own unique and horrible way. Gullible dyslexic Charlie (Charlie Day) invents "cat mittens" and cuts the brakes of the Gang's van (he's a "wild card," he explains helpfully). Frank (Danny DeVito) basically plays a shorter, balder, grosser and somehow angrier version of Lewis Black.
If How I Met Your Mother is the successor to Seinfeld's catalog-of-social-nitpicks, Always Sunny is a successor to its no-hugs narcissism.
Always Sunny cranks the selfishness of its characters past the point of Larry David neuroticism and into the realm of sublime absurdity.
Each episode starts out with a few harebrained ideas and jerk moves but then, as it progresses, bad decision builds on selfish decision builds on bad decision. In the end, it's yelling, chaos and farce.
Usually, a guest character, some pitiable soul — a judge, a mediation specialist, an innocent city comptroller — is drawn helplessly into the abyss of the Gang's depravity. They escape — barely— but leave confused, trembling and forever scarred.
The Gang, you see, operates with a different set of rules than the rest of us. Theirs is a world devoid of things like common sense (Frank creates a gun that shoots liquor into his mouth), social-awareness, or self-control (Charlie gets into a brawl with the Phillie Fanatic).
As result, Always Sunny depends heavily on audience sensibility. Some people find the drunk idiot at the party — the one peeing in the heating vents and starting fights and slurring about a nightmare he once had about the Wal-Mart smiley — absolutely hilarious. Other people fi nd him annoying when sober, and aggressively annoying when drunk. Neither type can stand him in large doses.
That's Always Sunny — times six.
TIVO-WORTHY
30 Rock
You know a TV show has been truly great when critics begin lamenting how it "isn't as good as it used to be." With a worsening hit-miss joke ratio and lengthy screen time for all the wrong characters, 30 Rock falls into this category. Hopefully, new guest cast member Cheyenne Jackson will help things out. (Yes, the same Cheyenne Jackson who grew up near Spokane.) (NBC, Thursdays, 9:30 pm)
Friday Night Lights
Last season, coach Erik Taylor found himself banished from football powerhouse Dillon High and sent to the underfunded, undertalented East Dillon. The underdog-versus-Team Evil story is an old one, but no show gives clichés gritty, heartbreaking new life like Friday Night Lights. (DIRECTV's 101 network, Wednesdays, 9 pm)
Dancing With the Stars
Dancing shows have an advantage that shows like Top Chef and Project Runway don't — we don't need to be a fashionista or culinary expert to be wowed. On the season finale of Dancing this Tuesday, we'll out find who truly is a maniac, maniac on the floor. (Not Tom Delay, sadly.) (ABC, Mondays, 8 pm, Tuesdays, 9 pm)