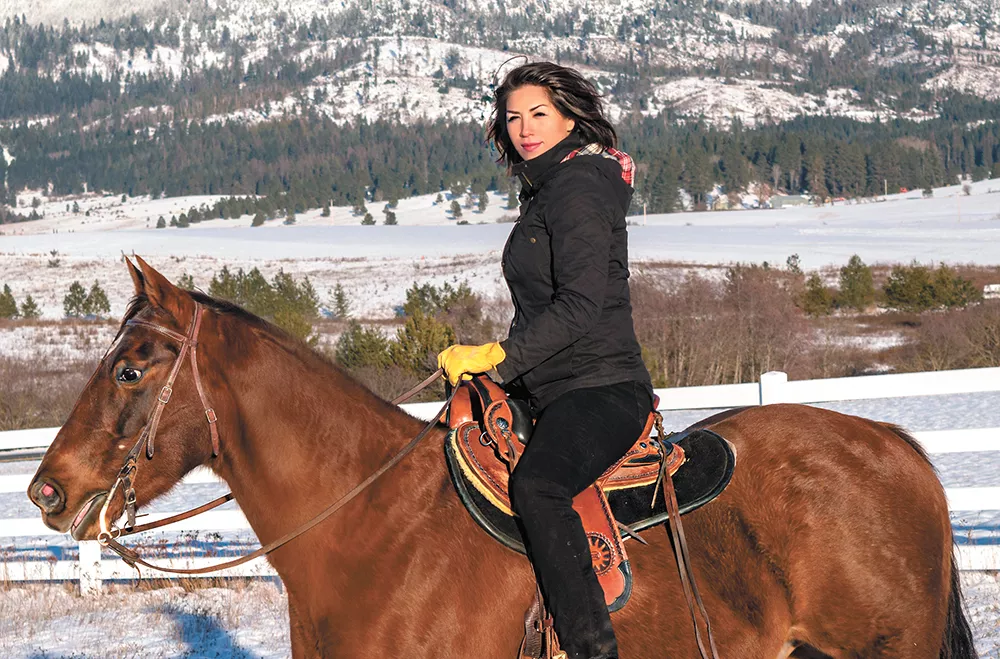 Paulette Jordan would be the first Democrat to govern Idaho since 1995, the first woman ever to hold the state's highest elected office, and the first Native American governor in the country.
But while she knows the possibility of shattering glass ceilings is important, and she's proud to have the chance to make history, she says her motivation goes beyond that.
"It's not about men, about women," Jordan says. "It's about bringing back the good leadership that we need in this state, that we've been missing for too long."
At a time when national politics seem to be drawing deeper divisions between those on the left and right, Jordan says she wants to focus less on labels and more on making sure everyone feels heard. Especially those who don't feel the government works for them anymore.
Jordan, 38, grew up in rural North Idaho, mostly living in the countryside and small places like De Smet and Plummer, the largest town on the Coeur d'Alene reservation. For generations, relatives on both sides of the businesswoman's family, from the Coeur d'Alene and Confederated Colville tribes, have been involved in ranching and agriculture, and they still own farmland.
She went to Gonzaga Prep, commuting back and forth from Plummer at first, then went on to University of Washington. Returning to the Coeur d'Alene reservation, she quickly got involved in leadership and served on Tribal Council from 2009 to 2012.
That year, she mounted a campaign for Idaho's District 5 House Seat A, serving Benewah and Latah counties, and lost to Republican Cindy Agidius. But in 2014, she ousted the incumbent, and then kept her seat in the 2016 election.
While Jordan knows her name isn't as well known as, say, Republican Congressman Raúl Labrador, who is vying for the Republican gubernatorial nomination, she pointed out to women's marchers in January that she has more elected experience than President Trump, and plans to put all Idahoans first.
"I will live and die by Idaho, because I was born and raised by Idaho," she tells the Sandpoint rally, in a speech posted in full to Facebook. "We're not just going to win by one party. This is the unification of our entire state. A unified Idaho."
On Feb. 9, Jordan named St. Maries City Councilwoman Margie Gannon as her substitute to fulfill the rest of session so she can focus full-time on running for governor without leaving her constituents in the dust. Earlier that day, Jordan took time to speak by phone with the Inlander about the issues facing Idaho as she prepares for the May 15 Primary Election, where she'll face Democratic opponent A.J. Balukoff, a Boise School District board member who faced current Gov. Butch Otter in the 2014 election.
INLANDER: As the only Democratic representative north of Boise, you've gotten a sense of what it's like to work within the Republican-controlled government. What real chance do you think you stand as a Democrat running in Idaho?
JORDAN: I think that the population of Idaho is changing. They certainly want a different set of leaders, and ultimately a different governor who will serve them and listen to their voice. Right now there are a lot of voices being left out.
When we put our politics before the people, it hurts everybody. For me, being more progressive and living in rural Idaho, I don't focus on politics whatsoever. I don't focus on the two-party system. I focus on how I was raised, and the values, and having the integrity of upholding those values.
What do you think are the top three issues Idaho will need to address over the next four years?
I would say, by far, education. That would be at the very top, because it has been at the bottom for far too long. Health care: we are at the bottom of health care in the nation when it comes to offices to doctors, or pediatricians and behavioral health. These are issues at the top for many people, especially when it comes to access for people. And, I would say Main Street revival. Every single city in the state of Idaho, if each town is starting to build community, that has impacts on education, local businesses, and building up our commerce and our economy.
You mentioned that your older son plans to attend Gonzaga Prep. How do you plan to show constituents that you are dedicated to improving Idaho education when your son is going to school out of state?
Every parent has a right to choose which school their children go to. I'm very fortunate to have a choice. My parents gave me the same choice and I chose to go to a private school. My son, I gave him that same option: He could stay in Idaho or go on to a school in Spokane. I fully support him. ... Not everybody has that ability to choose. That's why I fully support education reform in this state.
What does that reform look like?
We have extreme polarization between rural and urban schools like the Boise School District, which is doing very well. They have all the resources and support. You don't see that same situation in the rural school districts, which are really suffering. They're relying on supplemental bonds and levies to make ends meet every year, because they're not being adequately funded.
When you have discrepancies like that, you're looking at a loss in teachers. We're increasing class sizes, they're doing more with less, and taking out of their own pocket to provide resources, and even dealing with behavioral health issues.
What are your thoughts on the Idaho House Education Committee's choice to remove language relating human activity to climate change from education standards?
I think it's unfortunate that we are not wanting to be at the forefront of technology and science. In fact, tech companies are building here, especially in southern Idaho. Yet here we are, we're challenging science and taking out certain standards that should be taught in school books.
What needs to be done to address the Medicaid gap in Idaho? Do you agree with the stopgap the state has proposed?
I think we have an opportunity, and if we didn't have such a politically driven government, it would be to expand Medicaid in our state. Right now, people are trying to find ways to go around it and creating controversy. I don't see the purpose of it all other than taking political positions. Medicaid expansion should have already happened in this state.
Do you support any gun limitations, such as preventing the sale of bump stocks or limiting magazine size?
I certainly support the Second Amendment and gun ownership. But I want people to know when it comes down to ownership, as my parents and great-grandparents believed, it all comes down to responsibility. I believe that people should be trained and certified.
Certainly bump stocks have been an issue because of the Vegas shooting. I was actually there in Vegas at the time of the shooting. Witnessing how many people were shot in such a short amount of time was horrifying. It's incredible to see the impacts of these adjustments to guns and how that can really be devastating to a community. I was just actually down the street when that occurred, I had just had dinner, then that happened like three hotels down. That really opens your mind to why it's necessary to have restrictions for certain things such as bump stocks. ♦