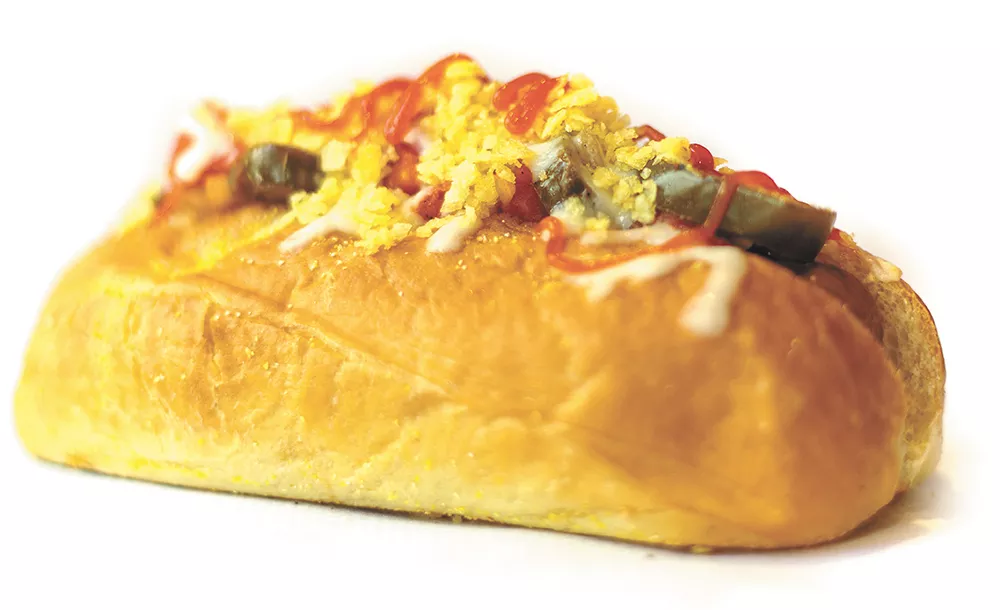 Long gone are the days when ordering a cheap vegetarian meal meant choosing between a limp iceberg salad, a slippery slice of cheese pizza or a deflated cheeseburger — hold the burger! We have artisan tofu sandwiches, colossal meatless hot dogs, and hummus in a half-dozen flavors, and you don't have to go to a four-star restaurant to get it. Even herbivores in Spokane (yes, Spokane!) can eat well without breaking the bank.
BOOTS BAKERY AND LOUNGE
24 W. Main, 703-7223, bootsbakery.com
There's a reason all your hip veggie friends wax poetic about Boots. A meat-free, dairy-free and (mostly) gluten-free oasis, this artsy little bakery near the convention center is way more fun that it sounds. Think vegan comfort food with a creative twist. Order the "trio" ($7.75) for a sample of owner and chef Alison Collins' heavenly delicacies, like her crazy spicy slaw, (faux) sausage hash, and famous tofu scramble. Did I mention they have cupcakes and craft cocktails, too?
MAPLE STREET BISTRO
5520 N. Maple, 443-3129, maplestreetbistro.com
At this cozy North Spokane café, where the Wi-Fi is free and the food is fresh, it's easy to order a filling meat-free entrée on a on budget. Try a wrap, panini, pastry or slice of quiche — all $5 or less. For something healthier, go for a toasty bowl of oats ($4), loaded with sliced almonds and raisins, with side of fresh fruit and greek yogurt ($2) for some added protein. With just 10 bucks in your wallet, you can even get the house drip ($1.25) and leave a nice tip, too.
STELLA'S CAFE
917 W. Broadway, 326-6475, stellasspokane.com
Skip the lunch rush of the courthouse crowd and head over to Stella's mid-afternoon, so you can take your time at the chalkboard menu. Stella's line of electric, gourmet sandwiches ($8) features four vegetarian options — the jerk tofu, BBQ tofu, tofu banh mi and vegan Reuben. The banh mi is a customer favorite. Lighter than the porkier version of the traditional Vietnamese sub, it's a savory, spicy mix of soy and ginger-marinated tofu, cilantro, pickled cucumbers, carrots and daikon, and creamy Sriracha aioli atop a chewy, crusty roll.
CAFE MAC
2316 W. Riverside, 363-5358, cafeatthemac.com
The cuisine at Café MAC in the Northwest Museum of Arts and Culture is mostly Lebanese, but Chef Victor Azar draws inspiration from Italian, South Asian and Mexican cooking. The menu includes pita pizzas, quesadillas, salads and wraps, all for under $8. But you can't leave the museum without tasting Azar's signature hummus. For a light lunch, order the hummus platter ($7.95), three heaps of freshly made hummus — in flavors like parsley, jalapeño and coconut curry — served with grilled pita, kalamata olives, feta, carrots and celery. For something heartier, try the jadra ($6.95), a warm and satisfying combination of spiced lentils and jasmine rice topped with tzatziki yogurt sauce.
WILD DAWGS
102 N. Howard, 255-3688, spokanewilddawgs.com
The hot dogs here are masterpieces in epicurean architecture. Imagine a thick vegetarian frank on a chewy bun, slathered in a drippy, dill-flavored "dip sauce," smothered in grilled onions, tomatoes and jalapeños, dusted with crushed potato chips. It's a little bready, not too greasy, and above all, pretty damn good. You'll pay a little extra for the Tofurky version ($7.36), but it's still a steal. Stop by and get one after a late night downtown; it's the consummate drunk food. ♦