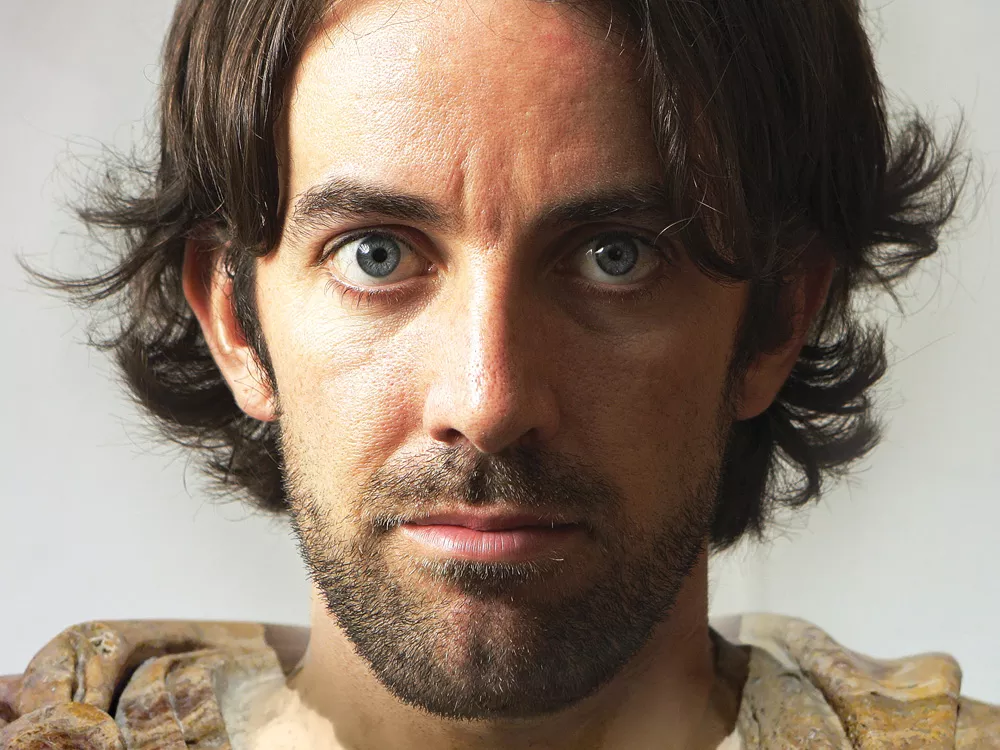 Is it possible for a jerk to be a moral compass? Dan Cummins, the former Spokanite comic, makes a strong case. While offstage Dan is a sweet, kind, almost softspoken guy, his stage persona has begun tilting more and more toward asshole (imagine Dane Cook with volume control and intelligence).
With his two children, son Kyler (now 4) and daughter Monroe (2), he is doting and patient. Then he goes onstage and makes fun of what idiots kids are.
It's not a question of which is the real guy — they're both him. Dan Cummins is a classic nice-guy jerk-face.
It's more interesting to look at the way he has come to use these dual selves. His act has grown in the time since we profiled him on the cover of The Inlander two years ago, just before his Comedy Central special. He still makes fun of pregnant strippers, and men who buy Segways. Bit by bit, though, he's turning toward the problems of the world.
The Gonzaga grad recently went to a comedy festival in Johannesburg, South Africa, and decided to take on that country's legacy of racism. He joked:
• Couple days ago I went to Soweto, to the Mandela house. Next day I went to the apartheid museum. And then the next day I tried not to kill myself.
• I'm sorry I'm white. Sorry I'm white.
• Growing up in the States, I knew white people were evil. Come here, and [I realize] we're f---ing worse than that.
• I don't even know what we have left to do as a culture except start randomly raping and killing puppies. "Why are you raping and killing that puppy?" "I don't know, guess 'cause I'm white. We just have evil impulses."
• I understand now why white people — myself included — are so excited about space exploration. We've pretty much run out of cultures to f--- up on this planet. We need to go find some new cultures in space or else we'll start turning against each other, and we can't have that.
The context here is important. South Africa, until 1994, was home to some of the most brutal segregation of the modern era. Cummins dives in.
No one in the audience laughs at the first joke. People howl to hear him say "Sorry I'm white." A different kind of howl goes up when he says, effectively, "I thought white Americans were evil, but you guys were way worse." He gets scant laughs for the puppy raping before the crowd lets out a final, almost shocked burst of applause for space-travel atrocities.
It's probably too much to try and judge catharsis from a YouTube video, but there is a sense from the tape that this string of jokes (from a foreigner) about a country's darkest and most bitter hour had released a little pressure in the crowd. What more can comedy accomplish?
Cummins is good because he is a complex person and allows his stage persona to be complex, too. He is not afraid to be smart but doesn't need to beat you up about it. In a later bit, he argues for endangered species broadly and against the panda specifically ("Has a species ever wanted to live less?"). By the end, he has commented not only on how destructive we are as people but how there is a natural order that, without human intervention, still allows for extinction. It's messy and inconvenient, but it's the truth.
And it leaves us questioning: In a world where bad shit happens all the time without our help, do we fight against the bad or just go with it?
Cummins is touring a lot, and he hasn't posted many videos since his Comedy Central special "Crazy with a Capital F" (which filmed at the Bing Crosby Theater in Spokane in 2009). In podcasts, though, Cummins is beginning to take an interest in politics and national discourse (O'Reilly to Tebow). If this continues, and bits like the apartheid riff keep popping up, Cummins could easily elevate from being a good comedian to being an important one.
He's already something of a cultural barometer. The South Africa video is good anecdotal evidence, for example, that, in a world of real desensitization, raping puppies is the new "too far."

Dan Cummins • Fri and Sat, Jan. 13- 14 at 8 pm • Spokane Comedy Club • 1221 N. Howard St. • $10, $15 at the door • 328-9000 • facebook