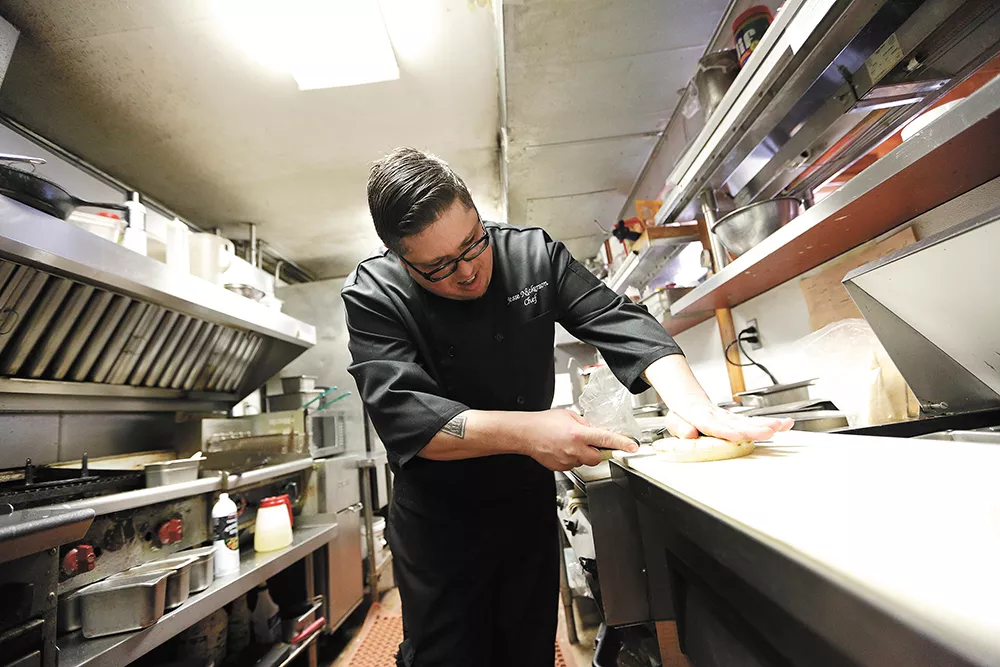 "I've been cooking my entire life, since I could reach a stove," says Jesse Nickerson.
Originally from Boise, he came to Coeur d'Alene for a change.
"I moved here to get away from being a chef, just to not have the responsibility. It kind of always works out that I end up taking leadership of the kitchen and I did that here, and I enjoy it." Nickerson became the chef at Bistro on Spruce in April 2016, after working there for about a year.
After assuming the role of chef, Nickerson went about adding his own flavor to the menu.
"I spent a lot of time at Asiago's, downtown in Boise, which is a high-end Italian restaurant. I do a lot of Italian-Latin fusion stuff. I like the flavors from Italy, Central America and South America."
He estimates that the menu has changed by 75 percent since last April.
"Besides the top sellers, the menu is my menu," he says.
Beyond the food, Nickerson is also passionate about changing the way the restaurant is perceived.
"I think the food here has been a little bit too serious," he says. "My attitude is, if you're going to pay for something, then we're going to do our best to make it for you, whether it be on our menu or not. If we have the ingredients and the time, we will make whatever we can."
Although he's been a part of Inlander Restaurant Week before, this is his first as chef.
"Restaurant Week is a lot of fun, because we get a lot of people in who don't normally come in. We get to open customers' eyes, new customers especially, I think they're going to want to come back more now that we're doing some different types of foods," he says. "I like to use a lot of fresh ingredients, and we do most of our stuff here from scratch. Anything we can get away with doing from scratch, we do. We're doing a slider as a menu item this year and the bread is from scratch; we hand-dip the onion rings for it, and we have local chanterelle mushrooms on top."
For Nickerson, North Idaho is a locavore's paradise: "This area has a lot of great local items, mushrooms, seafood, wild game, and wild mushrooms. We use whatever we can in the area."
For Restaurant Week, and beyond, Nickerson is planning to put Bistro on Spruce back on the map.
"I want to get this restaurant back in the talk around town," he says. "Word of mouth is such a huge thing in this business, and I feel like we've lost some of our popularity. I'd like to bring that back. I'd like to get a lot more people in here trying the new food, and just seeing what I have to offer as a chef." ♦