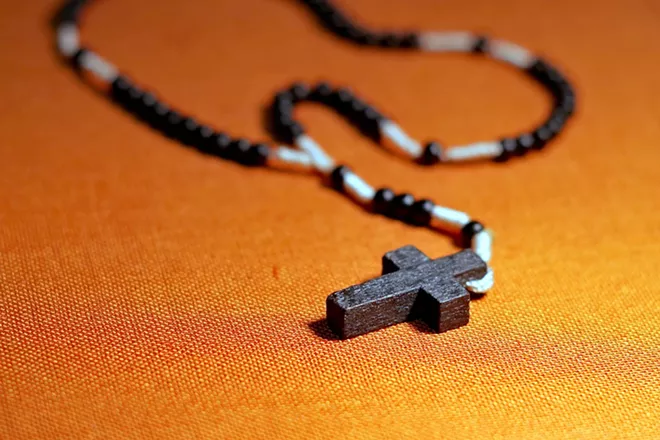 Over the weekend, Reveal published an investigative report explaining how serial sexual predator Father James Poole and at least 20 other Jesuit priests accused of sexual misconduct were sent to a building on Gonzaga University's campus to live out their remaining years.
Poole's sexual abuse of young girls in Alaska and his relocation to Gonzaga has been documented in the news before, including in a Spokesman-Review story on a victim of his abuse receiving a $1 million settlement in 2005. According to the Reveal story, the last priest accused of sexual misconduct lived at the Cardinal Bea House on Gonzaga's campus in 2016.
But Thayne McCulloh, in a statement Monday responding to the story, says he did not know of Poole or his history in Alaska until the investigative report this week.
"I had relied upon the Province to inform us of any Jesuit whose history might pose a threat to our students or campus community," McCulloh says. "I deeply regret that I was not informed of the presence of Fr. Poole, nor any other Jesuits who might pose such a danger, at Cardinal Bea House."
Rather, McCulloh, who has served as Gonzaga's president since 2009, says he was told that there were priests at the Bea House under supervised "safety plans." The Bea House is owned by the Jesuit order of the Catholic Church, not by Gonzaga. The first notification he had that Poole lived at Bea House was when the Jesuits West list was released earlier this month, he says.
"I feel so much sadness and anger for the women, men and children who were victimized by Poole and others, and all those who have been sexually assaulted by ordained priests who abused their power and privilege," McCulloh's statement says.
As of press time, Gonzaga did not respond to Inlander questions asking why McCulloh wasn't aware of Poole's abuse, and whether he ever questioned why the retired priests on Gonzaga's campus were put on a "safety plan."
McCulloh says the university is "not aware" of any reports of abuse or misconduct involving retired priests during the time they lived on Gonzaga's campus. He says there are currently no Jesuits living at Gonzaga who have been accused of sexual abuse.
"Further, I have asked that we be guaranteed that no Jesuit against whom credible allegations of sexual misconduct or abuse have been made ever be assigned to Gonzaga or the Jesuit communities here," McCulloh says.