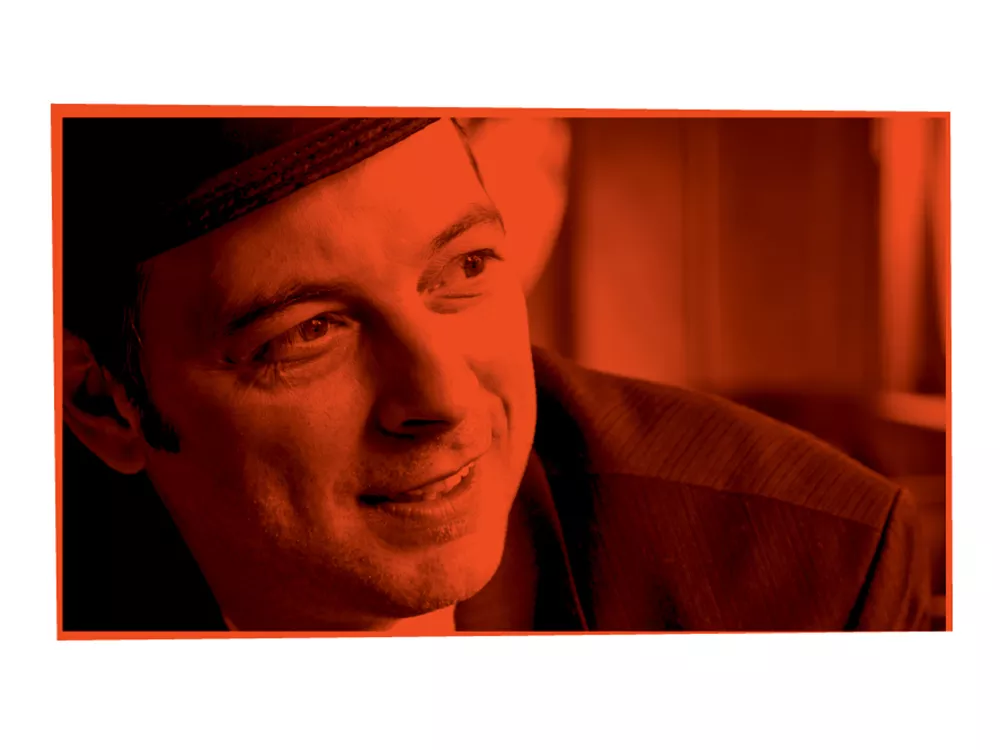 Novelist Jonathan Evison's best-selling career and personal life is defined by poetically improbable events.
He came to this realization, he says, at an early age when his father — a man he describes as an astronaut/engineer/bodybuilder — forced him to read Charles Dickens.
"I grew up in a family of goofy eccentrics," he says with a mouthful of burrito, while comparing his relatives to Dickensian characters like Mr. Boffin and Miss Havisham.
"Dickens really colored my worldview. … He brought the stories to the streets and to the people that were marginalized, and that's something that stuck with me forever."
Evison says if he hadn't become a writer, he would have become an intravenous drug user or someone who screamed at parking meters.
He published his first story, "The King Without a Crown," at age 8.
"It was kind of a life-saving and life-turning moment when I discovered writing," he says. "It immediately became part of the fabric of who I was. … Writing is the first thing I tried that really allowed me to slow down my mania."
Following "The King Without a Crown" was a failed novel about a young man trying to write a novel, and a 25-year publication drought.
Evison found himself among eccentric characters once again while drifting through odd jobs. He spent years sorting rotten tomatoes for Unified Grocers, hacking up roadkill for a wildlife refuge in Grants Pass, Ore., and getting fired from an ice cream stand.
"My life doesn't look very good on paper," he says. "But that's the beauty about being a writer, you don't know what it is. Success is just an act of will."
Evison measured his success in the number of licked query envelopes. He received and burned hundreds of rejection notices from editors, careful to avoid the perceived failure that piled up in his bottom desk drawer.
He threw his typewriter off a bridge in Missoula, Mont., when his girlfriend told him he was no good, and buried five finished novels in the ground over the course of 25 years. He equates the buried novels to elaborate Native American sand paintings destroyed by the wind, yet isn't satisfied with his answer.
"I was just being poetic or something," he says. "I still know where a lot of them are."
Evison has spent the past 12 years writing from his home office on Bainbridge Island. He has written six novels in the space he describes as "virtually uninhabitable."
Dog urine stains the floor that is otherwise overrun with life-size dust bunnies. His desk — a door stacked on two filing cabinets — is matted with paper. Yet it was in this space he finished and published his debut novel All About Lulu in 2008.
The coming-of-age story about a family of bodybuilders earned him the Washington State Book Award for fiction and opened the doors for his second novel, West of Here, and the 2012 release The Revised Fundamentals of Caregiving. He's currently writing about an 87-year-old widow on a road trip to the Grand Canyon.
While Evison no longer dabbles in odd jobs, his time is torn between fatherhood, novels and contributing to the online literary and culture magazines Three Guys One Book and The Nervous Breakdown.
He devotes about 20 hours a week to writing these days and mentions his young daughters and their looming college tuition, half-heartedly joking about unearthing his buried novels to one day pay the bills.
Yet he has no regrets. If given the chance, he says he would love all the wrong women and get kicked in the teeth time and again.
"It was 25 years before I was successful, and I'm still really lucky and way more successful than I deserve to be," he says. "I've been sidetracked a few times, but I'm a novelist. Everything else has been vaguely dissatisfying or a diversion."
Jonathan Evison at Get Lit! • Thu, April 11, at 7 pm • Bing Crosby Theater • 901 W. Sprague Ave.