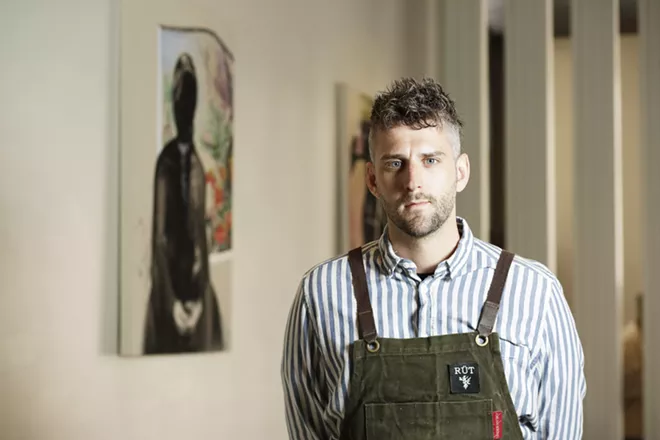 Although he's passionate about cooking, Josh Lorenzen never intended to become a chef. Music was his original gig. But after working at the former Café Marron in Browne's Addition, Lorenzen focused his efforts on cooking, briefly considering culinary school. He worked his way up at Mizuna and eventually moved to Portland and became a sous chef at Bijou Café. He returned to Spokane when his childhood friend, Justin Oliveri, proposed opening a vegan restaurant on the heels of Oliveri's success with Cascadia Public House (also a Restaurant Week participant). Lorenzen continues to pursue music in addition to cooking, including helping other musicians produce their own.
RESTAURANT WEEK: How do you challenge yourself to stay creative in the kitchen?
LORENZEN: The whole going-vegan approach has added a creativity that I never saw. I couldn't envision it. When I came to do this, I took a step back. I was in entrepreneur mode. Emulating flavors, I had to let my ego go. I continue to explore meat substitutes and I'm omitting animal products; I'm not serving a lot of "rabbit food."
What kinds of places do you look for when you dine out? What excites you?
Asian food. Any and all kinds. Spokane is limited with vegan, but it's getting better.
Who is your culinary hero (or heroes) and why?
Gaz Oakley [a 26-year-old Welsh chef, author and athlete], for how to bring veganism into the modern world. But I'm really into cooking because of the people and the culture and less about the specifics of food. I never idolized other chefs. I would study them. I'm happy to talk to people because that's what I like to do, but sometimes I feel guilty because I'm not really into the whole public persona of being a chef.
What are your thoughts on Restaurant Week?
Justin did it at Cascadia and at JJ's Tap & Smokehouse, so I really trusted his lead on it. This year, which is the first year we've been open, is the year of "yes" for me. Anything that can help get people in here is good.
What are you most looking forward to during Restaurant Week?
It's a lot larger in places like Portland, where there is a lot more competition. I like that all of Spokane is involved. It's also a way to show that vegan food doesn't mean missing out. We've gotten so many positive reviews by meat-eaters who were skeptical. Once people try it, they realize it's not just a "vegan" restaurant; it's just another place. That's our whole goal at Rüt — to shift people's perspectives, not convert them. The idea is looking at vegan food as a lifestyle and as a cuisine and not necessarily pushing a huge agenda, other than sustainability for the planet.