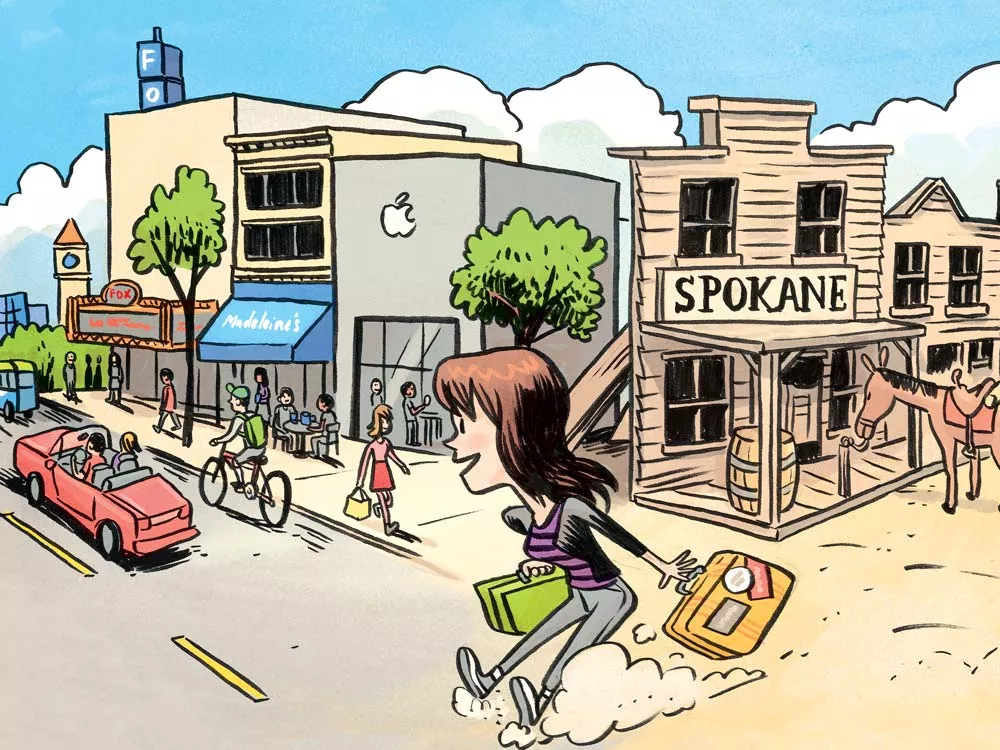 Let's start near the end, at course six of my seven-course dinner at Santé last month. Already stuffed with duck prosciutto, gnudi and beet risotto, my mother and I watch as our waiter approaches us with the next round: vibrant orange carrots nestled under a golden-brown medallion of flaky puff pastry wrapped around a medium-rare filet of beef. Completing this decadent dish is a pool of beef jus that had reduced for two days before it was drizzled onto my plate.
Wow. Just as surprising as Santé's food was that we hadn't made a reservation on a Friday night and weren't pressured to eat and run during the 4 1/2 hours we occupied our table.
Another unexpected treasure in this 200,000-person city. Dinner at Santé marked the end of my eighth week here in Spokane on a journalism internship through my college, Northwestern University outside of Chicago. I had decided to come to Spokane — and to The Inlander — with some trepidation. My classmates, most of whom were headed to better-known papers in bigger cities, gave me blank stares when I told them I was headed here. "It's how far from Seattle?" they asked.
I feared the answer to that question myself, but having grown up outside New York City — and now going to school on the border of Chicago — I wanted something different. My life before had always been divided between the urban, cultured metropolis and the white-picket-fence commuter suburb. I didn't know what to expect from a midsize city. If nothing else, I figured I could live out fantasies of skiing down snow-covered mountains.
But life in Washington's second-biggest city hasn't been the mission into the wild that I expected. Instead, it's been a cultural tour through a community of proud underdogs. In some ways, I've found the midsize city offers the best of both worlds. It's not just that you get all the culture of a metropolis without paying for it, as one local put it — it's that you get that culture with the relationships and comfort of a small town, not to mention a refreshing lack of elitism.
My first "Am I really in Spokane, Washington?" moment came weeks earlier. Augustin Hadelich, a young violinist from Italy, playing on an impossibly expensive, loaned Stradivarius, begins the solo of a Dvorak concerto at the Fox and hits a note so piercingly high that my jaw drops and I have my first chill, of many. For an encore, Hadelich performs an intricately impressive Paganini caprice — a piece that tests any musician's skill — and I know that I just witnessed the purest form of beauty. It's one of those happy-to-be-alive moments.
After the show, in the lobby, some of the musicians and the conductor come out to mingle with guests. Hadelich thanks everyone for coming and thanks the symphony for having him, like he's just a normal person hosting a dinner party — not the musical god who just blew my mind.
A week later I'm walking into an alley at 9:30 pm on a Friday. It's dark and mostly empty but I'm not nervous like I would be in Chicago. "Yup, there it is," says my trusted local leader, but all I see is a dimly lit door with two wooden barrels and two smokers next to it. We open the door and I've gone through the wardrobe. Inside Barrister Winery, there are lights, music, a huge open space packed with chattering people, full wine glasses and abstract art along the walls. Art and music hidden in alleys is a sure sign of a vibrant arts scene.

Last weekend, I finally visited the only real metropolis in Washington: Seattle. I went to Fremont, ate some pie and explored Pike Place Market. The buildings were taller, the streets more crowded. There was more culture per square foot there, but it also had the same feeling of anonymity that other big cities do.
Saturday night. I'm eating a deliciously creative meal at one of Seattle's hippest restaurants and our waiter asks where my mom and I are from. I tell him I'm living temporarily in Spokane. He used to live there, he says, and immediately gives me the "Yeah, Spokane is pretty lame, huh?" line.
I suddenly feel a need to defend the city I've come to be a part of.
I tell him it's actually much more interesting than I expected, but he obviously will not be persuaded. That night after dinner, the Seattle Symphony, which I pay much more money to see, is wonderful, but it doesn't provide those transcendent chills, affirming my defense of the mid-size city.
Spokane may never shake its reputation, or emerge from Seattle's shadow, but the unknown underground is where culture can really thrive, anyway.