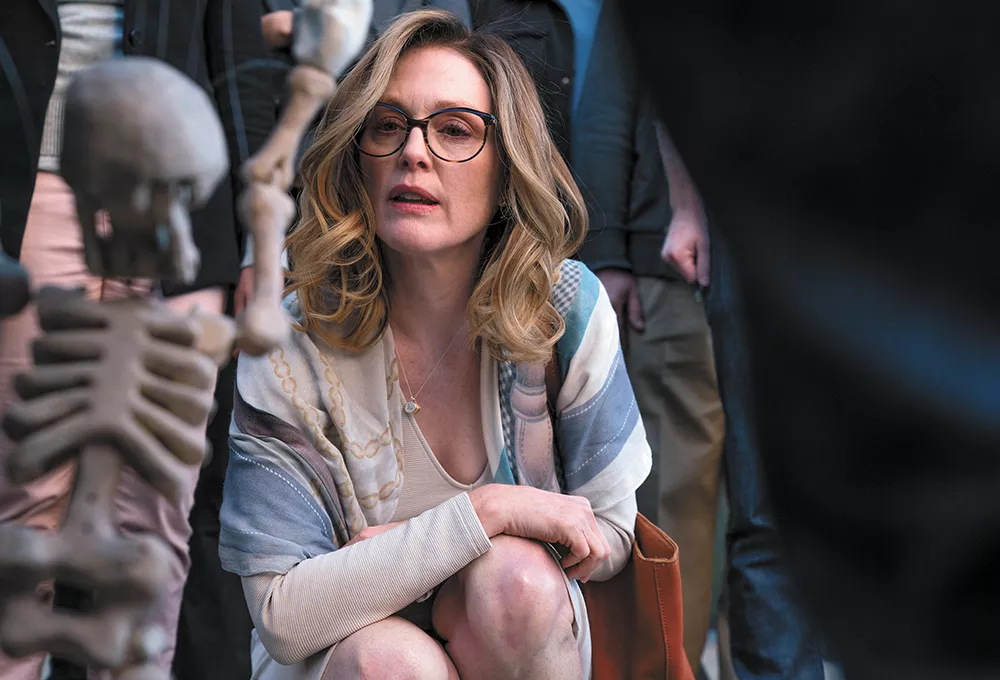 In 2013, director Sebastian Lelio made a touching, low-key dramedy about a middle-aged woman named Gloria rediscovering her confidence and self-reliance as she navigates the singles scene as a divorced woman with two grown kids. Now in 2019, Lelio has done the same thing again, only in a different language. Gloria Bell very closely follows Lelio's Gloria, which he made in his native Chile, but it's not just a carbon copy of the previous movie. As the title character, Julianne Moore brings warmth, vulnerability and inner strength to the role, with a slightly more steely portrayal than Paulina Garcia in the original.
It's really Moore's movie, and she carries it from beginning to end, through Gloria's minor triumphs and tragedies, in her efforts to find love or just feel comfortable in the life she's ended up with. That's a pretty good life overall as the movie begins: Gloria has a stable job as an insurance agent and lives in a decent apartment in L.A. (albeit with a loud neighbor who sometimes keeps her up at night). She spends time with her son (Michael Cera) and daughter (Caren Pistorius), even if they don't always appreciate it, and she remains on good terms with her ex-husband (Brad Garrett). She enjoys cutting loose at nightclubs for older singles, exuberantly flirting and dancing with whoever catches her eye.
She still struggles with loneliness, though, and she's pleasantly surprised when a one-night stand with the recently divorced Arnold (John Turturro) turns into something more, a burgeoning romance with someone who appreciates her for who she is, and wants to take the time to get closer to her. Arnold has his own issues, though, and he can't quite break away from his needy, overbearing daughters and ex-wife to fully commit to his relationship with Gloria.
Moore and Turturro have a lovely, relaxed chemistry, and while Arnold can be an insensitive jerk at times, he never comes off as a cartoonish buffoon. Like Gloria, he's a flawed, genuine character dealing with complex personal problems that aren't easily resolved. Even so, the movie is always on Gloria's side, and it's the latest in Lelio's empathetic portrayals of marginalized women finding their voices, following 2017's Oscar-winning A Fantastic Woman and last year's underrated Disobedience, Lelio's English-language debut. Lelio doesn't shy away from depicting Gloria's frustrations and failures, but the tone is never pitying or condescending.
Indeed, the best moments in the movie are the transcendent, giddy instances of Gloria just letting go, whether she's singing along in her car to some cheesy soft-rock anthems or dancing like nobody's watching. At her best, she's the human embodiment of the stereotypical middle-aged woman's favorite inspirational poster ("Live, Laugh, Love"), only without the cloying sentimentality. She's just a good person, someone you're happy to spend 100 minutes getting to know.
Even if you already got to know a slightly different version of Gloria in Lelio's previous movie, there are enough new pleasures here to make the experience feel fresh. Gloria and Arnold take a trip to Las Vegas, and Lelio gives the city a sense of wonder and discovery in contrast to most Vegas-set movie moments. He uses the same cool, neon color palette here as he did in the original, but those lights are shining on different locations, and they reflect back slightly differently. Even the title song transitions from Umberto Tozzi's Italian original to the English-language cover by Laura Branigan that was a massive hit in the U.S. Lelio has created a cover version of his previous film, and in the process he's managed to give it new life. ♦