June 10
Evening Paddle on the Little Spokane
One of the prettiest, most peaceful floats in the Inland Northwest becomes even more so when paddled at night. Co-sponsored by REI and the Spokane parks department, the trip begins at 6 pm at the Nine Mile Falls takeout and lasts around three hours. Cost: $21 for REI members, $25 for everybody else. (Joel Smith)

June 10
BeGin!
This monthly schmooze-and-peruse at the Museum of Arts and Culture in Browne's Addition has two big things going for it in June. For one, the featured band is Horse Thieves, one of the five bands we dubbed a "Band to Watch" in our Local Music Issue last month. Even cooler, though: This will likely be your first chance to see the museum's epic Leonardo da Vinci exhibit. (But be warned: While exhibit admission is usually free during BeGin!, you're gonna have to fork up the full $18 to see the Renaissance Man. But it'll probably be worth it.) (Joel Smith)
June 11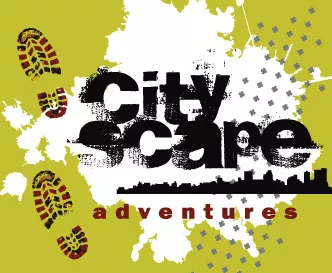 Cityscape Adventures
The idea is simple. You and a friend show up at 11 am at an as-yet-undisclosed location in Spokane, where you're given an envelope containing 12 clues. For the next several hours, the two of you will run around town (literally — you can only travel on foot or by public transportation) completing challenges, solving clues and puzzles and moving on. All you need to bring with you is a digital camera or camera phone, a pen or pencil, and pocket cash. The winner, according to cityscape-adventures.com, gets some unspecified prizes. That's about all we know so far about this roving event, which has put on similar races in cities throughout the West. But that's all we need to know. We're so there. Visit cityscape-adventures.com. (Joel Smith)
June 11
Get On Your Bike
Given the weather we've been having lately, it may be hard to believe that we're approaching the beginning of the major bike season. But we are. Really. And if the troposphere can't convince you of that, maybe this week full of cool bike events can.
Check out the Poker Ride and Run (June 11) that starts at New Community Church (1003 E. Trent Ave.). A benefit for Cool Water Bikes, a nonprofit bike shop downtown that refurbishes used bicycles and brings street kids closer to Jesus or something, the event involves wheeling to a series of checkpoints along the Centennial Trail, at each of which you get a poker card that ultimately forms an entire poker hand, which you can then gamble for prizes with. The event — which also features a silent auction, raffle and kids' games — runs from 10 am to 2 pm, and the ride is 10 miles long. (The run is only three miles.)
Too goody-goody for you? Then head to the Elk at 1 pm on Sunday, June 12, to meet up with the F--king Bike Club. The group will meet two days later for their usual monthly full-moon pub ride, but today they're attending a daytime party put on by the Browne's Addition public house to celebrate the parking spaces out front that they recently converted to bike parking. The event looks to feature a band, a beer garden, and a chance to win a New Belgium Cruiser.
Then start the next week at ease, with the Rocket Velo bike club, who will be off on their weekly Monday Night Soft Pedal. Unlike the club's usual (fast, brutal) rides, the Monday night ride lasts only 16 miles and averages only around 15 mph. "Very low-key," they stress. "No one ever will get dropped, not even for a moment."
By the time you do all this, you should be primed and conditioned for what will hopefully be a long and glorious bike summer. (Joel Smith)
June 11
Sake Tasting
What better way to spend a summer Saturday than in the warm glow from a glass of sake? Robert Ord, an expert on the Japanese rice wine, will be conducting a class on the subject at 1 pm at Huckleberry's and will conduct a tasting afterward, at 2 pm. The class is free, the tasting is $5, and the experience may even be good enough to warrant a short detour during your Cityscape Adventure. (Joel Smith)
June 13
Street Music Week
The one time all year when it's common to see street performers in downtown Spokane, Street Music Week is a city-endorsed benefit for the Second Harvest food bank. Anywhere between 100 and 150 performers — accordion players, banjoists, fiddlers and, of course, Doug Clark, the Spokesman-Review columnist who dreamed up the event in 2003 — will take to the streets between noon and 1 pm each day during the week of June 13-17. Last year, they raised $4,171 for the needy. So grab a hurdy-gurdy and get out there, or at least just head downtown for lunch. (And bring pocket change.) (Joel Smith)
June 13
Langhorne Slim
I hadn't heard anything like Langhorne Slim's music before I slipped on my headphones around 2004 and started playing his song "In the Midnight." His music had a familiar kind of rootsy sound (this particular song is propelled by upright bass and some lickety-split banjo), and he fits in with artists like the Old 97's, Josh Ritter and Cake (with all of whom he has shared a stage). But that voice! Slim, born Sean Scolnick in Langhorne, Penn., has this shredded, reedy, punky voice that I had simply never heard used in that kind of music. It was mesmerizing when he played a sweaty, rollicking show at the new Empyrean last July (his first in Spokane), and that voice should be the star of the show again at Aclub. Don't miss it. 8 pm. All-ages. Cost TBA (Joel Smith)
June 16
Beers and Bears

Most everything can be discussed over beers. For instance, I once chatted about disposing of a human body — hypothetically, of course — with a butcher at a bar in California. All I'd need is 15 minutes, he told me.
But when something useful pops up in a conversation over beers, it's that much better. Becky Haag, environmental biologist with the Idaho Department of Fish and Game, will be on hand at Sandpoint's Ivano's Ristorante to discuss some very useful things. Specifically, how to coexist with bears — which is to say, how to not be eaten by them when you're intruding in their habitat. At this first convening of the Idaho Conservation League's After Hours program, there will be lots of beer and outdoorsy types to chat with. Visit idahoconservation.org. (Nicholas Deshais)
June 17
Driving Tour of Cold-War Technology
When Obama killed Osama, we all breathed a sigh of relief. The Cold War was finally over. Or something. Whatever war did or didn't end with Osama's Hollywood finale, the Inland Northwest has many relics to celebrate that fearsome matchup between the mighty United States of America and the enemy she once shared with Osama — the Soviet Union. In no particular order, these are the greatest military-industrial sites to visit, all within a leisurely drive of Spokane.
HANFORD NUCLEAR RESERVATION: The mother of all Cold War sites in our area, if not the country. The plutonium manufactured here was used in the first nuclear bomb, which was tested at the Trinity site in July 1945 in New Mexico. Hanford also created the nuclear fuel in "Fat Man," which was detonated over Nagasaki, Japan, on Aug. 9, 1945, killing more than 60,000 people instantly. Tours are available at the site, but visitors must be at least 18 years old. And the tours last at least four hours. Get details at hanford.gov.
GRAND COULEE DAM: While not specifically built during the Cold War, nothing encapsulates the era's "can-do" attitude better than dams. Not only that, but this dam helped power the Northwest's wartime industries. Constructed with more than 2.4 billion gallons of concrete, the dam still powers a huge region, but it has transformed into a tourist destination since 1970s. Visit grandcouleedam.org.
MISSILE SILOS: Once upon a time, the destruction of the Soviet empire depended upon ready-to-launch missiles buried underground in Eastern Washington. While these sites are now decommissioned, sans lethal projectiles, they still exist. One in Harrington houses the National UFO Reporting Center. Another, part of the now-defunct Larson Air Force Base near Moses Lake, was recently on the market for a cool $1.5 million. But others lie worryingly close to Spokane. One is just north of Airway Heights, on Craig Road just north of Deno Road. Another is on Medical Lake's Booth Hill, just south of Fancher Road. And still another is in Deep Creek, on West Sprague Road east of Wood Road. A word for the intrepid: Search and find, but do not touch.
LAKE PEND OREILLE: It's 65 miles long and 1,150 feet deep. The Navy still considers those proportions sufficient to mimic the ocean's acoustic properties. Yes, they still test military submarines in North Idaho's Lake Pend Oreille, the nation's fifth-deepest lake. Used during World War II as a naval training ground, the lake regularly sees steel-hauled beasts dragged to its depths to test the subs' ability to remain silent in other, more troubled, waters. (Nicholas Deshais)
June 17
Fiddle Contest and Accordion Celebration
What a week for anachronistic musical instruments! First, from June 16-19, Leavenworth will host its International Accordion Celebration, which the Bavarian-themed town calls "four days of everything accordion." There will be concerts, workshops, parades, jam sessions and more. So, from the prodigious hills of central Washington, let the accordion ring!
Then head directly over to Weiser, Idaho, for its National Oldtime Fiddlers' Contest and Festival (June 20-25). There will bands you've never heard of playing songs you've never heard. But it won't matter: You will dance. Visit accordioncelebration.org and fiddlecontest.com. (Nicholas Deshais)
June 18
Dueling County Fairgrounds
Are you more interested in nannies, billies and kids? Or men in fezzes and strange little cars?
Because, on this one day, you can't have them both. Call it the showdown of the week: While the Kootenai County Fairgrounds hosts the annual Shriners Circus, the Spokane County Fairground is having a Goat Show.
Choose wisely. Visit northidahofair.com and spokanecounty.org/fair. (Nicholas Deshais)
June 19
Get Naked and Ride a Bike (With Friends)
It's been said that a sign of great city is how many of its residents are willing to disrobe and straddle a two-wheeler. Portlanders do it. San Franciscans do it. New Yorkers do it. I'm guessing Europeans do it.
So c'mon, Inland Northwesterners! Strip down and hit the pedals.
Some forewarning: You could be arrested.
"I think the naked part is the illegal part," writes Jen DeRuwe, spokeswoman for the Spokane Police Department, in an email. It's "Indecent Exposure — regardless of what activity you are doing!"
And watch out for saddle sores. (Nicholas Deshais)
Check out one of last year's Summer Parkways events.
June 22
Summer Parkways
Let's take a moment to consider my bicycle.
My Nishiki road bike is about a decade older than I am, and it's in better shape than me. I got it for free, and have put less than $100 into it over the last few years. I am able to keep it tuned and lubed with little effort — and this is coming from a guy who couldn't even build a tiny wall out of Legos as a child.
Knowing this, don't you think it's about time to get a bike? There really is nothing easier. Trust me.
When you have that bike, you can join in the season's first of three Summer Parkways — a bike ride/fair/neighborly event that closes roads off for a day of carefree pedal power.
The three-plus mile course begins and ends at Manito Park, jaunts up to Comstock Park and consists of a leisurely cruise down Manito Boulevard.
Considering how easy that is, why would you miss it? Visit summerparkways.com. (Nicholas Deshais)
June 23
Solstice, Stonehenge and Thee
Wouldn't it be great to be at Stonehenge at dawn on the summer solstice, pressed into a crowd of crazy naked hippies in blue body paint… or, eww, perhaps not. But if you dig Stonehenge and the solstice and can't get to the UK, why not drive four hours west of Spokane to the Stonehenge replica at Maryhill. Sure, the actual solstice was over the weekend, but it's still High Summer! The replica is on Highway 14, the little-used state highway that runs on the north bank of the Columbia River through the Gorge, on the side opposite from I-84. Hurry! The days are getting shorter. (Kevin Taylor)
June 24
Ronny-Watch at Hoopfest
Keep an eye peeled during Hoopfest weekend (through June 26) for a large, smiling man with dreadlocks. That'll likely be former Zag (and current New York Knick) Ronny Turiaf, who is spending several days in his old college stomping grounds during the annual street basketball event.
Also, Turiaf may or may not be carrying a heart defibrillator. He's funny that way.
The Hoopfest gang has a couple of assignments for Turiaf — dedicating a basketball court on Friday and judging the slam-dunk contest at the Nike Center Court Saturday.
But Turiaf also has plans for a dinner date here in Spokane at Lincoln Center Friday night — some entertainment, some comedy … and an appeal for help.
One of the friendliest and most popular of the Gonzaga Bulldogs ever to roam Spokane, Turiaf is also one of the luckiest to be alive. After he was drafted 37th overall by the Los Angeles Lakers in the 2005 NBA draft, a routine physical revealed an enlarged aortic root in his heart which, alarmed doctors told him, could have ruptured and killed him at any time.
Thus the defibrillator, as we shall see.
Open-heart surgery corrected the problem, allowing Turiaf to continue his pro basketball career. He's had stints with the Lakers, Warriors and Knicks.
But his experience has been leavened by tragic stories about high school athletes dying from undiagnosed heart issues, This hit close to home in February 2010, when David Gurganious, younger brother of Turiaf's GU teammate Larry Gurganious, collapsed with sudden cardiac arrest and nearly died on a California high school basketball court. These tragedies and close calls prompted Turiaf to reach out.
He plunked down $40,000 of his own money a few years ago to start the Heart to Heart Foundation, a nonprofit organization that helps schools provide automatic external defibrillators (AEDs) and CPR training, says Zach Hill, one of the people who helped launch the foundation when Turiaf played for the Golden State Warriors.
"He started off by endowing the foundation with a $40,000 deposit," Hill says. "We are using that money to get our programs out there."
In March, Turiaf visited a Bronx middle school to raise heart-health awareness. And now, in Spokane, Turiaf is test-driving the foundation's first appeal for funds.
"Ronny wants to do the fundraiser in a place where he's comfortable," Hill says.
To make it a little sweeter, he has scheduled Cedric the Entertainer to provide some comedy. There will be dinner and drinks. There may be other acts, too, Hill says, but the details were not hashed out when we spoke at the end of May.
It's a chance for everybody to show a little heart. (Kevin Taylor)
June 24
Kiss This!
So hey there, homeslice, you can't scratch up the $50-$100 for KISS, June 24, at the Spokane Arena? Dude, as Gandhi said, "Be the band you want to hear." Well, he didn't say exactly that, but the gist holds true. (Plus, we can't quite see the great pacifist head-banging at a metal show). But dig this: Display House, for a lot cheaper, is stocking up for a special on all the white, black and red makeup and wigs that can turn you into Ace Frehley or Peter Criss. "We are getting heavy into the makeup so people can dress up and have some fun," Nick at the Display House says. Display House has Spokane nailed! Who cares if you can't get into the concert? It will be a lot more fun when you and your buds get all made up like the band and swagger around the city. Stroll through the Davenport lobby and pretend to lick the dowagers. Ride the Valley Express and ask if this is the way to the Arena. You get the idea. (Kevin Taylor)
June 25
Pickin' 'n' Grinnin'
Oh, sure, there will be music — bluegrass, most likely — but the pickin' and grinnin' up at Green Bluff the weekend of June 25-26 will come from looking at your own two hands all red-stained from picking sweet, ripe strawberries. Mmm, and sampling along the way. Strawberries are one of the Big Three u-pick crops at Green Bluff, just north of Spokane Valley, and it's the first to attract visitors. Many farms offer pre-picked (and even pre-sliced) berries along with music and food and activities for kids. (Kevin Taylor)
June 27
Four on the Floor
Mobius Kids, which is in the basement of Spokane's downtown River Park Square mall, has four cool offerings for the pint-sized thrill-seekers among us. On Monday, June 27, the museum will hold "DinoRAWR!," a day camp aimed at helping 4- to-6-year-olds learn about all primordial carnivores. An antidote, perhaps, is the event on Wednesday, June 29 (for ages 5-8): "Enchanted Midsummer Fairies." And there are two events on Thursday, June 30 — racing car construction (ages 4-6), followed by trooping upstairs to the AMC cinemas to watch Cars 2. Later on Thursday is a camp to build — and sail — a LEGO boat (for ages 4-10). Visit mobiusspokane.org or call 624-KIDS. (Kevin Taylor)
June 28
It's Mini-Hogs, Dude
OK, we admit part of the attraction for this event is the title of Mini-Sturgis. Made us think of Mini-Me on a little chopper with a throng of tiny friends in leather.
But that would be wrong. Mini-Sturgis is hardly mini at all, it turns out. Bike enthusiasts travel to Cruiser's at Stateline from all points of the compass, just to get in a little practice for Sturgis two months before the big-daddy event itself.
Cruiser's is already notable for being a drive-through bar, and during Mini-Sturgis weekend (June 28-30), as many as 10,000 bikers, vendors and enthusiasts make an appearance, says Sheri Heberholz, the event's coordinator. She promises plenty of bands, magicians and other entertainment. (Kevin Taylor)
June 30
"Legomania: Boats!" at Mobius Kids
No one says she's too old for Legos. Whether the last time you bought them was with saved-up lunch money or for your screaming kids, everybody loves Legos. And Mobius gets that. On the last day of June, Mobius Kids downtown will be hosting an event called "Legomania: Boats!" Families can come and construct — you guessed it — boats and other watercraft out of Legos with the intention of making them seaworthy. This provides an opportunity for kids to not only play with the best toy ever invented, but to also to use creativity and think outside the Lego bin. Mobius challenges the whole family to create something that can fare well on open water — because believe it or not, making a hunk of plastic bricks float is extremely difficult.(Jordan Satterfield)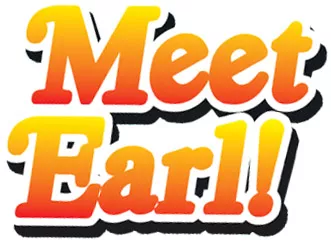 Earl doesn't get out much, usually. He prefers woodworking to windsurfing. Fiestaware to festivals. And direct sunlight turns his pale skin into chicken dinner.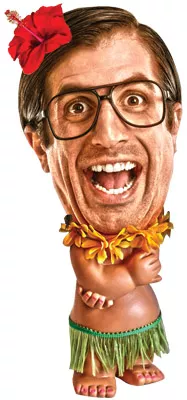 But this summer is different for Earl. Thanks to a fresh divorce and a five-gallon tub of SPF 90, he has a new lease on life, and he's vowed to turn lemons into lemon drops and frowns into Frisbee golf.
So this summer, Earl is exploring his wild side: downhill ice-blocking, nude cycling, camping, canoeing, even spelunking in Cold War bunkers. He'll be front and center at minor-league baseball games, and up in the smoking section at Dave Matthews shows.
Follow along as Mr. Excitement himself discovers the wonderful things about summer in the Inland Northwest with a week-by-week schedule filled with cool events and random activities. (Did we mention nude bicycling?)
Earl is ready. Are you?
Summer Guide Editor: Jacob H. Fries Art Director: Chris Bovey Writers: Luke Baumgarten, Jordy Byrd, Nicholas Deshais, Kaitlin Gillespie, Joseph Haeger, Tiffany Harms, E.J. Iannelli, Jordan Satterfield, Joel Smith, Mary Stover, Kevin Taylor, Blair Tellers, Daniel Walters Calendar Editor: Jordy Byrd