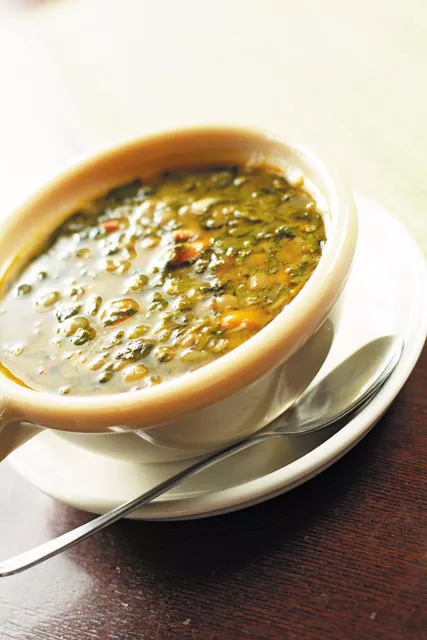 Food marketing really ramps up in the fall, and the frenzy seems to continue until Valentine's Day. No wonder most Americans put on a few extra pounds during what I often call Death Row. Halloween treats roll into Thanksgiving gravy that escalates into holiday parties. Celebrations over New Year's are quickly followed by healthy resolutions … that are bombarded with Super Bowl parties. I think you get the picture. But even with all the convivial food consumption, you can find a way to eat healthy.
Taste Café, on the corner of Second and Howard in downtown Spokane, helps fill the niche for a healthy dining experience. The owners and chefs are a mother-daughter team. Jane Heber, mother of Hannah, was brought up on a farm in the south of England with a massive vegetable garden, an orchard and one Jersey cow named Primrose. "We made our own butter, taking turns to churn the cream," she recalls. Jane did her coursework at the Crawley Technical College in Sussex, England. When she became a mother, she quickly knew she had a foodie on her hands.
"Hannah's favorite programs as a child were all on the Food Network!" she laughs.
Hannah went on to graduate from the University of California, Berkeley with a degree in political science. She started her career at Williams-Sonoma Corporation in San Francisco. "It was a stressful position, and baking in the evening was a great way for me to relax," Hannah says. Baking became her passion, and she often spent her free time testing the various bakeries in San Francisco.
When they moved to Spokane, the mother-daughter team pondered the idea of opening a restaurant. Hannah soon enrolled in the pastry program at the Inland Northwest Culinary Academy.
"Mom and I have always had a close relationship, not treading on each other's toes," says Hannah. Accordingly, they decided on a distinct division of labor at Taste Café. Hannah is in charge of all the sweets, desserts, cake orders and wine selections, while Jane deals with the savory items, food and produce ordering, and catering.
"We are both very health-conscious, enjoying the flavor of food with no additives, using organic ingredients whenever possible," says Jane. They use a variety of grains and veggies daily, choosing wild salmon, organic sugar and the best-quality meats. "We've always eaten this way, which is why it was such a shock when I developed breast cancer four years ago," Jane recalls. Last year, on Christmas Eve, Hannah was diagnosed with a rare cancer, synovial cell sarcoma.
"She has been in treatment ever since," Jane says. "I suppose we can do all we can to be as healthy as possible in life, but there are the unknowns … genetic, environmental."
Their cancer challenges have made Jane and Hannah even more health-conscious, striving for the best options for diners at Taste Café. And they are applying the passion and resolve that has helped make the café successful into their fight against cancer.
Jane says everyone is welcome at their tables. "We celebrate food, family and friends … we invite you to visit us."
Lentil and Spinach Soup
Even though this recipe contains bacon, which usually isn't considered a health food, each serving contains less than one slice and the bacon imparts a rich, smoky flavor to the other wonderfully healthy ingredients.
6 slices bacon, cooked and chopped
1 carrot, finely chopped
1 yellow onion, finely chopped
4 cloves garlic, minced
2 teaspoons fresh thyme, minced
2 cups dried lentils
8 cups chicken stock
4 tablespoons tomato paste
6 cups baby spinach, chopped
salt to taste
freshly ground black pepper to taste
In a large saucepan, sauté the bacon over medium heat until the fat has rendered, which should take about five minutes. Add the carrots and the onions, and cook until the onions are translucent. Add garlic, thyme and 2 teaspoons of salt, then sauté until the garlic is soft.
Add the lentils. Stir in the stock, tomato paste and 2 cups of water, and bring it to a boil. Reduce heat to low, cover it partially and let it simmer until the lentils are tender to the bite, about 25-30 minutes. Add the spinach and simmer until wilted (1-2 minutes). Season to taste with salt and pepper.
Serves: 8
Nutrition: calories 261, total fat 6g, carbs 35g, protein 18g, fiber 16g