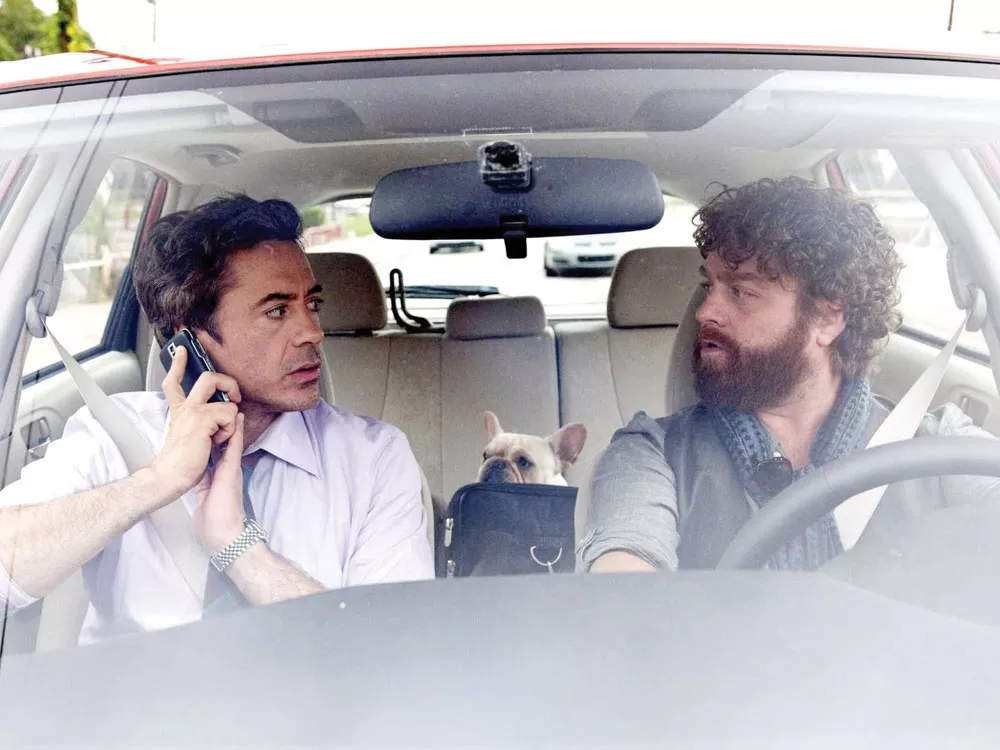 No one's going to be running around talking about Due Date being an original idea. It borrows freely from Planes, Trains & Automobiles, the story of two mismatched travelers trying to get halfway across the country together. It also takes things from last year's dude-smash The Hangover (like director Todd Phillips and co-star Zach Galifianakis).
But Due Date is both a little more and a little less than its predecessors. It's not nearly as broad in over-the-top blowhard comedy as Planes, Trains, and it's not as edgy as The Hangover. It is, however, pretty darn funny all the way through, fueled by the opposites-don't-attract relationship between architect Peter Highman (Downey Jr.) and wannabe actor Ethan Tremblay (Galifianakis), who end up as travelling buddies all the way across the country.
The agendas: Peter needs to get home for the birth of his first child. Ethan has an appointment with an agent. Ethan has the transportation.
The problems: Ethan, a genial man-child who's a mix of sweet, innocent and clueless, likes to chat, regularly asking inappropriate questions. Peter, a vindictive and uptight fellow who could fill an anger management class by himself, would prefer silence.
The story is about how they meet (under duress), how Peter puts up with Ethan (Downey spends the film reacting to Galifianakis' actions) and how all is eventually resolved (an amazing feat).
But the film is mostly about what goes down during that eventful journey from Atlanta to L.A. and the offbeat characters they meet along the way (among them Danny McBride as an Iraq war vet and Juliette Lewis as a drug dealer).
Even though there's some salty language — and a very strange masturbation scene — it's that last part, drugs, that probably earned the film its R rating. There's abuse of everything from Vicodin to pot (plenty of pot) made funnier by an assist from Pink Floyd.
But what's funniest is the fact these two guys are stuck with each other. The first one says to the second one, "I have a really good personality once you get to know me." The second one later counters with threats of disembowelment.
The film loses its way at a couple of points, settling into some uninspired zaniness before slipping comfortably into a predictable ending. But it's all worth it just to hear Downey, frustration oozing, say the words, "I have seven stitches in my armpit."