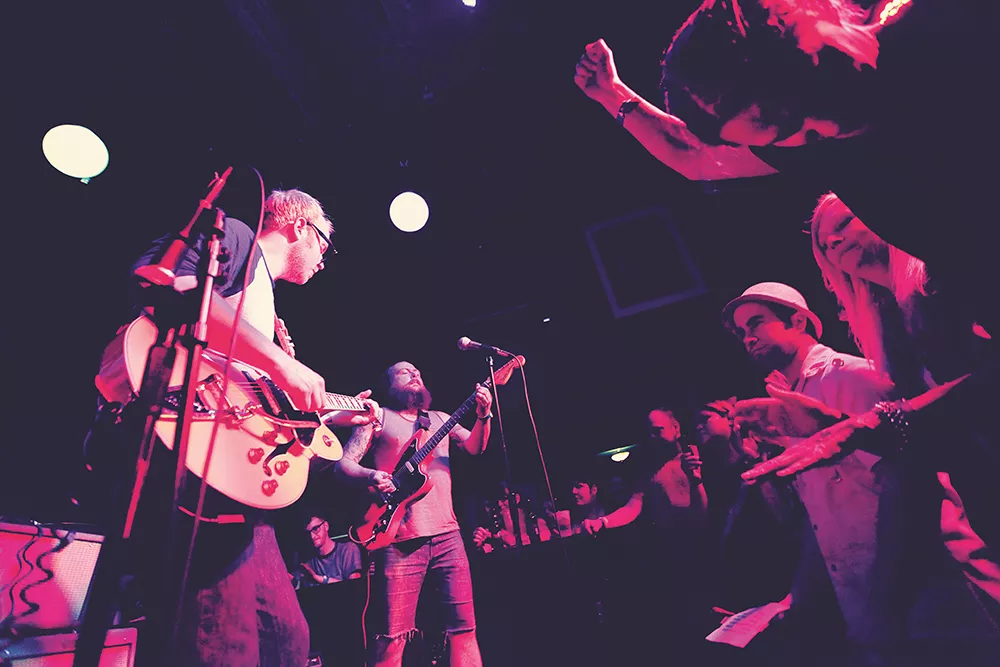 Local musician Jeff Glinski likes to burn the candle at both ends, as they say. Between working as a youth counselor, embarking on frequent global travel, and being a dedicated yogi, the 30-year-old never has trouble keeping himself busy.
This is all without mentioning, of course, that Glinski is the drummer in no less than three local bands: surf-blasters BBBBandits, krautrockers Mirror Mirror, and twangy punkers Normal Babies. Somehow, he managed to find some time last week to give us his take on Spokane's local music scene.
INLANDER: When did you get involved with the local music scene?
Glinski: I started trying to go to shows in middle school, but that was kind of hard. They were all downtown and they started late. My parents were kind of leery of me being 14 or 15 and taking the bus down there. But I was excited about music, and at that time there were a lot of bands coming through, and there was a lot of DIY stuff going on. At that age, you're trying to find yourself, and going to shows is a great way to do it.
So having those opportunities as a teenager was vital?
Yeah, oh yeah. I did that whole "standing outside of bars to watch a show" thing, but that's no way to watch a band. Some musicians would take pity on me and my friends, and they would play acoustic sets out on the street. But I was lucky to grow up in a time when there were also a ton of all-ages venues around.
How has the music scene in Spokane changed since you became involved?
I started my first band around 1999, and it was awesome for a long time. But as people started growing up and moving away, like from around 2005 to almost 2010, I hardly know any bands from that era. There were a few. But right now, you can go to a show almost every single night. It might not be what you're looking for, but you can go see a decent show. I think people are believing in music again.
How do you think the size of Spokane impacts its local music?
Well, Spokane being on the smaller side allows a connection between all of the artists. Someone will see a band and be like, "Hey, can I do art for you?" And then someone else will be like, "Hey, can I print that art?" And then someone else wants to record you, or film you, or do photography. Plus, Spokane being relatively small gives musicians opportunities to play shows that a bigger city would never present. But on the flip side, we really need to get more people out to shows. It can't just be the same, like, 15 people at every show.
What would you say to someone who doesn't think there is any music going on in Spokane?
Um, start it! People have always complained about how, "Well, my music's not here," but if you're into, I don't know, industrial country music, start an industrial country band. Start going to shows. Talk to people. Play an instrument. I mean, starting a band can be weird — it's kind of like deciding to grow your hair out. At first it's awkward and you don't really want anyone to see it. But then you let it go for a while and eventually it's glorious. ♦