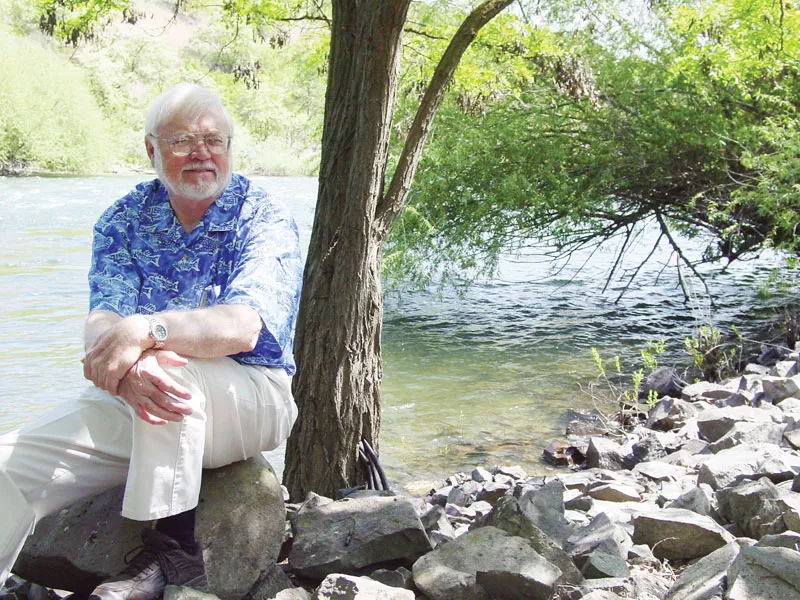 Paul Quinnett knows about suicide. The psychologist has written two books on the topic. He also runs the QPR Institute, which every year trains thousands of people nationwide to help prevent suicides.
Any suicide is a tragedy. And Spokane County, where Quinnett lives, has a worse-than-average suicide problem. In four years in Spokane, 366 people have killed themselves. That's nearly two a week. The rate in Spokane is nearly a quarter higher than the state average — which in turn is higher than the national average.
Why? "New Jersey, New York, they have some of the lowest suicide rates in the country," Quinnett says. "There's a sophistication about seeing a therapist in the East Coast, that's not as prevalent in the West."
There's good evidence that suicide can be prevented. When the United States Air Force developed a program for identifying and helping suicidal airmen and women, the results were dramatic. "The suicide rates went down 33 percent, and the serious domestic violence rates went down 54 percent," Quinnett says. "It's inspiring. It shows what could be done if we had a uniform approach."
The down economy isn't helping, as a recent Centers for Disease Control study shows: Published in the American Journal of Public Health, it found that working Americans, aged 25 to 64, are signifi cantly more prone to suicide in tough economic times.
Quinnett and other members of the Suicide Prevention Coalition believe it's time for a uniform approach in the Inland Northwest. The coalition includes representatives from Fairchild Air Force Base, Juvenile Court Services, the Spokane Regional Health Department, Spokane Mental Health and the American Foundation for Suicide Prevention.
For Robin Edie, an American Foundation for Suicide Prevention volunteer, the stakes are personal. Six years ago, her sister — struggling with mental illness — committed suicide. If Robin knew then what she knows now, she wonders whether things might have turned out differently.
"I [hope] to prevent one more person from living the life of whys. Why did it happen? Why her?" Edie says. "I lived in a really dark place for three years."
The first step to stopping suicide: saying the word.
"Quit being so afraid of saying the word 'suicide.' We need to stop living in the backwoods and talk about it," Edie says. "Remember how AIDS used to be in the '80s? It was a secret, it was such a taboo issue, but then people started talking about it."
This year, the Suicide Coalition plans to use brochures, Facebook, public service announcements and billboards to spread that message, possibly with the slogan, "Who will say the word?" Quinnett calls the word "suicide" the "last taboo." Too many people, he says, are afraid that by asking, they'll introduce the idea of suicide. Not so, research says.
"The idea's already there," Edie says. "If you're talking about it, and opening up about it, then they know someone [is listening]."
But many people never ask. They're afraid of the answer they'd get. That's where training helps.
"We're training 10,000 people a month, we have 5,000 instructors," Quinnett says of QPR. "We're the largest trainer in the country, and we don't do much in Spokane at all."
That's about to change. Quinnett has decided to make a light, one-hour version of his QPR (Question, Persuade, Refer) suicide prevention training available to the health district for free. The health district is considering charging around $10 a training session, money that they might use to fund suicide prevention efforts.
On one level, it's started already. For her senior project, Quinnett's daughter, Alex, helped train 25 Freeman High School students.
"It's amazing how many people don't have someone to talk to," Alex says.
Participants learn to recognize life events that may make people at risk for depression, such as being laid off, going through a break up, or a death. Suicidal people may start giving away their possessions. They may suddenly become religious or reject their religion. They may begin using phrases like "soon you won't have to worry about me." When that happens, Quinnet says, it's best to be direct.
"How you ask the question is less important than that you ask it," Quinnett explains. Most of the time, the question can be as simple as "Are you considering suicide?" (The one phrase to avoid: "You're not considering suicide, are you?" which sends a message that the person shouldn't admit contemplating suicide.)
If the person says "yes," Quinnet says it's time to listen. "You don't pass judgment, you don't interrupt them, no matter how scattered they may be," Quinnett says.
Just the act of listening, Quinnett says, can prevent a suicide.
Quinnett says showing suicidal people how important they are can be helpful. That's why he sometimes does something a little unusual. He asks them to help him. When someone is in the depths of despair, helping them see their value to others may be key, especially for men who are often reluctant to seek assistance. "To get men to get help, you present them with your problem." Quinnett says. "He needs to be needed."
---
WARNING SIGNS:
A previous suicide attempt

Current talk of suicide or making a plan

Strong wish to die, fascination with death

Giving away prized possessions

Signs of depression, like withdrawal

Increased alcohol and/or other drug use

Hinting at not being around in the future or saying good-bye
RISK FACTORS:
Readily accessible firearms

Impulsiveness and taking risks

Lack of connection to family and friends
WHAT TO DO:
If a friend mentions suicide, take it seriously. If he or she has expressed an immediate plan, or has access to a gun or other potentially deadly means, do not leave him or her alone. Get help immediately.
— Spokane Regional Health District