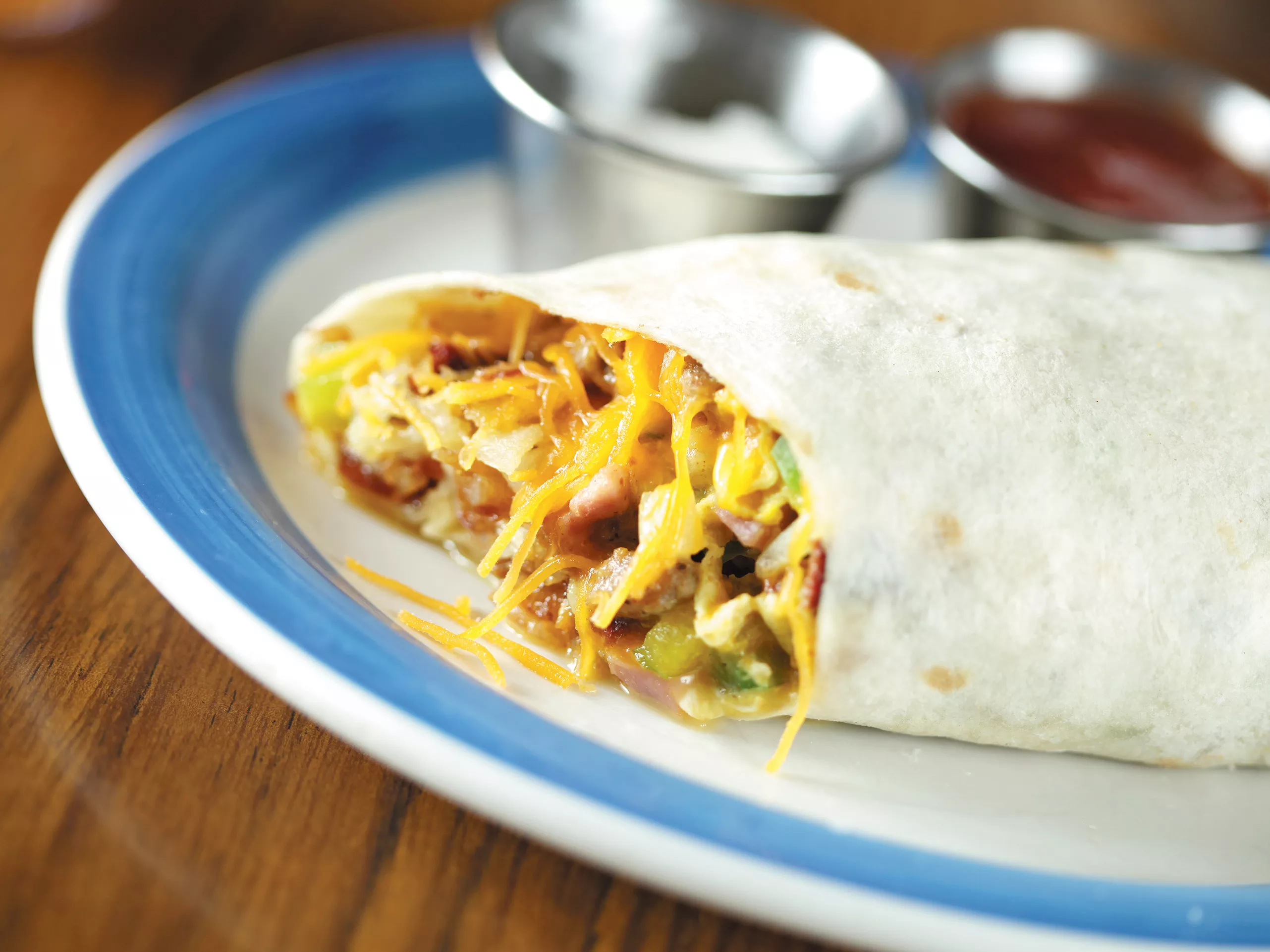 Having lived on the North Side of Spokane for almost eight years now, I thought eating on $20 in one day would be easier than it turned out to be. I know my way around North Spokane, and figured that with so many local restaurants spread across the entire northern half of the city, I'd have plenty of options — and I did. Where it got difficult was narrowing down all the local food places on the North Side to just three, and spending roughly less than $7 at each if I could.
To make sure I went to places where this was possible, I did some preliminary research, scanning through the Facebook pages and online menus of the North Side eateries.
Even so, I felt a little nervous as I headed off to a mid-morning weekend breakfast at the Kalico Kitchen on North Division. I'd heard this little diner, tucked between a thrift store and a Howard Johnson motel, was both good and cheap. Perfect.
As my guest and I walked in, we noticed the packed dining room. I expected we'd have to wait awhile, but the chirpy hostess took us to a table sandwiched between two other four-person tables. This bothered my guest a little, but with one of the smallest and fullest dining rooms I'd ever seen, I decided this was the Kalico Kitchen's best option to save space and decrease wait times.
Our bubbly, smiling server came over almost immediately, offering hot coffee, which I said yes to before realizing it would carve into what I'd have left to spend later. Flipping the menu over to the beverage list, I was relieved to see that coffee was only $1.65. After looking through the breakfast items I settled on ordering the giant breakfast burrito ($5.99) with bacon.
The breakfast burrito was just enough to fill me up without being painfully full, and included a generous amount of crispy bacon along with the scrambled eggs, cheese, green peppers and onion.
When I got the check, my unplanned add-on of coffee brought the total a little higher than I was hoping for, and I felt seriously guilty for only leaving a $1 tip.
$10.70 REMAINING
Unless you live in or around the Shadle neighborhood, or frequently travel up and down the north ends of Maple and Ash streets, there's a chance you might not know the Maple Street Bistro was even there.
I'd driven by the quaint-looking little bistro countless times, and when I walked in, it felt like stepping into the cozy kitchen of a country farmhouse. The rustic cement floor, homey décor, and the scent of warm bread mixed with the aroma of coffee created a welcoming, warm atmosphere. It was frigid outside, so I went for the grilled cheese and tomato basil gorgonzola soup ($4.75).
The soup had a deep, tangy flavor from the gorgonzola, and a creamy, thick consistency like a bisque. Pieces of cheddar and provolone cheeses were melted between two slices of the Maple Street Bistro's made-from-scratch whole wheat bread. The grilled cheese wasn't lacking much, if but for a little more crispiness on the outside of the bread.
After my breakfast slip-up with the coffee, I was worried I wouldn't have enough for dinner if I left anything in the tip jar, but I have a feeling I'll be back to make up for that.
$5.55 REMAINING
In what used to be an auto repair shop, the North Side Stop N Go Family Drive-In opened last March, just past of the intersection of North Wall Street and Francis Avenue. The 1950s-style drive-in brings forth a feeling of being transported to a bygone era, with a black-and-white checkered floor, red-topped tables and chairs, shiny chrome accents and oldies hits by the Beach Boys and the Everly Brothers playing in the background.
With a completely stripped-down menu, Stop N Go sticks to the classic drive-in staples: cheeseburgers, fries, shakes, fish and chips, chicken strips and soft-serve cones. All individual items on the menu are less than $5.
Not knowing how large the burgers would be, I ordered Combo #1 ($4.50), a single-patty cheeseburger with a small order of fries and a small fountain drink.
Thin, straight-cut, perfectly crispy and salted, the fries were my favorite part of this meal. Mixing it up from the traditional ketchup-with-mayo fry sauce that's everywhere, Stop N Go's creation had a smoky hint of barbecue sauce. While the beef patty on my cheeseburger was on the thinner side, with the generous portions of French fries and a bubbly soda. It was just enough food with which to end the day.
$1.05 REMAINING
With a goal to spend every last cent of the $20 I'd started out with, I dropped into the Conoco gas station across the street from Stop N Go and wandered the aisles looking for a snack. Unfortunately, all of the candy bars were $1.19; leaving me few options other than a pack of sour gummy worms ($.89) at the end of an aisle. If I'd been able to predict I'd end up with just more than a dollar left, though, I would have left better tips!
$0.16 LEFT OVER
---
MORE NORTHSIDE CHEAP EATS 
Aloha Island Grill
1220 W. Francis Ave. • 413-2029
1724 N. Monroe St. • 327-4270
Palm trees painted on the side of the building invite customers inside the Aloha Island Grill for a truly tropical eating experience. Aloha, as regulars call it, is Spokane's go-to spot for fast, cheap and good Hawaiian food. The North Monroe location offers lunch and dinner, while the West Francis spot has more indoor seating, espresso drinks and a drive-thru window. Try the classic teriyaki chicken bowl ($4.90) for a fast, filling meal.
Didier's Yogurt & More
10410 N. Division St. • 466-8434
This sweet spot by Whitworth University is where college kids and north-enders make the trek for a late-night treat. A family-run favorite and once-victim of a minivan collision, Didier's serves shakes and frozen yogurt with enough toppings to spark any fantasy of the perfect cold and smooth dessert — and they've been doing it since before this new froyo craze. Didier's has more than just sweet treats, though. Try its ever-popular cheeseburger ($5.99), or the same version with bacon ($6.69).
Fieldhouse Pizza
4423 W. Wellesley Ave. • 474-1991
Since opening in the former Stadium Pizza Parlor spot back in 2011, Fieldhouse Pizza has been meeting the needs of hungry neighborhood residents and sports fans alike, and is conveniently just down the street from Joe Albi Stadium. As a family dining and bar hybrid, Fieldhouse has something for everyone, including its create-your-own pizza menu, featuring around two dozen toppings and six sauces. Don't forget the all-you-can-eat salad bar; you can heap your plate one time through for $5, or keep going back as many times as you want for $7.
Casa de Oro
4111 N. Division St. • 489-3630
Though there have been multiple restaurants around Spokane with the name Casa de Oro, the one on North Division is the only one owned by the Torres family. Having grown up near Guadalajara, Mexico, owner Enrique Torres knows how to make Mexican food the way we like it up here, and for some of the best prices around. Try the veggie burrito ($8.25) or one of the many combo meals. All orders come with unlimited chips, salsa and refried bean dip.
Flamin' Joe's
7015 N. Division St. • 465-5052
Flamin' Joe's caters to the chicken wing connoisseur you didn't even know existed, with 20 different wing sauce flavors ranging from Huckleberry BBQ to Chipotle Apricot Mustard. Besides its impressive array of wing sauces, Flamin' Joe's also offers around two dozen beers. Make sure to check out the menu specials each day of the week, or make it simple and go for the 6 Pack ($5.99), with your choice of one sauce flavor. If boneless is more your taste, try the half-pound ($6.99).
— CHEY SCOTT