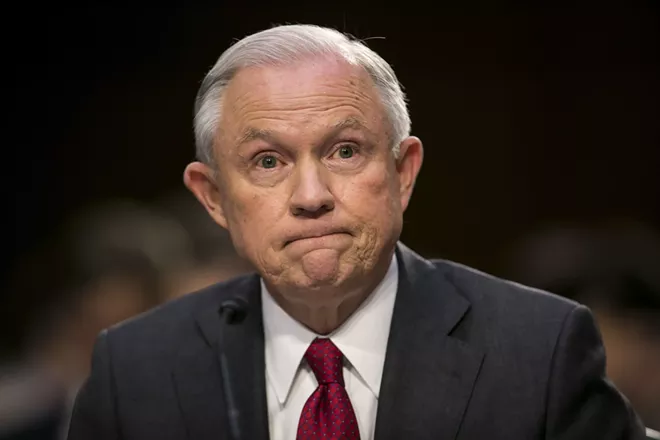 By REBECCA R. RUIZ
© 2017 New York Times News Service
WASHINGTON — The Justice Department revived a widely criticized practice on Wednesday that allows state and local law enforcement officials to use federal law to seize the cash, cars or other personal property of people suspected of crimes but not charged.
The department issued new guidance expanding the federal government's use of so-called civil asset forfeiture, labeling it a necessary tool to fight crime. But civil rights advocates say it can be abused by law enforcement officials and deprive people who have done nothing wrong of their right to due process, a charge that Rod J. Rosenstein, the deputy attorney general, contested.
"This is not about taking assets from innocent people," Rosenstein told reporters. "It's about taking assets that are the proceeds of, or the tools of, criminal activity, and primarily drug dealing."
In amending the policy, created during the war on drugs in the 1980s and restricted in 2015 under the attorney general at the time, Eric Holder, as part of a broad check on police power, Attorney General Jeff Sessions marked a further undoing of the Obama administration's legacy while advancing his law-and-order agenda.
The new policy revives so-called federally adopted forfeitures, which
empower
state and local law enforcement to use federal law to bypass more restrictive state laws to seize the proceeds from crimes and to share the profits with federal authorities. That money may then be repurposed, the Justice Department said, for training or equipment, such as bulletproof vests or bomb-disposal equipment.
The Justice Department also added new safeguards: requiring local authorities to provide additional detail justifying the probable cause for seizure; mandating new training of state and local law enforcement; and stipulating that federal prosecutors approve certain seizures, including those of cash under $10,000, to curb fraud and abuse.
Law enforcement groups gathered at the Justice Department with Sessions for the announcement on Wednesday were enthusiastic about what some saw as a chance to supplement thin budgets.
Under the Obama administration, seizures of money or other assets by state and local authorities who used federal law brought in several billion dollars, but critics pointed to what they saw as an outsize impact on innocent people.